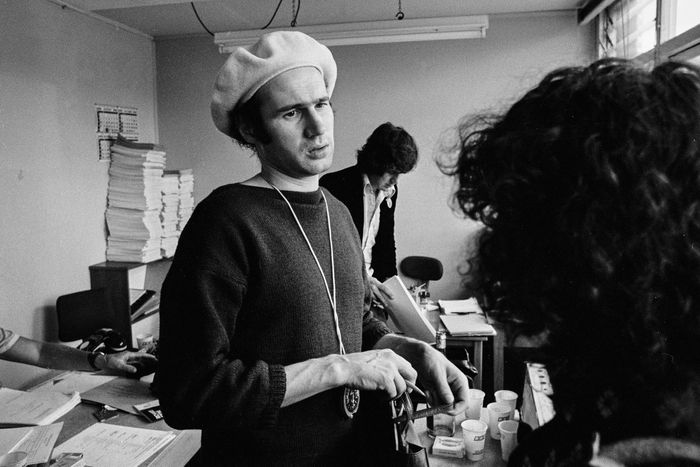 Neil Innes behind the scenes at
Monty Python's Flying Circus
in 1974.
Photo: Radio Times/Radio Times via Getty Images
Musician, comedian, and honorary Python Neil Innes passed away on December 29 at the age of 75. He worked with the Beatles, Monty Python as a troupe, and with several of them individually, as well as the experimental comedy-pop music group Bonzo Dog Doo-Dah Band.
Though he never achieved the status of a household name, Innes's work permeated the popular culture for generations. That was him singing the ballad of "Brave Sir Robin" from Monty Python and the Holy Grail. The band Death Cab for Cutie took their name from a song he and his band performed in the Beatles' Magical Mystery Tour. The whistle in "Always Look on the Bright Side of Life"? Neil's.
Innes never stopped producing music over his five decades of work, sometimes penning songs that were pure silliness, such as Bonzo's biggest hit, "I'm an Urban Spaceman," but also songs of genuine emotion, like his 2016 reaction to Brexit, "Something to Say." His music could operate on the full range of that spectrum, often seamlessly blending the absurd with the reflective.
Perhaps his most well-known musical creation was the Rutles, a fictional British band that brilliantly parodied the sound of the Beatles through every step of their musical evolution.
The band debuted on Eric Idle's Rutland Weekend Television, but quickly found themselves playing in America on Saturday Night Live, and eventually, in their very own NBC special that featured Paul Simon, Mick Jagger, and George Harrison. The former Beatle was such a fan that he encouraged Innes to put out a new Rutles album in 1996 after his band reunited that same year for The Beatles Anthology. Though Idle declined to participate, The Rutles Archeology continued where the first Rutles album left off, parodying the full career of the Beatles, including the posthumous Lennon tracks completed by the remaining Threetles.
On his final album Nearly Really, released in October of last year, Neil continued to write and perform songs both absurd and sincere, but it's the latter category that feel all the more poignant now. In the song "Mother Nature," inspired by his grandchildren, Neil sings, "Little children hard at play / Share your laughter while you may / All too soon there will come a day / Mother Nature will have her say." Sadly, that day has come for Innes, but he leaves behind a legacy of music, laughter, and joy that will stretch into generations to come.