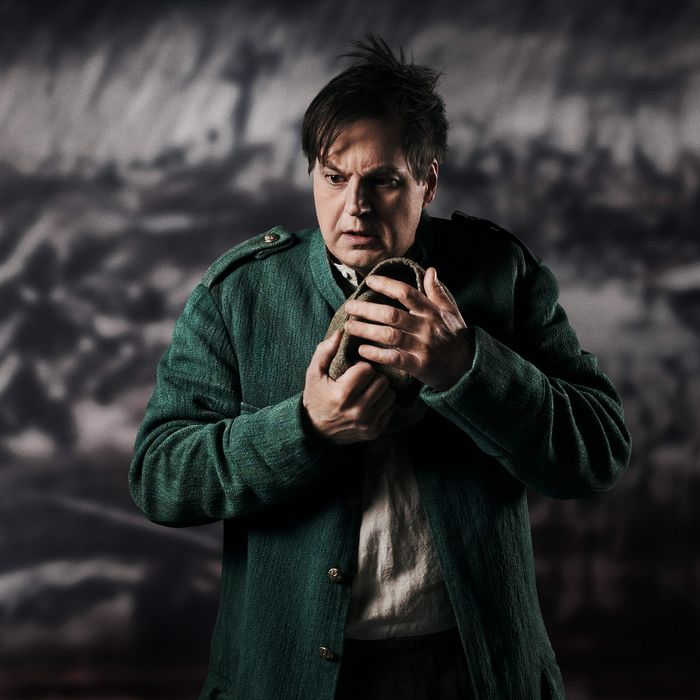 From William Kentridge's new
Wozzeck
at the Met.
Photo: Paola Kudacki/Met Opera
Alban Berg's Wozzeck is an opera of entropy. The composer gathered up shards of an unfinished play about an unraveling mind and set them in a musical language that he was helping to explode. Scenes are brief, warmth in short supply, and a rigidly militaristic world has grown brittle with indifference. Against all odds, this bitter, fragmentary work has become one of modernism's enduring classics, perhaps because it keeps feeling shockingly timely. Doesn't the world always seem like a projection of an addled imagination? Isn't it constantly driving fragile minds to murderous confusion? There's nothing dated about logic and principle bleeding into lunacy.
The Metropolitan Opera has just opened its third Wozzeck in 70 years, a production that's also William Kentridge's third in the house, and it's a triumph of dislocation. The title character shuffles his way around a stage piled high with furniture, planks, platforms, stairs, and catwalks. Familiar, almost cozy corners keep popping up in Sabine Theunissen's set, like encampments in a collapsed building. The score is like that, too: bits of bar tunes, baroque counterpoint, lyrical arias, and popular ditties glimmer through Berg's music, but always smudged and distorted, so that the audience never gets comfortable. "That was hell," my companion said when the fluty creak of the rocking horse faded out at the end. She didn't mean it as a compliment, but Berg might have been pleased.
The composer served and got sick in the trenches of World War I, and the imagery of that cataclysm permeates Kentridge's staging, some of it reminiscent of his multimedia piece The Head and the Load. Charcoal drawings of figures in gas masks, plunging aircraft, blasted landscapes, battlefield maps, and marching soldiers flicker on every surface. It's as if the action takes place on the pages of God's sketchbook for the apocalypse.
Kentridge has a tendency to cram the visual field with imagery that moves faster than the eye can assimilate. His artwork can muddle plot and compete with music. Here, though, the audience's distraction (in the sense of intrusion) helps to explain Wozzeck's distraction (in the sense of madness). We see into the hyperactive jumble of his mind, otherwise disguised by the character's dogged plod.
While the pictures go about their dizzying whirl and the set composes and recomposes itself before our eyes, Yannick Nézét-Séguin keeps the score focused and fleet. The Met has a fine performance tradition with this opera — it was one of James Levine's favorites — but the new music director gives it a fresh clarity that flatters the excellent cast. Rather than outline extreme states of mind with the conductor's equivalent of a thick black sharpie, Nézét-Séguin presents Berg's frantic inventions with unflappable grace. "A good person, with a good conscience, does everything slowly," the Captain admonishes Wozzeck in the opening minutes, even as the orchestra hurtles along through clangorous harmonies, making it clear that, for the next 90 minutes, goodness will be scarce.
Good singing, though, is plentiful. Peter Mattei acts unhinged but sounds serenely controlled, his handsomely mellow baritone flowing through the title role with ease. Is there a disconnect there, between voice and character? Yes, but it's the one that helps us to understand Wozzeck not just as a bundle of rage in olive fatigues but as a man who, in more forgiving circumstances, might have coped and even thrived. If his road to normality is closed off, that's largely thanks to a trio of excellent nemeses: Gerhard Siegel as the Captain who delivers homilies and reproaches in a piercing voice, Christian van Horn as the deceptively reassuring Doctor, and Christopher Ventris as the braggadocios Drum-Major.
Elza van den Heever sings Marie as a doomed island of sanity, a woman in a bright-red sack who hunts through the rubble for traces of joy and misses the flood tide of darkness advancing on her lover's psyche. There's little room here for a character to develop beyond a quick sketch, but van den Heever's biting soprano and almost nonchalant phrasing give me the sense that she could anchor a whole separate opera about the same events, narrated from her point of view. She might even have survived that one.