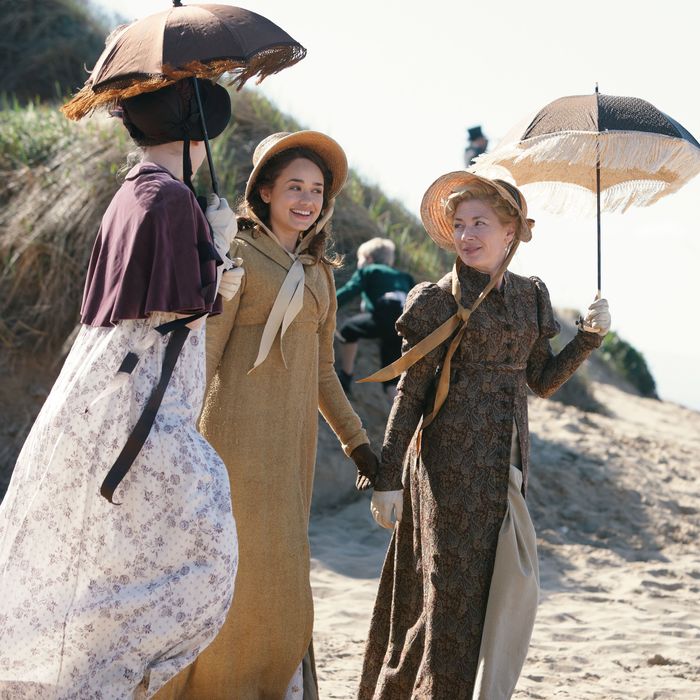 SANDITON IS HERE. LET'S DO THIS.
Here's the thing about ITV's new adaptation of Jane Austen's unfinished and unsung novel, Sanditon: It's gonna be bonkers. The creators were given a barely begun Austen novel that they could do whatever they wanted with, and they have gone for it. Just truly off-the-wall, Austen-adjacent material, and you're either gonna be onboard with it or you aren't. Me, I have a captain's hat and a very spiffy uniform on, so toot toot, off we sail on the RMS Sanditon!
The novel Sanditon is different than anything else Austen wrote. So many hilarious monologues! So much discussion of toast! So many jokes about literature and so many mansplainer put-downs! My edition is 37 pages long and I highlighted 57 things. The point being, I was extremely hyped for Sanditon the series, especially because the point where Austen stopped writing (four months before her death) happens in episode one and we have seven more to go. What will happen!? Judging by this first episode, a lot.
We begin with ACTION. A carriage containing a man and a woman is going entirely too fast and overturns on a country road. A girl who is crouched in the grass with her siblings and pointing a hunting rifle rushes to their aid. This is Charlotte, our heroine, and a woman of ACTION ("action" is our key word here). The man is Tom Parker — a.k.a. the Guy Who Banged a Lot of Wisconsinite Women in Love, Actually — and his wife, Mary. He has injured his ankle, so they stay with Charlotte's family while he heals up, and meanwhile he tells them all about a wonderful place — a marvelous place! — the up-and-coming seaside town of Sanditon. He invites Charlotte's father, Mr. Heywood, to visit, and when he declines, Charlotte is all, "I VOLUNTEER AS TRIBUTE."
The above happens pretty quickly because it's all a device to get Charlotte to Sanditon, where all the sexy action happens. Charlotte's dad warns her that seaside resorts can have a lot of shady characters and "the normal rules of conduct tend to be relaxed," thereby letting us know that this isn't your regular Jane Austen miniseries; this is a cool Jane Austen miniseries. Things are gonna get a little Austen After Dark if you know what I'm saying. In this episode, this is indicated not only through naked man butts on display, but also pretty blatant oral-sex references. *Adjusts captain's hat* Onward!
The series feels a little bit like the new Star Wars films in that writer Andrew Davies seems to have placed several nostalgic nods to his rightfully acclaimed 1995 version of Pride and Prejudice, the best Austen adaptation outside of Clueless. There is a Lady Catherine de Bourgh–esque Lady Denham, who is bankrolling a good portion of Tom Parker's attempt to make Sanditon a fashionable resort. When she exclaims "Eleven!" in reference to Charlotte's siblings, the seasoned Austen viewer cannot help but hear "what, all five out at once?" There's another P&P moment when Charlotte sees a looming portrait of a tall, dark, and handsome man who is said to be Sidney Parker, Tom's brother.
Okay, let's deal with this right now: Sidney is the love interest. We know he's the love interest. There is no escaping him as the love interest. I am open to this, despite his abysmal behavior at the end of the episode. But along the way, I will be 'shipping everyone who has a wisp of chemistry. If two people make eye contact, seem into it, and are not related, I am going to desire that they kiss. Austen has a habit of making cousins flirt and occasionally marry, which our 21st-century mores and knowledge of webbed feet cannot support (Fanny Price from Mansfield Park: "Yeah, but Edmund's my FIRST cousin"), and Sanditon, as in all things seemingly, ratchets that up to an 11.
But back to characters with tons of chemistry. Meet Lady Denham's companion and poor relation, Clara. Clara and Charlotte immediately like each other, as they are both extremely pleasant and slightly funny. They decide to go sea bathing, and Charlotte says "perhaps we can enjoy it — or endure it — together," and now I 'ship them. There is a little dinghy following the RMS Sanditon and it is the S.S. Clara/Charlotte (I don't know boat-naming conventions, don't @ me).
Before we get to Sanditon's famed seaside, though, we have to talk about Sir Edward. Sir Edward thinks he is a rake and he wears his hair in a very stupid way, i.e., the way someone who thinks he's a rake in 1817 would. In Austen's Sanditon, she says, "Sir Edward's great object in life was to be seductive" and "Clara saw through him and had not the least intention of being seduced," which is most of what you need to know about their relationship. He has taken a Michael Scott cue from the novels he's read, and by picking up all his tips from the novel's villains, he's essentially Date Mike with every woman he meets. When walking with Charlotte, he talks about the ocean as a sexual metaphor while Charlotte looks at him in intense confusion. It's delightful.
Sir Edward and his sister, Esther are on a mission to be willed Lady Denham's copious fortune, although currently Clara is No. 1 in the running. It's all very Martin Chuzzlewit. Esther has echoes of Lucille Sharpe from Crimson Peak, which is fantastic because the single-minded evil sister with a maniacal glint in her eye is always hands down the best character. Davies has really let himself off the leash for this adaptation, because he's given Edward and Esther a creepy Jaime/Cersei vibe, or in the words of the notes I took during this episode: "OMG WHAT IS HAPPENING." Later, Esther interrogates Charlotte as they walk by the rocky seawall and says she will poison Clara if she gets anything from Lady Denham. Charlotte tries to laugh it off, but Esther is stone-faced. Can I remind you they just met? Anyway, Esther is my hero. Except for the incest thing. And maybe the poisoning.
Charlotte and Clara share a bathing machine, which is now Regency slang for lady-banging. Make out in the bathing machine, you cowards! They don't, and I begin my Sanditon fan-fiction. Most of our cast is finally at the seaside, which means the aforementioned naked man butts for the men and red head-to-toe bathing costumes for the women, which will inevitably draw a host of Handmaid's Tale comparisons on Twitter. They're basically wearing giant flannel nightgowns and woolen bathing caps to get into the very same water that sharks live in. Everyone survives, though, because they have a ball to attend.
The quiet Jane Austen moments are on par with the raucous ball moments, but the ball moments are stellar for having characters crash together, make minute remarks that speak volumes, and preferably do some good and intense staring at the object of their unrequited affections. At the ball, we meet Miss Georgiana Lambe, a black West Indian heiress who is only mentioned offscreen (as it were) in the novel, but who would surely have played a fairly significant role had Austen lived past the first 23,000 words.
Sidney Parker, designated love interest, is at the ball. He ran into Charlotte on the road earlier, where he was described as "not inclined to think very highly of our sex," which seems like a Sidney problem and not something that Charlotte should be responsible for changing his mind on, but who am I to decide. He is very handsome, very brooding, and clearly had a previous relationship with Miss Lambe, who tells him at the ball, "damn your duty," a phrase I really want an opportunity to say in this life.
Sidney and Charlotte dance, and hold hands, which feels scandalous, and apparently was, if the Oxford English Dictionary's description of the waltz as "riotous and indecent" as late as 1825 is accurate. If you were wondering, as I definitely was, what was going on with the music in this scene, I asked the show's historical advisor, Dr. Hannah Greig, who referred me to this article. The music is Scottish Gaelic folk, done in the Puirt à beul style, and the singer is Julie Fowlis, who has several albums!
You're probably wondering what Charlotte and Clara are up to at the ball. Well. Charlotte earlier had glimpsed Sir Edward and Clara in a compromising position in the woods. Clara tells Charlotte (speaking about five inches apart, as gal pals do) that he was forcing his attentions on her. She says, "I was obliged to do something I didn't want to do to avoid something even worse" and Charlotte's like, I don't get it, because Charlotte is an innocent rifle-toting girl from the country brought to this seaside resort of iniquity. Clara doesn't want to explain it to her, but omg Charlotte and Clara, get Lady Denham's money, move far away from Sir Edward, and set up as the Ladies of Llangollen.
We end things on a sour note, as Charlotte and Sidney have a Balcony Moment where they survey the partygoers and he asks her his opinion on him. When she states it, he asks for clarification. When she compares his seeming good sense to his perhaps overly zealous brother Tom, he erupts at her for having anything negative to say about Tom, basically being like, is it better to just SIT AROUND and wait for some MAN to marry you or to go out and make a DIFFERENCE? First of all, Sidney. First of all, why don't you dial back that inappropriate rage like 20 notches? Secondly, let's give you no rights and the general scorn of half the population and see how much of a difference you make in the world. I know you're all butt hurt about her fair assessment of your brother, but jeeeeeez.
I am staying open to Sidney/Charlotte. I am. Because that's where we're being led. But as of this episode, Clara/Charlotte forever.
Questions for next time
• Will Sidney Parker redeem himself, preferably with an abject apology and a PowerPoint presentation on systems of inequality?
• Is Esther's journey going to involve redemption or a Game of Thrones–style play for Lady Denham's fortune? Or somehow magically both?
• Will there be enough balls this season to satisfy the needs of society, and more importantly, my need for whispered gossip in a corner while festive music plays?