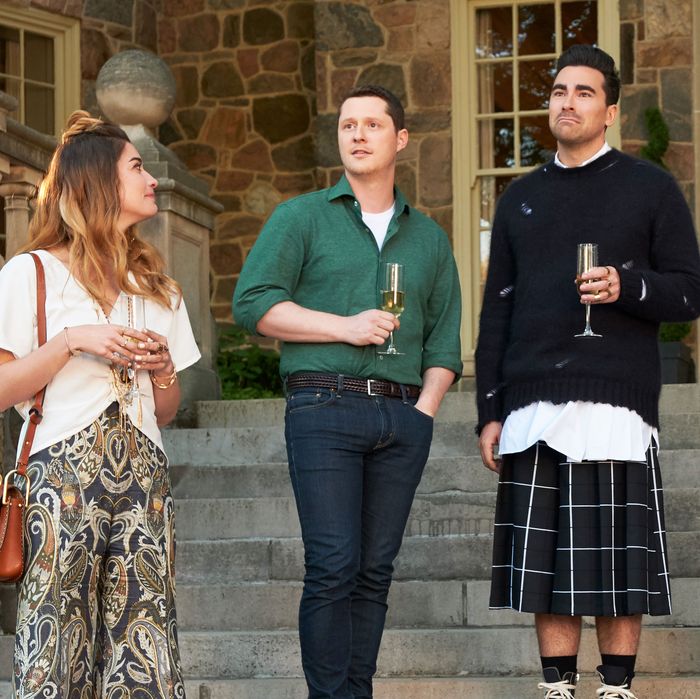 It is the beginning of the end, my fellow Schittheads. "Smoke Signals" marks the start of the final season of Schitt's Creek, one of the most joyful, loving, quick-witted TV shows, well, ever. And yet if the final season hadn't arrived, we would not have been blessed with the image of an unhinged Moira Rose falling out of a closet, wearing a disheveled white wig, a Peter Pan collar, and a faded bold lip, after a week of a self-inflicted banishment. This image, I carry it in my heart.
If the glorious reveal that Moira has spent an entire week living in the closet she crawled into at the end of season five, after learning that The Crows Have Eyes 3: The Crowening was being shelved, has you wondering what more of a bounty Schitt's Creek can offer us in season six, don't you worry your pretty little head. If nothing else, the fact that this show has consistently gotten better with each season should mean that Schitt's Creek has earned our trust by now.
It was already clear that the final season would tell the stories of David and Patrick's wedding, of Alexis leaving home to spend six months with Ted in the Galapagos, of Stevie figuring out her place in the world, and of how the Rose family has acclimated to the town of Schitt's Creek after all this time. But the heart of the show has always been how the four Roses relate to one another, and "Smoke Signals" reassures us that, amid everything else this season needs to accomplish, those relationships will still be highlighted. And I really love that journey for us.
Remember back in the day when David and Alexis were arguing over who should get murdered first? Now look at them! With Alexis's impending departure and David embarking on a huge life milestone, neither of them wants to admit how much they are going to miss each other, so instead they bicker. Literally everyone else can see what's going on with these two dinks except for them, but thanks to an airline-ticket snafu and the unfortunate slaughter of innocent pigs, they eventually admit their feelings.
It so happens that the day Alexis is set to leave for the airport — the day after Cabaret, if you're keeping track — she discovers that David and Patrick will be looking at a wedding venue and she hasn't been invited along. Annie Murphy's line reading of "YOU INVITED DAD" is, like so many of hers, a real treat. Alexis accepts a last-minute invite to join the grooms and Stevie mostly because they can just drop her off at the airport afterward, which only fuels David's annoyance further. Things aren't tense at all, guys.
The tension follows the gang to the wedding venue, a gorgeous, sprawling estate that sources all of its catering from a neighboring farm, which David instantly falls in love with. Unfortunately, this gorgeous, sprawling estate comes with a gorgeous, sprawling price tag. The only way they can afford it is if they take a discounted recent opening on the first Sunday of the next month. David sees no problem in getting the wedding put together that quickly since he once planned his "ex-girlfriend's intervention in less than an hour," and having the wedding so soon will just "weed out the dead weight" as far as guests go. But of course, as Alexis points out, she won't be there in a month: She's the dead weight.
David begrudgingly decides not to take the venue and even apologizes to Alexis for hurting her feelings. I'm sorry, David actually announces that he "is remorseful over an action [he] participated in." All seems to be well until Patrick's car won't start. While David and Patrick are inside looking for help, Stevie is outside trying to explain to Alexis that all of her yammering about leaving town might be hurting David's feelings. Alexis finally admits that she's talking about how amazing her trip will be only to convince herself that she's making the right choice. Our baby Roses have come so far, yet they still have trouble opening up and being honest with each other. I'm already counting down to a tearful wedding-day heart-to-heart.
At the moment, there's a bigger problem. When Alexis has trouble checking in for her flight on her phone, Stevie realizes that Alexis has been reading the date incorrectly: Instead of July 8, her flight is on August 7. And since the ticket is nonrefundable, she's stuck here for another month. Of course, Alexis would never admit that to David ("I would literally rather sleep at the airport for a month"), so when he comes back outside and Patrick is going to call a cab to take Alexis to the airport, she gives him a whole speech about how she's sorry for rubbing the trip in his face and how she's really going to miss him. She will postpone her trip, and he can have his wedding here. It's all way too nice for Alexis, and by the time she's tenderly touching David's face, telling him that she insists, he has it all figured out. This isn't the first time Alexis has mixed up the day and the month on her ticket — David reminds her she did the same thing with Kate Winslet's wedding, which she showed up to a month late. "The calligraphy was hard to read, and Billy Zane also did the same thing, David," she responds. Haven't you missed this show?
Not that any of this matters, of course, because just as David decides to take the venue, a shrieking sound erupts from the neighboring farm that, as David describes it, "sounds like a thousand babies teething." Apparently, the first Sunday of every month is also the day when the farm processes all its pork — thus the discount. So no, David and Patrick will not be getting married here. As the family celebrates Alexis sticking around for another month, Patrick suggests that he and David get married outside the motel, which honestly is perfect and I'm already crying about it. So I guess that's how this season is going to go.
The other Roses are spending some quality time together as well. Although I could talk about that sight gag of Moira in the closet forever and ever, amen, she doesn't stay there for long. Roland causes a small fire next door and eventually runs over to Moira's room and carries her out (her legs are completely asleep, you see). This episode is basically wall-to-wall jokes, but Roland calling out for Moira and Moira mistaking his voice for Stevie's is one at the top of my list. Regardless, Moira takes being pulled out of the closet as an actual "smoke signal" telling her to stop chasing after a career that, frankly, has treated her like garbage. She is going to say good-bye to acting for good. You guys, Eugene Levy trying to mask his relief and excitement at this decision — it's been hard for him to watch Moira go through these ups and downs and moves into a closet! — is so subtle and perfect and just one more example of how underrated Johnny Rose is as a character on this show.
To celebrate, the couple heads over to the creek — yes, the actual Schitt's Creek! — for a picnic. The idyllic scene reminds them of a wellness retreat they took in Evian "right after Alexis ended things with Sean Penn." There, they went skinny-dipping, and Moira suggests doing so again. Before she can, though, she wants to call her agent and make things official: "Moira Rose is tech. unavail.," people!
You guys didn't think TV's Moira Rose would actually give up acting, did you? Her agent tells her the Crows movie has been picked up by Interflix, a streaming service, and Moira is once again all in on her career. Poor Johnny's having a rough day: Not only does he learn that Moira's not leaving acting behind for a simpler, less dramatic life, but he learns it soaking wet after being handed over to Moira by an off-duty police officer who caught him skinny-dipping alone in the creek. Still, Johnny is Johnny, and he loves his wife to the ends of the earth, so of course he supports her decision. And I support Schitt's Creek continuing to showcase the gorgeous little love story that is Johnny and Moira. Even with a side of indecent exposure.
The Wig Wall
• My new religion is Moira Rose Sitting Outside the Rosebud Motel in Her White Wig, Grasping Her Other Wigs and Saying, "How Mercurial Is Life?," but I could be converted to Alexis Futilely Trying to Close Her Suitcases.
• "I fit my high-school best friend into a suitcase way smaller than this when we were crossing the border between Laos and Vietnam, so I'm pretty sure I can figure this out."
• Stevie Budd is really trying to LIVE, guys! Sure, she shows up for the tour of the wedding venue in full Cabaret makeup after a wild wrap party, but she is also finally able to say the scary thing aloud: She wants more out of life, and she tells Alexis she's jealous that she is off to see the world. Stevie wants that too. She'll surely get a happy ending when this is all said and done, but it'll be fun to see how it plays out.
• The way Catherine O'Hara says "bopped on the head by a tiny piece of space debris" is a masterpiece, and all human beings should be forced to listen to it at least once a year.