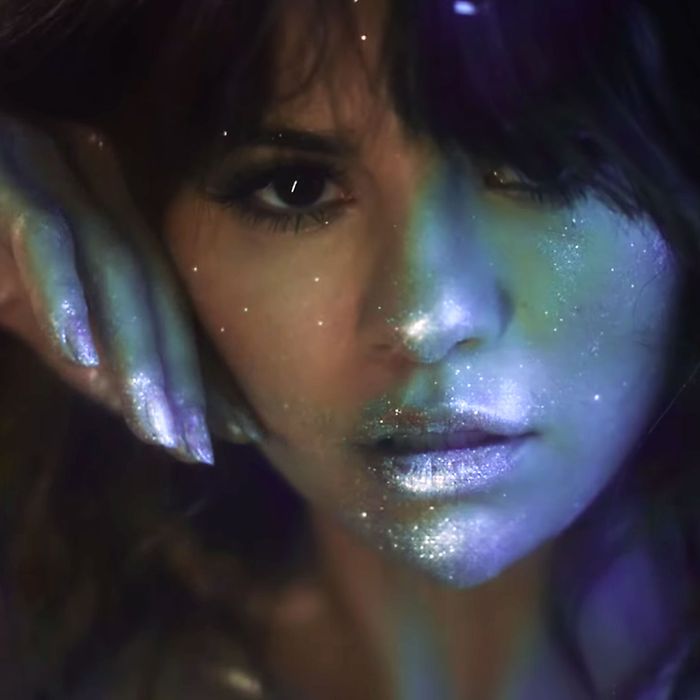 Rare
is sleek to a degree that makes 2015's
Revival
seem sluggish
Photo: YouTube
The path to Selena Gomez's third album has been beset on all sides by hardships. Gomez has fought a battle with lupus that led to intensive therapy, kidney transplant surgery, and cruel internet speculation about fluctuations in her weight. There were makeups and breakups with high-profile exes Justin Bieber and the Weeknd, whose Purpose and My Dear Melancholy albums both contained songs that appeared to reference their time with Gomez. (Imagine going through a split and having your ex release "Call Out My Name," "Where Are Ü Now," or "Love Yourself.") The singer eventually spent time in rehab facilities to work through depression and anxiety. The trickle of singles released in this stretch — the Talking Heads flip "Bad Liar," the Gucci Mane collaboration "Fetish," the reggaeton hit "I Can't Get Enough," and the folk-pop jams "It Ain't Me" and "Wolves" — suggested tantalizing new directions and then sped off as soon as they started to stick. It's apparent now that she was trying to get to a place of stability before pulling the trigger on another full album statement.
This past fall, "Lose You to Love Me" struck a stately balance between the singer's journey to wellness and the drama in her press clippings. It's a song about learning to stand up for yourself, about avoiding situations that make you feel like a supporting character in your own story, about reaching the epiphany that your own healing and happiness are just as important as everyone else's. "Lose You" is assertive without being accusatory, the kind of reflexive breakup song that resonates whether you did dirt or had dirt done to you. (For the excoriating honesty in the lyrics and her monastic choral vocals, Gomez ultimately earned her first Billboard Hot 100 chart topper, and later a spot on Vulture's list of the best songs of the year.) A day later, the passive-aggressive dance-pop jam "Look at Her Now" pushed the dial back to breakup shade. Rare, Selena Gomez's new full-length out today, follows the lead of the second song. The bad times are in the rearview. Rare dramatizes putting yourself back out there after a rough patch, like Usher's "U Don't Have to Call." It's a whole album's worth of "I still got it."
Rare is sleek to a degree that makes 2015's Revival seem sluggish (in spite of the new one being the slightly longer album, at 41 minutes). Verses are curt and pithy. "Ring" packs a venomous bite into two lines in: "Yeah, I received your message, all 23 / You know I'm Jordan with it, G-O-A-T." Only one song bothers with a third verse, and only to make space for a short, sweet spot from R&B singer 6LACK. The result is pure locomotion, a series of two-and-a-half- to three-minute radio killers that shoot first and don't stick around to ask questions. As such, Rare is exactly as strong as its punch lines are sharp, as its beats are buoyant. Results vary. "Vulnerable" ponders taking the plunge with someone new to tasteful, muted sonics. "Ring" crosses a melody similar to Camila Cabello's "Havana" with a lyric that mirrors Jazmine Sullivan's rage anthem "Bust Your Windows." "Dance Again" and "Kinda Crazy" work on an antiseptic lite-funk sound that frankly pops best on "Cut You Off." Everything floats, but not all of it is essential, making the choice to relegate the prerelease hits to big-box retailer and overseas market deluxe editions seem puzzling. If French Montana got away with tacking ancient hits like "Lockjaw" and "No Shopping" onto the end of his Montana album, we ought to at least been able to have "Bad Liar" and "I Can't Get Enough" here.
Rare is almost inarguably Selena Gomez's best album. There's very little in the way of filler, and none of the lesser tunes are allotted enough time to drag. That said, the towering "Lose You to Love Me," and the closer "A Sweeter Place" — where Selena and Kid Cudi ponder what it takes to go from living well to living the best possible lives — suggest that even greater writing and deeper reflection were possible throughout the length of this album. Rare celebrates Selena's newfound peace and independence, but it doesn't say as much about the war to get there, the way a song like Avril Lavigne's soaring, resolute "Head Above Water" has in recent years. The production is airtight and hooky, an expression of pop's genre-melding present that doesn't take any wild gambles on the future. There's nothing wrong with that! But it would be nice to see an artist who hasn't put out an album in half a decade taking a few more chances.
*A version of this article appears in the January 20, 2020, issue of New York Magazine. Subscribe Now!