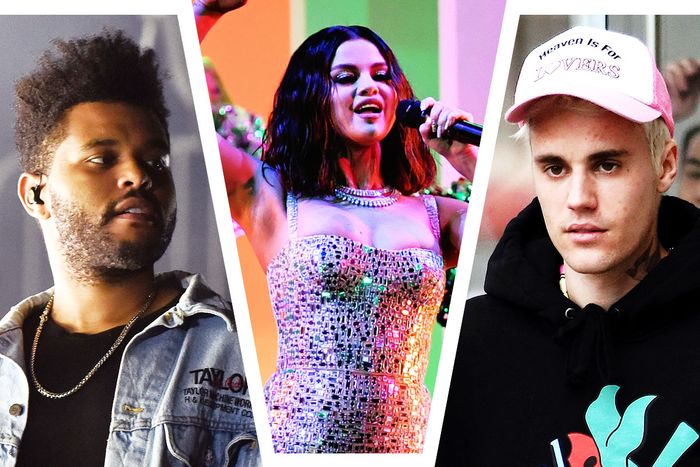 The lyrics on
Rare
all point to her newfound clarity, but they also can't help but reveal details about her recent relationships with two of music's biggest names.
Photo: Getty Images
There's no such thing as too much information on Selena Gomez's new album, Rare. It's been nearly five years since her last album, Revival, and frankly, we have a lot to catch up on. In the last half-decade, Gomez has gotten back together with Justin Bieber, dated the Weeknd, battled with her mental and physical health, and somehow come out stronger. The lyrics on Rare all point to her newfound clarity, but they also can't help but reveal details about her recent relationships with two of music's biggest names. So, which songs are about which pop star? Let's break it down like the chorus on "Look at Her Now." Mm, mm, mm, mm, mm, mm, mm.
"Look at Her Now"
"Look at Her Now" is Selena Gomez telling the fairytale version of her life. In third person, she describes the end of her relationship with Justin Bieber.
"They fell in love one summer, a little too wild for each other / Shiny 'til it wasn't, feels good 'til it doesn't / It was her first real lover, his too 'til he had another / Oh, God, when she found out / Trust levels went way down."
Basically, every lyric points to Justin Bieber. But the real revelation from "Look at Her Now" is that Selena feels she came out of the relationship stronger. Even if she can't fully associate herself with the progress (seriously, why the third person?), look at her now! She's doing it, day by day.
"Lose You to Love Me"
Selena Gomez's first single from Rare laid everything on the table. She mourns her relationship with Justin Bieber, but doesn't regret ending it all. "Lose You to Love Me" is so packed with references to their love that it deserved its own investigation.
"Vulnerable"
"Vulnerable" sounds like a song by the Weeknd. That's completely subjective, but with lyrics this vague, we gotta look at all the clues to determine who Sel is singing about. Throughout the song, Selena questions her lover, essentially asking if they have what it takes to be with her. "If I show you all my demons, and we dive into the deep end / Would we crash and burn like every time before?" she asks. "Every time before" might indicate that they've broken up and gotten back together multiple times, but it could also reference both Selena and the Weeknd's previous bad breakups. By the end of the song, Selena decides that the love is worth the risk. That's certainly not how she feels about Justin Bieber anymore.
"People You Know"
This catchy song sounds like it's more about weed than it is about the Weeknd or Justin Bieber. Like, "You were running through me like water / Now the feeling's leaving me dry"? "When it was good, we were on fire, now I'm breathing ashes and dust / I always wanna get higher, I never know when enough is enough"? I digress. I know what an extended metaphor is! All the drug and "high" references on Rare indicate very little except for the fact that Selena is perhaps more lit than we thought. Anyway, Selena has been open about the fact that she and the Weeknd ended things on good terms. "Something that I'm really proud of is that there's such a true friendship [between us]," she told Billboard in 2017. So, if she doesn't know who this person is anymore, it's probably about Justin Bieber, whom we as a collective are learning more and more about daily.
"Kinda Crazy"
Fans are torn over "Kinda Crazy." Is it the Weeknd, Justin Bieber … or a dark horse? Because some fans believe it's a Charlie Puth diss track. It's sort of unclear what was going on with them back when they wrote 2016's "We Don't Talk Anymore," but "Kinda Crazy" is vague and makes it seem like the relationship was nothing more than a fling, since she's able to call it quits so easily. Puth wasn't exactly thrilled with the way things ended. "It wasn't like I was the only person on her mind," he told Billboard in 2018. "And I think I knew that going in — what I was getting myself into." Soon after that interview, a source told People that Gomez "never dated" him. Selenators, defensive but loving, think Puth is being a little obsessive and would love it if Selena also though he was kinda crazy.
"Hey, you started out sweeter than hard candy / Words were like licorice to the taste / But slowly, all the sugar, it went to waste / Went to waste / Oh, you started getting funny with no jokes / I started seein' through you like a ghost / And now I'm pretty sure I can't take no more."
The fact that she mentions "words" could mean nothing — all three men are songwriters — but Charlie is the only one she wrote a song with. Later, she sings, "Been dodgin' phone calls lately / But still textin' me 'Baby,'" which points to some of that obsessive behavior Selenators were talking about. Ultimately, he and Selena are on fine terms, so if all this investigating proves false, the song is probably about Justin Bieber.
"Fun"
Abel Tesfaye has entered the chat! On "Fun," Selena sings about someone she likes being around, but doesn't think is the one. She and the Weeknd dated while she was undergoing serious health issues related to lupus. She opens the song with "This is just what the doctor ordered (Yeah) / Put a gold star on my disorder," referencing her illness and the Weeknd's support. According to People, the Weeknd arranged his tour schedule around her kidney transplant surgery and was there for her during recovery. Sel goes on to sing, "I'm a sensitive situation (Mmm) / You're a hot and cold combination / Oh, we both know we got complications (Mmm)." Those "complications" have names, and they're Justin Bieber and Bella Hadid.
"Can we keep it on a first name basis? (Ah) / We could overcrowd each other's spaces / You get me higher than my medication / Take me to different places, let's face it, I'm gettin' impatient (Ah)."
In the second verse, she asks to call him by his name, obviously a reference to the fact that everyone knows him by his stage name. Then, she references her illness again. "Take me to different places" could be because Selena traveled with him on tour until her surgery. "Fun" is sad but hopeful about their relationship and a good indicator that there's no hard feelings there.
"Cut You Off"
Selena Gomez has a pair of a scissors and is not afraid to use them. "Gotta chop-chop all the extra weight, I've been carrying for fourteen-hundred-sixty days," she sings. That's four years in human-speak. In June 2019, Gomez deleted the final photo of Justin Bieber on her Instagram, ending the back-and-forth they had been doing since their break up in 2014. So, yeah, more or less four years. We'll take it.
Every time Selena Gomez and Justin Bieber break up, they try to do this thing where they aren't friends, but they're friendly on social media and, clearly, it's confusing for everyone.
"I might as well just tell you while I'm drunk, yeah / The truth is that I think I've had enough / Professionally messing with my trust / How could I confuse that shit for love? / So I gotta get you out my head now / I'll just cut you off."
Selena's had enough! "Professionally" may point to the Instagram back-and-forth. It's similar to a Justin Bieber lyric (LOL, no, not from "Yummy") from "Love Yourself": "And all the clubs you get in using my name." Both Selena and Justin feel like the other is using celebrity to get back at them. The second chorus on "Cut You Off" switches the lyric to "emotionally messing with my health," which seems just like a long way to say "stressing me out."
All in all, "Cut You Off" is about an "asshole boy who shall not be named," according to co-writer Liza Owen. While so much of Rare is about bad boys, it's mostly about the strength Selena Gomez has found through it all and her ability to turn that into bops!