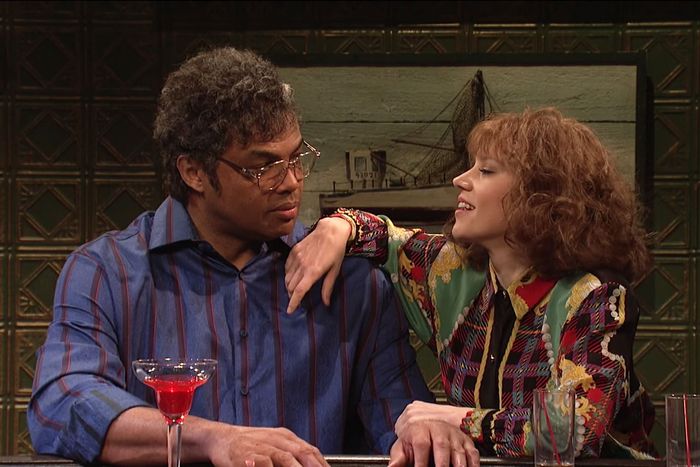 Charles Barkley and a very horny Kate McKinnon on
SNL
.
Photo: NBC
When J.J. Watt hosts Saturday Night Live this weekend, it's a safe bet that the episode will follow the formula it's mostly stuck to whenever a sports superstar is the guest of honor: They play an exaggerated version of themselves, a sketch or two involves their day job and the skills they're known for (in Watt's case, hitting quarterbacks with alarming force), they'll get plugged into recurring bits and maybe, if they're game, get a little bit weird. Watt has a leg up on most of the 30-something other athletes who've hosted before in that he's done a bit of comedy, appearing in Bad Moms and on several episodes of The League, so it's almost a gimme that he'll be one of the better jocks to grace the Studio 8H stage.
That's because the track record of athletes on SNL doesn't even qualify as a mixed bag of success — most of it is better left forgotten. (To be fair, many trained actors fail at this job, too.) But still, it's not all bad — there are some that are good team players and let the cast carry the moment, and a few where the athletes' commitment elevates the bit. So with that in mind, we looked through all the sketches of sports stars on SNL that we could find online and picked out the best sketches where the athlete didn't drop the ball.
Joe Montana and Walter Payton, "Church Chat" (1987)
Back in 1987, SNL enlisted NFL stars Joe Montana and Walter Payton as co-hosts, a double billing that's only happened once in the last 15 years when Amy Poehler and Tina Fey tag-teamed the 2015 Christmas episode. The duo goes head-to-head with Dana Carvey's Church Lady to discuss the football, a sport she doesn't watch because it's played on the Sabbath and "the fans scream like little Beastmasters, drink beer, and spit up." Most of the "Church Chat" involves the discussion of how much ass-grabbing and slapping there is in football, with both players getting their hands on Carvey's at some point. Montana does most of the acting here, though Payton's "superior dance" moves are far better than the quarterback's.
Wayne Gretzky, "Anal Retentive Fishing" (1989)
Phil Hartman does most of the lift as Gene, the anal-retentive public TV host who can never get through a show thanks to his obsession with neatness. The hockey star plays himself, doing very little until the end when he has to fight off a massive fish, a bit to which he commits about as well as he can. Fun fact: Gretzky and Hartman both hailed from the same city of Brantford, Ontario. (Watch it here.)
Chris Evert, "Lothar of the Hill People" (1989)
The tennis star came to SNL to celebrate her 1989 retirement, hosting the same episode that gave us the classic "Colon Blow" ad. In this briefly recurring sketch, Lothar of the Hill People (Mike Myers) commiserates with other tribal chieftains (Phil Hartman, Jon Lovitz) about their lackluster "walking with women" lives and how sometimes they must "walk" alone for satisfaction. Eventually, Evert shows up as She Beast, Ruler of Courts of Clay, carrying a primitive racket to explain that women just want to be treated equally. The men are perplexed, so she elaborates: "You must first understand that women walk differently from men. You must help them prepare for the walk. Picture, if you will, a little man in boat." Lothar then ends the sketch as Evert continues to explain the genital geography in the background, presumably with little success considering how long that joke has stayed relevant. (Watch it here.)
Michael Jordan, "Daily Affirmation" (1991)
Jordan basically played himself throughout this episode without stretching too much, outside of dancing in a hula skirt alongside Bill Swerski's Superfans and starring in a brief parody of a douche commercial. The highlight came when Jordan could barely retain his composure as Al Franken's Stuart Smalley, oblivious to Jordan's incredible talent and the game of basketball itself, led him through a daily affirmation that includes "I don't have to dribble the ball fast or throw the ball into the basket." Like many other athlete-hosted episodes, the jokes were all in service of Michael's greatness, so it's fun to watch him struggle a little.
George Foreman, "Chris' Bedtime Story" (1994)
Just a few years before he retired to a life of hawking grills, Foreman became the oldest heavyweight-boxing champ at age 45, just six weeks before he hosted this episode. In an odd sketch, Chris Elliott visits Foreman's dressing room to take a nap while Farley, Spade, and the other young stars do the show. Elliott's only problem is that he can't fall asleep without a bedtime story, so Foreman agrees to read him Goodnight Moon, impatiently explaining that it's not real. It's a strange concept, but Foreman's tough-yet-sweet demeanor makes it almost believable. (Watch it here.)
The Rock, "Mr. Peepers and Papa Peepers" (2000)
Yes, it might seem odd to see Dwayne "the Rock" Johnson on this list, but when he hosted SNL back in 2000, the world only knew him as a wrestler. At that point, his only acting credit outside of the ring was an episode of Star Trek: Voyager that premiered a month before he hosted the show, so even hard-core wrestling fans didn't know how "the People's Champ" would fare on SNL. It was a wonderful surprise, and a sign of things to come, when the Rock exceeded expectations in multiple sketches. In this iteration of the Mr. Peepers sketches, Johnson abandoned his suave, tough-guy persona to let loose alongside Chris Kattan, maintaining his comedic timing while eating, grunting, spitting, jumping, and ultimately humping Chris Parnell's staid professor character. For further proof about just how far the Rock has come as an actor and host since then, watch his wrestling-themed monologue, which also features then-writer Mike Schur getting dragged offstage by WWF champ HHH.
Derek Jeter, "Weekend Update: Point/Counterpoint" (2001)
When Derek Jeter was recently inducted into the Baseball Hall of Fame, Seth Meyers used the opportunity to tweet out this 2001 "Weekend Update" bit where he and Jeter debate whether or not the latter sucks, à la Jane Curtin and Dan Aykroyd's classic "Point/Counterpoint" segments. "Jeter sucks" was a common refrain among die-hard Sox fans like Meyers, one that rang a tad hollow considering that, at that point in time, the Yankees shortstop had won four championships in six seasons while the Red Sox hadn't won a World Series since 1918.
The segment is terrific; though as Meyers admitted on Twitter, it would've been better if he'd paraphrased Aykroyd's famous, "Jane, you ignorant slut" line.
Andy Roddick, "Z105" (2003)
Andy Roddick is absolutely believable playing himself as he faces an excruciating interview with Jimmy Fallon's obnoxious radio host Joey Mack, who does all the voices for his "Zoo Crew" without letting his guests get a word in. Considering how many of these idiotic morning DJs athletes have to endure throughout their careers, Roddick was surely used to dealing with them making puns about his name ("trying to get some of that rod dick") but never the racism and pants-crapping that Fallon invents, making his earnest pleas all the more entertaining. (Watch it here.)
Tom Brady, "TV Funhouse: Sexual Harassment and You" (2005)
Brady gets an A for effort as host — he's a bit stiff overall, but he really went all out with a musical monologue and a few sketches that have nothing to do with football. The standout is a Robert Smigel–written PSA on workplace sexual harassment that demonstrates the wrong and right ways to approach colleagues. Fred Armisen's attempts at flirting are all wrong because he's not attractive. At first, it appears Brady is just going to repeat Armisen's lines verbatim and get away with it because he's good-looking, but he takes it an extra step both times, grabbing Amy Poehler's breast and talking to Tina Fey while pantsless. It's a simple premise that's creepily relevant today. (Watch it here.)
Peyton Manning, "Digital Short: United Way" (2007)
Easily the best of the bunch, Manning took his famed on-field intensity to a much darker place in this spoof of the NFL's wholesome youth-mentoring ads. Everything in this digital short seems normal until 30 seconds in, when the Colts QB pegs one of his young wards with a football, tells him to "get your head out of your ass," and banishes him to a Porta Potty. Then it's on to jimmying a car door, running from the cops, giving one kid a tattoo, and explaining to them why he'll "kill a snitch." By this point, Manning had been in a few decent commercials for MasterCard and Sprint, so people knew he had a little comedic timing, but it was still a shock to see the consummate pro get this dirty.
LeBron James, "Read to Achieve" (2007)
It's funny watching LeBron, just four seasons into his NBA career, interact so stiffly with his future Trainwreck co-star Bill Hader, who plays commercial director Mike Underballs. There's just so little chemistry, though James displays his natural comedic prowess as he gets increasingly angry at Jason Sudeikis's aggressively cocky PA. It's also hilarious, in hindsight, to hear Sudeikis crack, "We should get Dwyane Wade anyway. At least he's got a ring," as James was just a few years away from infamously joining Wade in Miami and getting his first championship. (Watch it here.)
Eli Manning, "Little Brothers" (2008)
Eli Manning's entire life was and always will be spent in elder brother Peyton's shadow. To their credit, the siblings — whose father was also an NFL quarterback — had a decent sense of humor about it throughout their Super Bowl–winning careers, with Eli known as the kinda dopey, less-talented son. Even on SNL, he had to follow Peyton's "United Way" hit a year later and, thankfully, SNL addressed the rivalry head on with "Little Brothers," a slightly different charity parody. The premise is simple: After years of bullying, Manning is channeling his pent-up rage by helping kids violently exact revenge on their brothers. The kicker here is, rather than leaving the real-life circumstances unacknowledged, Eli yells, "Maybe now you'll treat your younger brother with some respect, Peyton!" while kidnapping Andy Samberg. Manning, a massive Seinfeld fan, also showed off his comedy chops in a courtroom sketch where he's forced to recite his horribly thirsty text messages under oath. (Watch it here.)
Charles Barkley, "Last Call" (2018)
Barkley is the only non-wrestling athlete to host multiple times, coming to 30 Rock in 1993, 2010, 2012, and 2018. It's especially admirable considering that Kenan Thompson has impersonated him several times, poking fun at the former Sixer and current NBA analyst's massive gambling losses. It's hard to pick the Round Mound of Rebound's best sketches, as he's been pretty good in "Daily Affirmation," "The Haney Project," "Scared Straight: Trespassing," and the cut-for-time "Star Warriors," where he played a character who can't understand the languages of Star Wars characters. So, in fairness, we'll just go with the final sketch of Barkley's most recent episode, a "Last Call" with Kate McKinnon's horrifically horny Sheila Sovage. On top of the usual tragic come-ons that happen in these sketches, Barkley and McKinnon go above and beyond with a make-out session aided by dental mouth openers. Watch at your own risk of gagging.