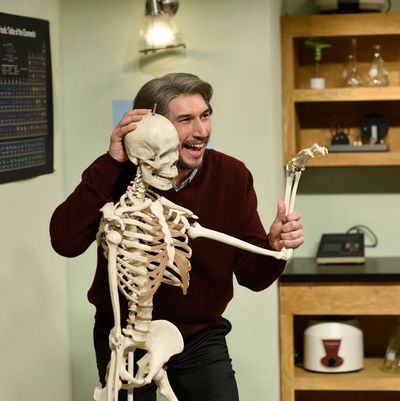 Adam Driver has racked up three SNL hosting gigs in pretty rapid succession. His premiere in 2016 fell on the heels of his coronation as Star Wars' new emo baddie, and his second gig in 2018 followed his turn in BlacKkKlansman and ascendance as Bankable Dramatic Actor. This third appearance follows the conclusion of the Star Wars trilogy and a Best Actor Oscar nomination for Marriage Story. There have been hints of Driver's comic possibilities in films including Inside Llewyn Davis, but SNL really teases out his broader impulses, channeling Driver's intensity for comic purposes as well as giving him permission to play. Tonight's show primarily asked him to glower and grimace, but he had chances to get silly, too.
As usual, this week's sketches are ranked here in order from best to worst.
Alan Dershowitz Argues for Trump Cold Open
As the impeachment trial of President Trump gets underway, Mitch McConnell (Beck Bennett) and Susan Collins (Cecily Strong) invite Alan Dershowitz (Jon Lovitz) to give a preview of his defense. But Dershowitz's heart gives out and he goes to hell, where he meets a fangirl Satan (Kate McKinnon), as well as his former client Jeffrey Epstein (Adam Driver) and the guy who wrote "Baby Shark," among other undesirables. This sketch gives writers a fun way to gather some of their least favorite people in one setting and knock them around a bit. The Epstein material is more about shock than it is about skillful dissection, but there are lots of great particulars about influencers, podcasts, and Mr. Peanut. McKinnon's bubbly Satan is delightful and Lovitz — well, it's just nice to see the guy.
Adam Driver's Chill Monologue
Because Driver's acting gigs make people assume that he's a "serious, private, intimidating guy," he decides to chill out onstage and just chat. He wanders the set, talks a bit about his life — he's a dad, a former marine, and he lives in Brooklyn. Eventually, he hands a Kylo Ren action figure to a guy who "looks like a Star Wars fan," and vows to kill him if the toy ever shows up on eBay. It's a meandering, stream-of-consciousness meditation that gives Driver an opportunity to play with his public persona. There are no walk-ons and the jokes aren't fast and furious, but Driver fills every moment. It also gives a sense of just how good Driver's comic instincts are.
Medieval Times
At the Medieval Times located in the "mighty kingdom" of New Jersey, the king's knights prepare for battle. Things are a little off, however, as overzealous acting student the Red & Yellow Knight (Driver) brought his own costume and weapon from home. Diverting from the script, he screams about his murdered son and the unjust "bastard" king (Beck Bennett) that he, the Red & Yellow Knight, wants dead. Also, he's dusted off a few old racist epithets he's ready to share with the crowd of unsuspecting spectators. While the conceit is really clever, and there is a lot of great support work from Bowen Yang, Chris Redd, and Kenan Thompson, the scene can't quite turn Driver into the manic, scenery-chewing beast of 2018's "Career Day" sketch.
Weekend Update
The top of Update considers the week's impeachment proceedings, including how long Adam Schiff stood addressing the Senate and the Republicans' "shrug emoji" defense. Of the entire process, Michael Che asks this pointed question: "You're telling me the United States government can't figure out how to remove a crazy dictator? We've been practicing all over the world for a hundred years." Aidy Bryant makes an appearance as Carrie Krum, the tweenage Travel Expert whose suggestions include visiting her uncle's house in Lincoln because she saw an elliptical there with a boy's bathing suit drying on it. Bryant's charms are pretty irresistible here, even if the material isn't all that crisp.
Though there are a few easy shots taken in the second half, there's one fantastic joke about the demise of an icon: "Planters Peanuts announced that the company mascot, Mr. Peanut, has died. In accordance with his wishes, he has been cremated." (Cue the over-the-shoulder image of peanut butter.) Then Melissa Villaseñor comes on to discuss the Oscars. Ostensibly, she is nominated for songwriting, and shares some of her songs, which describe the plots of this year's nominated films before tying them to "white male rage." While Villaseñor is all sequins and smiles, she makes a good point; that whimsical tone gives her a nice opportunity to twist the knife.
The Science Room
In the return of this PBS Kids' show, Professor Zachary Adams (Adam Driver) invites youngsters Loni and Josh (Cecily Strong and Mikey Day) into the lab to learn about oxygen. Despite their enthusiasm, the kids are a little nervous and a lot dumb; they don't know the word "oxygen" and get distracted playing with scotch tape. When the prof asks them, "What comes first in the science room?" Loni answers not "Safety," but, "The guy?" Day and Strong both play stupid well, which isn't easy, but what really sells the sketch is Driver's confusion, which soon becomes a blinding rage.
Slow
Be forewarned: There's no way to talk about this one without ruining it. In this R&B jam, a trio of crooners (Chris Redd, Kenan Thompson, and Adam Driver) foreshadow all the delicate intimacies they have in store for their ladies (Ego Nwodim, Heidi Gardner, and musical guest Halsey). While a lot of R&B loves to take it slow, for these guys, slow is an understatement. They might drive two miles and hour on the freeway, or kiss a shoulder for an hour. By the time they reach their ladies, those ladies are more than impatient and wondering whether the guys are not just slow but "slow slow." It all feels a bit long, but then again, that's the central idea here — and the joke just before the blackout is a nice switcheroo.
Undercover Boss: Where Are They Now?
Star Wars villain Kylo Ren (Driver, naturally) returns to Undercover Boss to check his progress as an supreme commander. This time, as an intern, he is forced to handle drink orders and degrading jokes from lowly Stormtroopers. Of course, he can only take so much abuse and starts using the force to eliminate those who mistreat him. As this is a second beat of the sketch, the gore feels inevitable. Fans will take any excuse to be submerged in the Star Wars universe for a few minutes, but with the surprise gone, this won't hold as much interest for agnostics.
Cheerleading Show
In this sendup of the buzzy Netflix docuseries Cheer, two driven cheerleading coaches (Heidi Gardner and Adam Driver) select an elite squad to perform at the big cheer competition in Daytona. Troy (Beck Bennett) smells of arm rot, Desi's (Chloe Fineman) ankle melted yesterday, Tony (Bowan Yang) is in a cast from the waist down, and Tara (Halsey) is stuck in the ceiling, but despite physical meltdowns, they're dedicated to the cause and ready to holler every bit of cheer gibberish with verve. For all the energy of the performances, and some smart specifics, the escalation of the injuries doesn't really give the scene a lot of drive. It's worth mentioning Kenan Thompson again, as he makes the most of his moments playing the ever-optimistic eternal also-ran.
Marrying Ketchups
Late night at Lily's Diner, the manager (Aidy Bryant) asks a waitress (Heidi Gardner) to take care of one task before she goes: marrying the ketchups. The scene zooms in on two half-full bottles of ketchup, in tux and gown, preparing to wed. Sadly, the union of Wanda (Cecily Strong) and Windermere (Adam Driver) is doomed. She is actually low-class "catsup" and is in love with a bottle of Cholula (Kyle Mooney); he needs to be slapped on the back in order to perform. The twist on this restaurant chore is the sketch's biggest surprise, but it creates a fun little canvas for Strong and Driver to play out soap-opera clichés of lust and betrayal.
Del Taco Shoot
On the set of the new Del Taco commercial, two actors (Kyle Mooney and Chloe Fineman) rehearse with the director (Beck Bennett) and company's VP of Branding (Adam Driver). All goes fine until the director takes an issue with the actor's read on the line, "Aw, man, I'm all out of cash!" Nothing makes it feel right, not gentle direction and not a request that the actor drop his pants and "breathe deep through [his] butthole." The VP agrees, either the guy sounds like a pervert or like he wants to kill himself. With so little to the premise, it wouldn't have legs without a give-and-take that recalls Mooney and Bennett's sketch group Good Neighbor. Highlights include Driver's nasal, twerpy reading of the line and Chris Redd's nonplussed camera operator.
Sleepover
A suburban dad (Driver) visits his daughter's slumber party to ask the girls about a bathroom problem: Someone unsuccessfully flushed a pad, shoved more toilet paper in to disguise the clog, flooded the room and caused an electrical issue. While no one fesses up, Megan (Kate McKinnon) is oddly wet and her hair is defying gravity. Despite mounting evidence, Megan will only flirt with the "hot dad" and denies doing any of it. Anyone with an aversion to toilet talk won't love this sketch, but at the least, the cause of the plumbing problems is not the norm. While Megan is enjoyable, of all McKinnon's characters, this one isn't incredibly fleshed out.
It's hard to say whether the writers have a better idea of what to do with Driver now, or whether he just feels more comfortable at 8H, but he improves as a host with each new show. The first beat of the Undercover Boss parody and "Career Day" are hard to top, but Driver proved he could do a lot just delivering a monologue alone, onstage. Weekend Update was middling, but the unusual, slightly nasty cold open succeeded even as it threw just about everything against the wall to see what would stick. Next week, J.J. Watt plays the host; and before then, many sports-averse SNL fans will google "J.J. Watt."