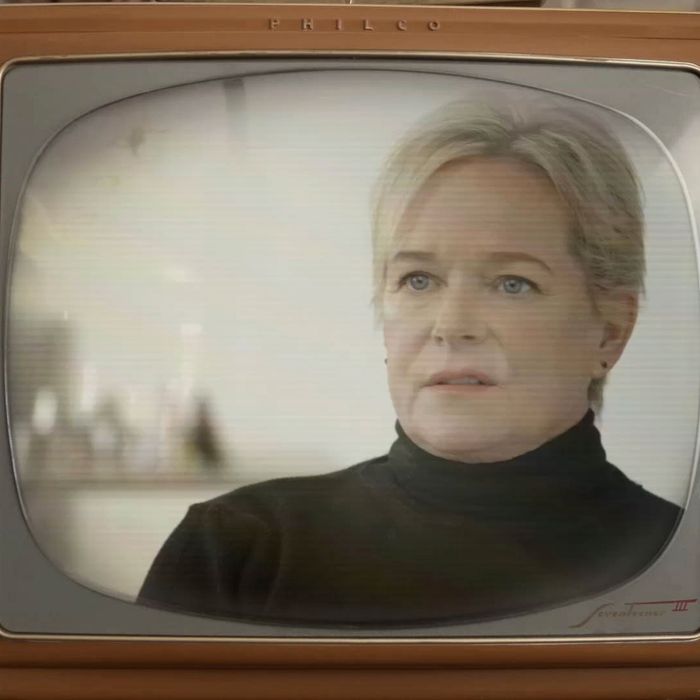 Ron Cicero and Kimo Easterwood's
Happy Happy Joy Joy
.
Photo: Courtesy of Sundance Institute
This article was featured in One Great Story, New York's reading recommendation newsletter. Sign up here to get it nightly.
"Imagine yourself more than a hundred years back, when most of the things that define our modern life were invented," says Austrian director Hubert Sauper in the opening moments of his documentary portrait of Cuba, Epicentro. Among these inventions: machine guns, movies, and American hegemony. He tells us about the sinking of the U.S.S. Maine in Havana Harbor in 1898, an event that helped launch the Spanish-American War and the subsequent U.S. colonization of Cuba, America's first overseas colony. Coming right after the birth of cinema, the Maine disaster was replicated in motion pictures of the time; images of the tragic wreckage and of valiant American sailors' funerals were shown across the U.S., helping feed the public appetite for war. As Sauper puts it: "The machine of dreams also brought humanity into the macabre theater of war."
But then his camera shifts, to a group of Havana schoolchildren working on an alternate portrayal of the Maine incident, using a giant tub and model boat; in this one, the Americans are decidedly less valiant. And then a Cuban artist creating his own animated version of the sinking, in which Americans sabotage their own ship as a false-flag operation to justify their imperial designs on Cuba. (History isn't entirely settled on this matter, but modern investigations suggest that the Maine explosion was caused by an internal fire.)
One of the main questions posed by Sauper in Epicentro is what happens when the marginalized — be they individuals or entire oppressed populations — create their own narratives against the dominant ones. It's an idea expressed in many of this year's Sundance documentaries: how stories change when different people start telling them. Of course, any good drama is, to some extent, a tale that turns into a different tale, and questions of point of view have haunted cinema since its very beginnings. (That is actually part of Sauper's thesis.) But this year's festival has been unusually focused on the question of narrative control: who has it, who demands it, and the seismic shifts that can happen when it changes hands. As a result, many of these films avoid the clinical, social-issue approach all too common to documentaries. Instead, they let their subjects relay their own experiences. The results are both formally daring and invigorating.
Take, for example, Garrett Bradley's sublime and haunting Time, a picture spanning more than two decades as it follows the life of Fox Rich, who was arrested with her husband Rob for holding up a credit union. Rob was sentenced to 60 years in prison. Fox, after serving a far shorter sentence, had to raise her six children largely on her own. Along the way, she continued to fight for her husband's release. That may sound like the makings of a standard-issue longitudinal documentary. But Fox had shot reams of video footage of herself and her family since leaving prison, to show her husband what he was missing while behind bars. As a result, Time unfolds as a kind of collaboration between the director and her subject, driven by Fox's own footage, shaped by Bradley into a film that is as much about the wonders of Fox's life as it is about her struggle to get Rob back.
Another family uses cinema to their own ends in director Irina Tsylik's The Earth Is Blue As an Orange, which follows a single mother and her four children in Ukraine as they begin making films to cope with the tedium, trauma, and terror of war. Shells fall in the distance as they huddle in their cellar with a camera. They re-create events they lived through, at one point even enlisting a tank full of soldiers to participate. The eldest daughter starts taking cinematography classes, and they sit at night planning out shot lists, trying to figure out the best way to depict the utter devastation of their city. The material is there, and plentiful — the devastation has already happened, and is still happening — but now they get to craft their own stories around it. Director Tsylik shoots all this with an eye toward further blurring the line between fiction and nonfiction; sometimes we will see a stark, disturbing scene, and only realize later that it's being staged for the movie this family is making.
As a result, The Earth Is Blue As an Orange not only becomes about how an ordinary family uses film to reframe their life, it also makes us question our attitude towards the subjects of narratives about war: Despite the danger and horror surrounding them, these people are not victims, or passive subjects. They seize the means of representation and find something true and beautiful within it — which in turn, of course, better captures the horror and tragedy swirling around them.
The subject of Susanne Regina Meures's Saudi Runaway has a similarly direct connection to the moving image. Muna is a young Saudi woman preparing to escape the repressive kingdom, and she films her experiences with a determination that would put Ross McElwee to shame. Muna is frustrated with her status as a second-class citizen, and dreading her upcoming arranged marriage to a man she doesn't really know. With iPhone in hand (often under her hijab), she documents her reality — including its occasional joys — with a startling degree of closeness and honesty. She also includes lengthy passages where she mulls her decision: She can't stay in Saudi Arabia anymore, but she's heartbroken about leaving her loved ones behind, including her beloved younger brother (who is beaten nightly by her father) and her mom (who reveals that she's thinking of leaving her dad). The entire film is based on Muna's own footage, and this lived-in, ground-level perspective is electrifying. It feels like something we would not have seen a few years ago, not just due to the limits of technology, but also because we would have longed for some kind of overarching, Western directorial perspective on it.
The idea of grabbing hold of and reshaping a narrative gets a different kind of expression in Kirsten Johnson's deeply moving, occasionally hilarious Dick Johnson Is Dead, in which the director, in an effort to cope with her aging father's growing dementia and frailty, starts making a series of films that stage his death in shocking ways, starring her father. The production of these vignettes — complete with effects and stunt doubles — serves both to bring her dad closer into her world and to the work that she does, but it also suggests an alternative approach to dealing with grief. Every time Dick Johnson comes back from the dead, it's a gift. For a brief period, death becomes just another element in a movie — manageable, manufactured, temporary. Comforting, yes, but also empowering. Films like Time, The Earth Is Blue As an Orange, and Dick Johnson Is Dead all feel like games of rock-paper-scissors in which a fourth option — a camera — becomes the most dominant object of all.
That camera can open wounds as well. Several of the documentaries here appear to have started production as one thing, only to turn into something entirely different and more troubling. In Maite Alberti's engaging Chilean film The Mole Agent, an elderly man is recruited by a private investigator to infiltrate a nursing home, spurred to sniff out any signs of elder abuse by a client worried about her mother. The cameras follow our subject into this world, and as we spend time among these elderly residents, we (and he) realize that the truth is far more troubling and less sensational. These people are sad and lonely. They're not being abused, they're being ignored — by their own families. The filmmaker goes in to tell one tale, and discovers a very different one. A far more disturbing variation of the trend occurs in the documentaries Into the Deep and Happy Happy Joy Joy, which began as celebrations of their subjects (Danish inventor Peter Madsen and Ren and Stimpy creator John Kricfalusi, respectively) before the filmmakers discovered new information late in the game. (Madsen turned out to be a murderer, and Kricfalusi was accused of sexual misconduct.) To add an extra complication to the notion of cameras opening wounds: Since the premiere of Into the Deep, one of Sullivan's interview subjects has tweeted out that she does not want to be included in the film, as it "would endanger my health due to trauma." Again: Who gets to tell these stories?
Sometimes, as with Epicentro, the films are directly about how images and ideas are created and misused, and how they can be resisted. Sam Feder's Disclosure: Trans Lives Onscreen actually tackles cinematic depictions of trans people and how such depictions have influenced our many misconceptions of trans identity. Jerry Rothwell's The Reason I Jump immerses viewers in the experiences of nonverbal autistic people through innovative use of cinematic technique. Arthur Jones's Feels Good Man profiles Matt Furie, the creator of Pepe the Frog, an unassuming indie comic character that was then appropriated by alt-right trolls and online neo-Nazis; the film (which I have not yet seen) chronicles Furie's attempts to take back control of his creation.
Watching these movies, we become more keenly aware of how meaning is created, and how the perspective of the person shaping a story can insinuate itself into what might otherwise seem like raw reality. It's an idea that reverberates beyond the screen, too, for a festival that has made serious strides over the past few years to open itself up to a diverse range of voices — an important development in an independent film industry that has for many years been only slightly less homogenous than its richer, glitzier Hollywood cousin.
But nowhere do we see the consequences of how unseen forces can deliberately change the narrative of our lives more pointedly than in Diana Neille and Richard Poplak's Influence, which offers a dense look at the now-shuttered legendary British public relations firm Bell-Pottinger. In 2017, that company became mired in scandal in South Africa when it was discovered to be involved in an attempt by then-President Jacob Zuma's government and some powerful real-estate magnates to foment discord over the racially charged concept of "white monopoly capital." Using ad campaigns, moving images, fake websites, and armies of social-media bots, government-allied PR firms managed to turn an academic term into a household phrase — which in turn led to chaos and violence in the streets. However, once the PR firm's role was revealed, they were subjected to an equivalent pushback, again fueled by different forms of media. The scandal (whose complexity can in no way be summarized here) brought down Zuma's government, and led to the end of Bell-Pottinger.
It's the kind of story that makes you question everything, because it suggests that we now live in a time when the very texture of our lives can be defined, designed, and manipulated by powerful forces. We may think of ourselves as smarter and savvier, but the machine of dreams isn't done with us yet.