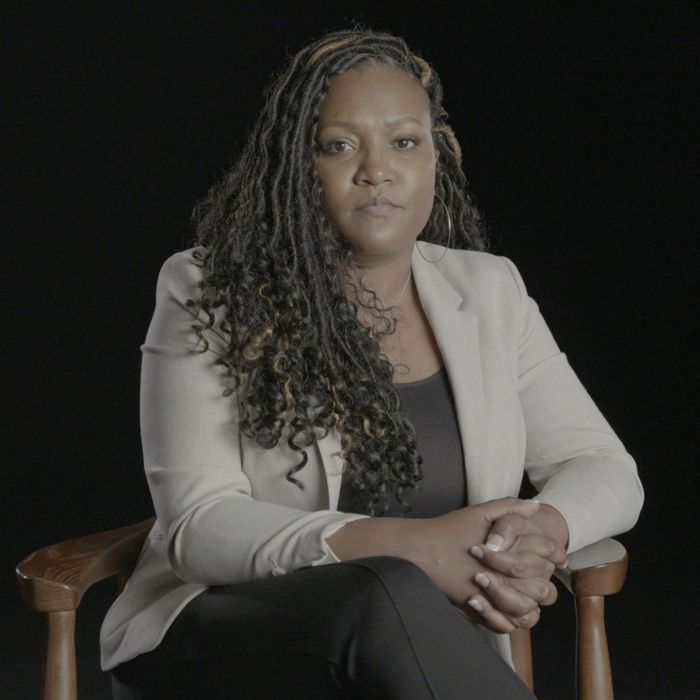 Tiffany Hawkins, the first woman to publicly accuse R. Kelly of sexual abuse.
Photo: Courtesy of Lifetime
R. Kelly is behind bars, but Surviving R. Kelly's work continues. Surviving R. Kelly Part II: The Reckoning premiered on Lifetime Thursday, the first of a three-night event showcasing the aftermath of the original Surviving R. Kelly docuseries that premiered in early 2019. Survivors of R. Kelly's alleged abuse spoke out on their experiences now that the world knows who they are. Since the first documentary, R. Kelly has been arrested and charged with 13 counts in Illinois federal court, five counts in New York federal court, ten charges in Illinois state court, and two charges in Minnesota. He's been dropped by his label RCA/Sony, campaigned against with the viral hashtag #MuteRKelly, and denounced by his former collaborators, including Lady Gaga. The documentary doesn't have all the answers, but it outlines everything the public needs to know about the alleged serial abuser and the system that allowed him to thrive. Here are some of the major developments in Surviving R. Kelly Part II: The Reckoning.
R. Kelly was sexually abused by more than one person as a child. 
R. Kelly's brothers, Bruce and Carey Kelly, recall an incident that occurred when R. Kelly was a child. Their neighbor, a "play uncle" named Mr. Henry, exposed himself to the young boys and abused R. Kelly multiple times. "He did identify the man that abused him," R. Kelly's ex-wife, Andrea Lee, says. "He said, 'I was so afraid 'cause I was so little. He would take me out in the field and he would tell me, 'Robert you can't tell anybody, otherwise I'm a cooked goose.'" One day, after Kelly "ran home" from Mr. Henry's house, his mother called the police. "The police came through and a lot of guys in the neighborhood, they ended up jumping Mr. Henry," Carey remembers. "Beating him until blood came everywhere 'til the police got there. When the police got there, they act like they wasn't even there. They just turned their backs and let the guys finish beating him before they went off to jail." In the end, Bruce claims Mr. Henry paid their mother $5,000 to miss court, dropping the charges.
The docuseries also discusses R. Kelly's abuse at the hands of a female family member. Kelly has opened up about the sexual abuse before in the song "I Admit." Carey admits to being abused by the same woman who was allegedly not much older than the children, but that he thought Robert "enjoyed it." "Someone who struggles with that type of trauma at an early age would be really confused about what sex is, what the rules around sex are, and how should I live a sexual life, what are the appropriate boundaries around sex," clinical psychologist Dr. Jody Adewale says in the documentary.
R. Kelly sought help for masturbating to sex tapes. 
Bruce Kelly recalls a time when Robert sought help from a pastor. Kelly confessed to Bruce and the pastor, referring to a closet "full of" sex tapes, presumably similar to the ones that have been publicized. "He was telling the pastor 'I look at those video tapes and I [expletive] off,'" Bruce says. "He was asking for help, like I have a problem. That's the only time, I think, that Robert admitted that he has a problem."
Faith Rodgers suffered an epileptic seizure after being threatened by someone defending R. Kelly. 
After a gun threat evacuated the Surviving R. Kelly premiere, Faith Rodgers, one of R. Kelly's victims, and her mother were approached by a woman who claimed to have naked photos of Faith. Last year when they met and were shown the photos, Faith, who has epilepsy, became so distressed that she had a seizure. "It took a lot out of me, that night, emotionally, physically, and spiritually," Faith says.
R. Kelly's former employees support victim-blaming the survivors who stepped forward.
Jen Emrich and Lindsey Perryman-Dunn, two former assistants, defend R. Kelly in the documentary. Emrich says she supports the now-deleted "Surviving Lies" Facebook page, which exposed private information and photographs of the survivors, including explicit photos of Faith Rodgers. "As far as being part of that, I certainly coached Rob to speak out because Rob is not a fighter, so that's why this has gone so far," Emrich says. "I do not know personally who put 'Surviving Lies' together, but I am aware of 'Surviving Lies' and I definitely support that."
The sisters, at various points, accuse Kelly's accusers of fabricating their claims for financial gain, blame the victims' parents for what happened, and claim they would have called 911 if they ever witnessed anything inappropriate happening.
Tiffany Hawkins, R. Kelly's first accuser, shares her story for the first time on-camera.
Tiffany Hawkins was the first woman to publicly accuse R. Kelly of sexual abuse. "It should have ended with Tiffany Hawkins, victim number one, patient zero, the first girl who sued Kelly for sexual contact that started when she was 15 in 1991," Jim DeRogatis, the author of Soulless: The Case Against R. Kelly, says in the doc. At first, Tiffany would bring her friends to have sex with Kelly, including Ebony Wilkins. Eventually, Tiffany and Kelly began a sexual relationship, moved in together, and Kelly gave Tiffany a job working with the singer Aaliyah. "When I found out that Robert and Aaliyah got married, I didn't care," Tiffany says. "It didn't bother me because if someone else was sleeping with him that was great because it meant I didn't have to."
The documentary also raises an issue that DeRogatis discusses in his book — after Kelly settled Hawkins's lawsuit against him for $250,000 and had her sign a nondisclosure agreement, it set a precedent for how the singer would be able to keep abusing underage girls and avoiding criminal charges. Illinois lawyer Susan E. Loggans became the go-to attorney for Kelly accusers, getting them the same payday. As DeRogatis recalls, Loggans — who would likely get a third of any settlement she brokered — wouldn't confirm how many women she's represented in suits against the singer, but instead said, with a smirk, that it's "numerous."
Kelly's label tried to buy up copies of the infamous "pee tape" being sold on the streets.
When the tape that showed Kelly allegedly urinating on 14-year-old Reshona Landfair ended up being sold to the public, the singer's team did everything they could to make people believe it wasn't actually Kelly raping the girl. Jimmy Maynes, a former Jive Records employee, recalls being sent to Chicago to buy up as many copies of the video as he possibly could, just to get it off the streets. He remembers confronting Kelly about it, who claimed that the man in the video was actually his nonexistent twin brother, an explanation Maynes blindly accepted because, as he says, he desperately wanted the whole thing to be untrue.
Kelly urged his brother Carey to take the blame for the tape.
Meanwhile, Kelly's attorney, Ed Genson, publicly suggested that the man on the tape was, in fact, Kelly's younger brother, Carey. Carey recalls first being blindsided by the accusation, then being summoned to Robert's house for a meeting to discuss it. Robert insisted the conversation happen in his pool, a means of getting Carey to strip down and prove he wasn't wearing a wire. Robert then begged Carey to say he was the man in the video, saying, "I'll buy you a car. I'll give you a record deal. I'll give you $50,000." Carey refused, saying he would never sell his soul for any amount. Ultimately, it didn't matter, as Kelly was acquitted of the charges, thanks to a host of reasons, including maneuvering on the part of Genson. In 2019, the attorney, now dying of cancer, gave an interview to the Chicago Sun-Times and said Kelly was "guilty as hell!"
Lanita Carter explains breaking her NDA to accuse Kelly of sexual assault.
Lanita Carter started working as Kelly's hair-braider three months after the 2002 child-pornography arrest. She was 24 at the time, a mother of three who had been in an abusive marriage and, in her youth, sexually abused. At first, she and Kelly bonded over their past traumas, with him helping her rebuild her confidence, but then he grew controlling and manipulative of her.
On February 18, 2003, Kelly allegedly asked Carter for a genital massage, then oral sex, and, when she refused, grabbed her by the hair, repeatedly spit on her, and ejaculated on her face. She tried pressing charges, with police collecting physical evidence that supported her story, but ultimately a grand jury declined to indict. Instead, Carter sued Kelly, then settled for $650,000 and an NDA.
Carter — who says she wanted acknowledgment, an apology, and criminal justice, not a financial reward — decided to break that NDA in 2019. The catalyst for this was last year's Surviving R. Kelly and a subsequent press conference in which Chicago prosecutor Kimberly Foxx asked any of Kelly's victims to come forward. "I said to myself, 'If this comes up again, I'll have to move on it,'" she explains. "Money doesn't heal you. Money does not cover up." She went to Foxx with her case and became one of the four women whose accusations led to Kelly's February 2019 arrest. So far, she hasn't faced any repercussions for violating the NDA.
Kelly made Jerhonda Pace enter into a suicide pact.
Jerhonda Pace first met R. Kelly when she was 14 years old, then supported him during his 2008 child-pornography trial by lying about her age to get into the courtroom, as minors were not supposed to be allowed in the gallery. A victim of several sexual assaults before she turned 10, Pace quickly fell under Kelly's spell, to the point where she agreed she would commit suicide if anything ever happened to him.
"I was part of a suicide pact with him, and if anything was to happen to him, if he was to go to jail or anyone was to harm him, I was supposed to kill myself," Pace recalls. She says Kelly showed her a bottle of pills that would cause her death, and put them in a pocket of a suit he had hanging up in his house where she'd always be able to find them. "When I was with him, I was really ready to take my own life," she says.
Kelly ripped Dominique Gardner's hair out and locked her in a room for over a week.
In season one of Surviving R. Kelly, Dominique Gardner's family tracked her down at a hotel and convinced her to leave the singer. Interviewed in The Reckoning for the first time, she talks about how she went back to Kelly after three days because she was worried about his 23-year-old girlfriend Joycelyn Savage being left behind. She stayed until Kelly denied her permission to go to her teenage brother's graduation ceremony, then finally escaped after nine years.
In the documentary, Gardner opens up about the alleged abuse she suffered at Kelly's hands whenever she broke his rules about talking to the other girls, looking at men, or doing anything without his permission. "When you go against them, it was basically: You the enemy, and he's going to treat you like that," she says.
She says the treatment included ripping out patches of her hair. After it wouldn't all grow back because of the damage to her scalp, she eventually cut it short and still wears it that way. When asked about a rumor that Kelly wanted her to look like a boy to fulfill his sexual fantasies, she declines to comment. (Rumors of Kelly's bisexuality have surfaced over the years, and a former employee whose face and voice are distorted for anonymity in the documentary makes a quick mention of Kelly bringing another man into the bedroom with the girls but doesn't elaborate.)
Complete isolation was another common punishment, with Gardner saying she'd be locked in a bedroom with no food. "The longest I ever went by myself was a week and a half," she says. "It felt lonely, sad, and I didn't want to live anymore."
Kelly blackmailed his victims with incriminating letters he made them write.
Kelly's alleged method of grooming victims and keeping them brainwashed involved many tactics: identifying women who've suffered some form of trauma, promising them music careers, opening up about his own sexual victimhood, increasing rules about their behavior, and physical abuse. In The Reckoning, several of the survivors reveal that, once they were under his control, he would force them to write letters or make statements incriminating their families or themselves, then save them for future use in case the women tried leaving or were taken from him.
According to the Savage family, Kelly currently has a letter written by Joycelyn accusing her father, Tim, of molesting her. Dominique Gardner wrote one that said her mother abused her. In an effort to have contact with her daughter, survivor Halle Calhoun's mother even signed a letter saying she was trying to blackmail Kelly. Jerhonda Pace wrote a similar letter, though she figured out how to make sure Kelly couldn't lord it over indefinitely.
"He told me that he wanted me to write this letter … and I told him that this stuff didn't happen. He said, 'Well, if none of that stuff happened, you wouldn't have a problem writing it,'" she says. "And I wrote this letter, and I signed it, and he told me not to date it. I put the date on it and everything I signed."
Azriel Clary left Kelly in December 2019.
The Reckoning ends with updates on all of the accusers who appeared in the documentary, with text showing that many of them are putting their lives back together, raising families, pursuing careers in various fields, and working with nonprofits that help survivors of abuse.
The most uplifting update is that Kelly's other girlfriend, 21-year-old Azriel Clary, finally left Kelly in December 2019 and reunited with her family. Just as many other survivors still felt attached to the singer after leaving him, it's noted that Clary, who does not appear on-camera, is still supporting Kelly during his trials while living independently of him.
"She has left the side of Robert Kelly and she's … taken control of her life as an independent woman, to show the world she is strong and looks forward to a bright future on her own," Clary's father, Angelo, says in a home-recorded video. It's a heartwarming moment, especially after the Clarys revealed earlier that Angelo and his wife, Alice, devastated by the ordeal, separated after appearing on the first season of Surviving R. Kelly.
But, tragically, the series doesn't end on a high note. The final update says that Joycelyn Savage is still living in Kelly's Trump Tower Chicago residence. Her family is holding out hope that they will soon see her for the first time since 2016.
This post has been updated throughout.