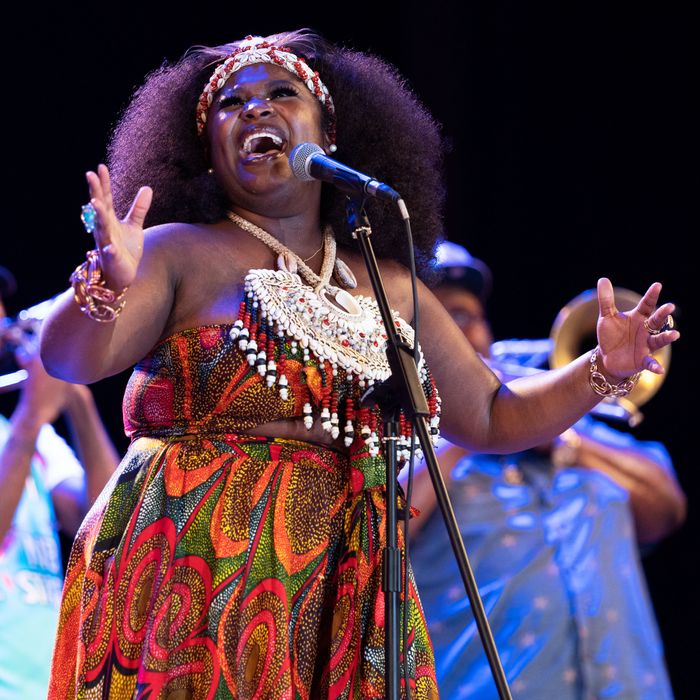 If you're the person who says, "I don't know — I like a bit of everything," when asked what your favorite kind of music is, you might love Tank and the Bangas.
Photo: Erika Goldring/Getty Images
I've got to be honest. When I first heard Tarriona "Tank" Ball sing with Tank and the Bangas on their 2017 NPR Tiny Desk concert, I had no idea what this girl was talking about. "Would have been fish / Would have been meat / Would have been eggs / Would have been fruit," begins the first song on their setlist, "Boxes and Squares." But by the end, she had me (and around 9 million other viewers). The rhythm gets in your muscles, she and her bandmates' charisma oozes those good vibes people keep talking about, and the lyrics? Sing 'em even if you don't know 'em. It's an intentional kind of carefree.
Tank and the Bangas are a funk, soul, hip-hop and everything-in-between band in the business of joy. The lead singer, Tank, has an infectious enthusiasm, fed from the groove of their melodies and the sizzle of the drums. Established in New Orleans in 2011, the band consists of Joshua Johnson on drums, Albert Allenback on flute and sax, Norman Spence on bass and synth keys, Merell Burkett on keyboard, and, of course, Tank herself. They often perform with more musicians live, including backup singer Anjelika "Jelly" Joseph, whom loyal lovers of the Tiny Desk adore. This year, Tank and the Bangas are nominated for Best New Artist at the 2020 Grammys, so if you don't know them yet, start with their Tiny Desk and thank me when you're telling your friends.
Tank entered music by way of slam poetry, a little like the rapper Noname. Poetry often bookends songs or, if you're lucky, happens right in the middle. Because of this, listening to Tank and the Bangas is more like being told a story. Suddenly, you're not just on your commute. You're on the way to make your money "real quick, real quick," as Tank raps in 2017's "Quick." Tank and the Bangas' latest album, Green Balloon, is perfect for people like me, who really only listen to music one album at a time. I'll start an album in the morning and just keep going until the end of the day (or, if I'm not listening to Tank and the Bangas, then until I put on Tank and the Bangas).
Green Balloon starts off with a slow interlude, and the rest of the album is a roller coaster in more than one way. If the melodies are loops and drops, Tank's vocal range brings the twists and turns. She'll hop from an overjoyed, high-pitched rap to a deep and soulful belt with ease. It's the reason why the lyrics and ad-libs get stuck in your head, and the reason why, in just the last few sentences, I've unconsciously quoted her. ("Rollercoasters" is a song from the band's first album, Think Tank, and "Boxes and Squares" has a memorable moment all about loops — "You know, like a loop, like a hula hoop," Tank explained while singing the song on Tiny Desk, gesturing widely.) Their songs and performances feel animated, which is maybe why Jelly has described them as "soulful Disney." Disney wishes.
Every Tank and the Bangas performance is unique, even if they're singing the same songs. It comes from both the playful nature of some of the songs and the familiarity of the bandmates. While performing on The Tonight Show, Tank tries to swipe away her cape so she can throw it back to "Nice Things," and behind her you see Allenback bending and twisting at the knees with wild abandon. They perform like they're surrounded by friends, and watching them feels like front row at a private jam session, something secret and special.
If you're the person who says, "I don't know — I like a bit of everything," when asked what your favorite kind of music is, first of all, you must be real fun on dates, and second of all, you might love Tank and the Bangas. No two songs sound alike. Their drummer, Joshua Johnson, also functions as their music director and brings in all kinds of sounds from the depths of his memory. So, sometimes it's a mixed bag. But, I promise, not in a trail-mix way — in a fun Chex Mix way. Listen to Tank and the Bangas if you like rap, if you like jazz, if you like Disney movies, if you like soul, or, plain and simple, if you like joy.