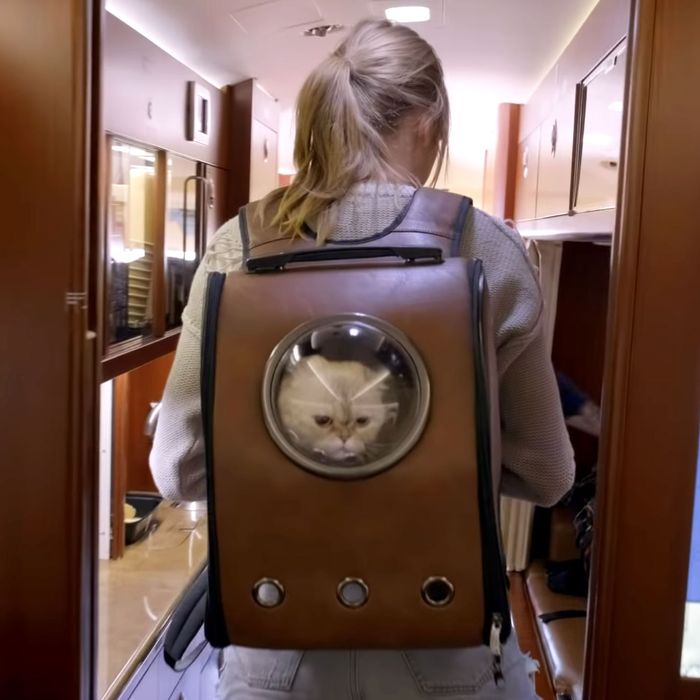 Look at it!
Photo: YouTube
If you're like me you greatly enjoyed the excellent scene in the Taylor Swift Netflix doc, Miss Americana, where Taylor has her cat, Olivia, in a chic backpack carrier that any cat owner would be envious of. But if you are truly like me, you already own that exact cat backpack.
Turns out another thing we learn is Miss Americana herself loves a good deal, as you can get this exact bag for under $50 on Amazon. Guess we can have nice things! Both my cats prefer it to the more standard, duffle-esque bag since they are up higher and can see things better. I will even leave the bag out when we aren't using it since the cats enjoy getting into it and glaring at me through the bubble window (probably because I was late feeding them and they are deciding which body part to consume first if I were to die suddenly). Getting them in when they don't consent is easier, too, as it has three doors you can try to pour your cats into. It is a little awkward to walk with since the bottom of it is so rigid, but for cat lovers and those who are only walking five feet to a private jet, it's totally worth it.
Once you've successful purchased the backpack, you'll want to make sure it's zipped up all the way. (Stick with me here.) My cat, the Captain, managed to break out once when we were on a boat to Fire Island Pines (yes, I too am a straight woman who is an ally). I'm assuming he was trying to live up to his namesake and commandeer the boat. Thankfully, the bag comes with a hook that can latch your pet in if they're wearing a harness, so he didn't get far. (On a more serious note: if you want a cat backpack but not the one owned by me and my sister-cat-mom Taylor, make sure it has proper ventilation. Many do not, which can cause pets to overheat on trips.)
An unexpected perk of owning the pack is that I get to enjoy an experience usually reserved for dog owners, which is when people completely ignore your existence and only address your pet. BUT since those people are reacting to a cat that is on my back and not walking in front of me, I can pretend as though they don't exist in return. It's truly a great experience.