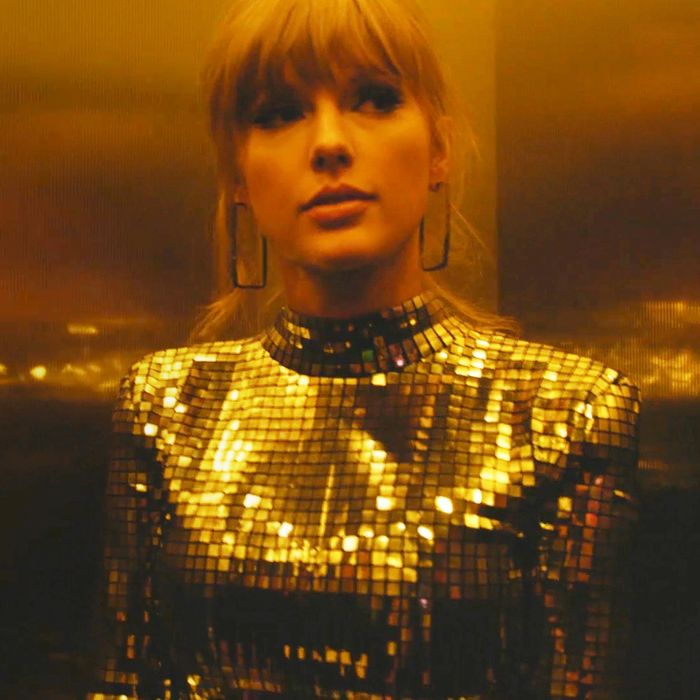 Miss Americana
invites you in, but never all the way in.
Photo: Courtesy of Netflix
You can't control your reputation. You think you can by striving to do and be good, but people are hard to win over now, and with good reason. Hucksters are on a powerful tear. No one buys anyone else's story anymore. Come up too quickly, and you get called a grifter or an "industry plant." Advocate too hard, and you're pawned off as a social-justice warrior out to rack up "woke" points. Play it too nice, and people look for cracks. Anyone who seems too perfect must be faking it. Mary Sue is powerful, but she adheres to an unrealistic standard.
From Speak Now to Reputation, incremental changes in the public perception of Taylor Swift dovetailed with a growing distaste for wholesomeness in celebrities. For Swift, the turn began with humor about her signature awards-show facial expression and graduated to taxonomies of the men she dated and snark about her figure. At the beginning of the last decade, Taylor was America's sweetheart, a hometown heir to the pop-country estate Shania Twain built. Near the end of the decade, some saw the singer as a diva who deserved to be taken down a peg. A lurid sequence in Swift's affecting, occasionally revealing new Netflix documentary Miss Americana lays out several consecutive years of increasingly ghoulish entertainment-show clips to try and trace her pathway from "Innocent" to "I Did Something Bad." Much of it is jarringly tasteless. You come away understanding how pressure like that could convince a gifted, chipper songwriter to go heel.
"My entire moral code is a need to be thought of as good," Swift says early on in Miss Americana, out tomorrow. Her entire career, she explains, has been a quest for public approval. It's the impetus for her growth as a teen country sensation and for her metamorphosis into a pure pop titan. It's the reason she stayed out of politics through most of the decade and the reason she stayed out of the public eye through most of 2017, when her long-running Kardashian-West feud finally blew up in her face. Swift, who once asked to be excluded from that narrative, is now telling her side of the story, and not all of it is pretty. Her lasting memory of the infamous interruption at the 2009 VMAs is not Kanye jumping on the stage to say Beyoncé deserved her award. It's the sound of the audience booing, she thought, for her. She takes hard hits, and she hits back harder. She's informed that Reputation wasn't nominated in any major categories for the 2018 Grammys and, without missing a beat, says, "That's fine; I need to make a better record."
Miss Americana mixes home movies, diary readings, press clips, awards-show tape, and studio footage to tell the story of Taylor Swift's peaks and valleys, from struggling as a preternaturally gifted teen musician imploring patrons at tiny performance spaces to request "Tim McGraw" on local radio to scaling the peak of the industry as one of the few acts to win an Album of the Year Grammy twice to falling from grace in the Reputation era and restoring balance with last year's Lover. Like the artist herself, Americana is a little inviting and a little guarded. It lets you into intimate spaces like apartments and private jets and strategy meetings. You get to see the singer's intimidating musical talents and media savvy in action, to watch her hatch crazy ideas that go over grandly. The hardest questions remain unanswered. They play the clip of the call where she gives Kanye her blessing to make "Famous," the song she skewered him for onstage at the 2016 Grammys, as if she'd been blindsided by the release, but she never explains why she did it.
Miss Americana works best as a snapshot of Swift breaking out of the safe, strategically apolitical mold she was forged in, as a Nashville teen sensation, and as a studio diary for Lover. Her choice to back Tennessee Democrat Phil Bredesen in the 2018 midterms horrifies her team, who urge her, hilariously, to consider what Bob Hope or Bing Crosby would do in her position. They think they're complimenting her in the comparison to two of the most successful entertainers in American history, but the idea that a 21st-century woman should pattern herself after the careers of men born in the 1900s helps explain why Swift seemed plastic and distant to her detractors. It's possible to lose yourself trying to please everyone else. Swift opens up about shame spirals and unhealthy eating that resulted from hyperawareness of who hates her and maps the rocky journey to caring less about what people think, which, in retrospect, looks like less of an aesthetic choice and more like the scars of a torrent of psychic pain on her defenses. After all that, she's not afraid to catch smoke from the sitting president. She's not afraid to write a song urging fans to fight fascism. (Did you ever think you would live to hear Taylor Swift utter the word "fascism"?)
The through line of the film is that music is Taylor Swift's refuge as much as her occupation. Watching lyrics and melodies jump out of her mouth is exhilarating. The chorus of Reputation's "Getaway Car" comes down like an epiphany; Lover's "The Man" unfolds like a vent session in song form. The studio recording and video shoot for "ME!" are illuminating. The stripped demo that Swift makes with producer Joel Little is plaintive and pleasant, a far cry from the drippy, cloying studio version. (The Lover fragments illustrate the finer points of pop singers being named as co-producers on their own albums, as Swift occasionally shouts out ideas for instrumental flourishes while she's writing her own parts. They also suggest that the album is a little overproduced in spots, compared to stripped tunes like "The Archer," "Soon You'll Get Better," and "Lover.") Brendon Urie's note-perfect spot is recorded while he's sick; Swift appears to pull the fully formed concept for the video from thin air on the spot. On the set, her joke to a cameraman that people can't tell what thoughts lurk behind her face show a public figure aware of herself, how she looks, and what people think when they look at her … and itching to break free of it.
Miss Americana peels away some of Taylor Swift's complexities to reveal even more complexities. It's an enjoyable document for fans looking to get a peek inside their favorite artist's brain. There's an air of distance to it, though; it invites you in, but never all the way in. There are aspects of Swift's private life and family life that, understandably, don't come up much. The end result is flattering. She never comes across as rude in it; there's no moment of dark candor, like Gaga wishing aloud in Five Foot Two that Madonna would stop being coy and just come for her, or any of the more salacious moments of conflict in classic music documentaries like Wilco's I Am Trying to Break Your Heart or Ondi Timoner's Dig! Miss Americana is more like Beyoncé's Life Is But a Dream, a beautiful museum exhibit for an artist that, when it really picks up, manages to captivate you just enough to make you forget about the stanchions between you.