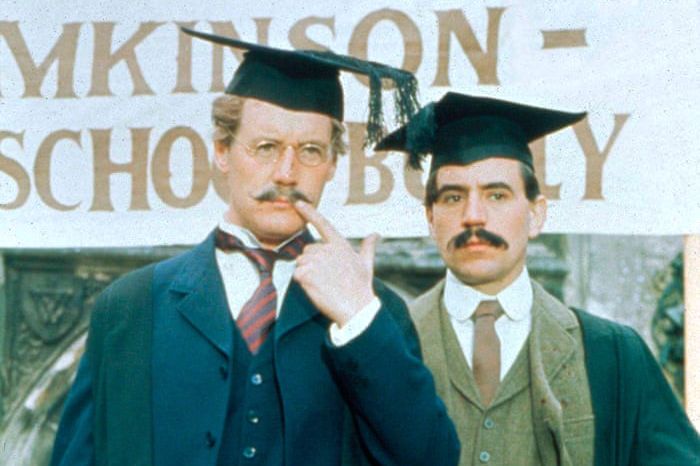 Terry Jones and Michael Palin in
Ripping Yarns
.
Photo: BBC
Of all the Pythons, Michael Palin and Terry Jones seemed to be the most inseparable. They came into the group as a duo, and unlike Graham Chapman and John Cleese — who never went on to write anything outside of Python together — they left it as a duo. The pair met at Oxford in the early '60s and went forth together, working on a wide variety of British shows, including The Frost Report and the project that got the rest of the Pythons' attention, Do Not Adjust Your Set.
In the third series of Monty Python's Flying Circus, the last to feature all six members, there was an episode titled "The Cycling Tour" primarily written by Palin and Jones. It broke from the traditional structure of the show (if it had one) by having one continuous narrative throughout the half hour, in which a cross-country cyclist encountered a wide variety of strange characters and situations, relying far more on filmed material than Python usually did. This episode stayed with Palin and Jones and proved to be very inspiring down the line.
Though there would be film projects and reunions in their future, the members of Python quickly scattered: Cleese began working on Fawlty Towers with his wife Connie Booth, while Eric Idle launched his own show alongside Neil Innes titled Rutland Weekend Television. Jones and Palin took all manner of odd jobs, contributing sketches to The Two Ronnies sketch show and other comedians, and even writing a few plays together. But it would take all of their experiences on Python swirled together for their next project: a narrative period show with sketchlike elements called Ripping Yarns.
Inspired by a book Palin gave to Jones titled Ripping Tales, the show parodied literature aimed at schoolboys from an era that predated both of them by a decade or two, but the spirit of the show is instantly recognizable, even if you've never touched this particular strand of Brit-lit. In the pilot episode "Tomkinson's Schooldays," Palin plays the titular schoolboy who feels trapped at Graybridge School, the boarding school to which he's been sent away. Even if one has never read any of the source material they are parodying, the tropes are immediately clear: Our hero is having a rough go of it at his school, the headmasters are ineffectual and uncaring, the bullies are cruel, and his family is unsympathetic. All that is left is for the young lad to strike out on his own.
Of course, this is a Palin and Jones creation, so it's not going to be so simple. In our first scene at Graybridge, we see several nervous boys, Palin among them, sitting on a bench outside a closed door. From behind the door we hear the distinct sound of someone being physically punished. The door opens and a boy walks out, followed by the headmaster, also Palin, who looks disheveled. He thanks the boy then brings in the next one to continue the beating.
When Tomkinson's mother arrives to visit her son, she informs him that his father is going to be staying in the South Pole for a little longer than originally planned: "He has a woman there." However, they're going to provide money for his schooling for the next four years. The remainder of the episode features Tomkinson making attempt after attempt at escape but finding failure at every turn, often thwarted by schoolmasters and teachers played by Palin and Jones.
As the first truly substantial work from Jones and Palin solo, Ripping Yarns becomes the perfect instrument to observe their specific style of comedy without the rest of the group's influence. Where Eric Idle might be likely to include a bitter barb or refuse to hide his naked disdain for a comedic target, there is a gentleness throughout Ripping Yarns. Where Cleese and Chapman might prefer a tightly scripted, intricate, clockwork approach to the writing of their comedy, Jones and Palin are loose and freewheeling. If they want to take time out to poke fun at the idea of an Arctic explorer lecturing the boys, even though it doesn't further the narrative, they'll do it. No, it doesn't make any sense for Tomkinson to be constructing a full-scale icebreaker in the arts-and-crafts class, but who cares?
In their later years, Jones and Palin would demonstrate their deep love of history — with Palin's various travel documentaries and books, and Jones's love of Chaucer and documentaries of his own. With hindsight, it makes perfect sense that for their first solo series together, with the world and the budget of the BBC as their oyster, they would set their sights on satirizing the past.
Tomkinson's Schooldays (a parody of the novel Tom Brown's School Days) aired as a one-off special in January 1976 on BBC2, and while it didn't get the same ratings as the final season of Flying Circus, it was in the same neighborhood as the premiere of Cleese's Fawlty Towers, so the Beeb asked for more episodes from the duo. After wrapping this first episode of the show, Jones decided he wanted to remain behind the scenes for Ripping Yarns, as it would now be called. He saw the project as belonging more to Palin, and as evidenced by his directorial stints on Holy Grail and helming Life of Brian alone, he was drifting more and more toward the production side of comedy.
There would be five more episodes in series one and another three in series two, with every episode following the pilot shot on film for that truly prestige look. Future episodes took the pair out of the confines of school stories and into other tales of adventure that would have kept young boys of the 1930s turning the pages. "Escape From Stalag Luft 112B" tells the tale of a German prison break. "Across the Andes by Frog" is a tale of Peruvian exploration and amphibian hunting. Each one, like "The Cycling Tour" before it, was comprised of a single narrative with many comedic stops along the way.
Series two of Ripping Yarns would be the final three episodes that the BBC would commission. A TV show shot entirely on film was not cheap, and after working on the show together for four years, Palin and Jones were ready to move on.
Though it wouldn't be their final collaboration, Ripping Yarns was the last time Palin and Jones worked on a TV series together, marking the end of a long legacy in the medium that gave them their start. Together, in this perfect distillation of this writing duo's comedic voice, Palin and Jones created something unlike their previous work and brought a little bit of prestige to television, decades before those two words would ever be allowed near one another.