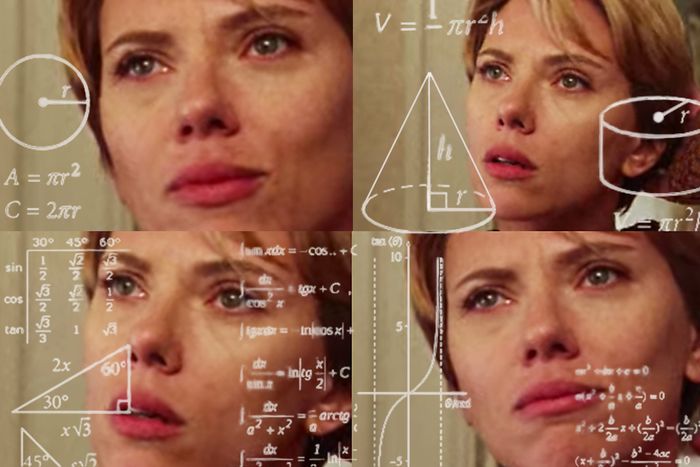 Looking at the math behind this year's Academy Awards slate reveals some fascinating truths about the ballot.
Photo-Illustration: Vulture, Netflix and Know Your Meme
The Academy Awards can be appreciated on many levels: as celebrity stargazing, as artistic competition, as a celebration of popular artists and entertainers, as social commentary, as a flashpoint for sociocultural frustration. It can also be appreciated on a mathematical level. With 92 years' worth of data at the ready, the annals of the Oscars make for a perfect source of facts and figures, statistics and trivia. Every year brings with it more opportunities for a "first time" or a "not since" or some other milestone.
The 92nd Academy Awards are no different. Taking the 2020 Oscar slate by the numbers reveals some fascinating truths about this year's ballot.
Number: 4
That's the number of movies with at least ten respective Oscar nominations this year. Field-leading Joker got 11 nominations, while The Irishman, 1917, and Once Upon a Time in Hollywood all tied for second place with ten nominations apiece. That kind of concentration at the top of the ballot is unprecedented, and it leads to an even more surprising number …
Number: 63
That's the percentage of all feature-film nominations (i.e., not the short films) that went to the nine Best Picture nominees. Sixty-three percent! Sixty-nine of the 109 total nominations. And if you take away the Documentary Feature, Animated Feature, and International Feature categories — which rarely match up with Best Picture in any year — that climbs up to 72 percent (68 of 94 nominations). What that means is if you were not one of those nine Best Picture nominees, your chances at a nomination in any of the acting, writing, visual design, or sound design categories were incredibly low. Contrast that with, say, five years ago, when the Best Picture nominees only took up 47 percent of the total feature nominations. If you're looking for an explanation for this domination by just a handful of movies, you probably don't have to look much farther than the condensed Oscar season, for which we all have to be wrapped up watching eligible films by February 4, ahead of the February 9 broadcast, the earliest Oscars date ever.
Number: 1
That's how many actors and actresses of color were nominated in the four acting categories. Cynthia Erivo's first-ever Oscar nomination for her performance in Harriet stands alone among a sea of white nominees (yes, including Antonio Banderas, who is Spanish). This is a sharp downturn from a three-year stretch that saw nominations and wins for performers like Denzel Washington, Viola Davis, Mahershala Ali, Yalitza Aparicio, and Regina King.
Number: 29
That's the number of years that have passed since Joe Pesci's last Oscar nomination (when he won Best Supporting Actor for 1990's GoodFellas). And that's not even a record! Sylvester Stallone and Helen Hayes each went 39 years between their nominations. Pesci, who was recognized for The Irishman this year, is one of seven actors on the ballot coming off of decades-long droughts between nominations: Al Pacino got his first nod in 27 years (Scent of a Woman in 1992), Anthony Hopkins his first in 22 years (Amistad in 1997), Tom Hanks his first in 19 years (Cast Away in 2000), Kathy Bates her first in 17 years (About Schmidt in 2002), Renée Zellweger her first in 16 years (Cold Mountain in 2003), and Charlize Theron her first in 14 years (North Country in 2005). All seven are former winners.
Number: 2003
That was the year that Charlize Theron (Monster) and Renée Zellweger (Cold Mountain) won Best Actress and Best Supporting Actress, respectively, on the same night. Now they're nominated against each other in the same Best Actress category. It's only the fourth time that's happened — that the Best Actress and Supporting Actress winners from the same year have squared off after the fact in the same category:
1991: Jodie Foster (The Silence of the Lambs) and Geena Davis (Thelma & Louise) faced off three years for Best Actress after they both won Oscars for their 1988 films The Accused and The Accidental Tourist.
1985: Meryl Streep (Out of Africa) and Jessica Lange (Sweet Dreams) squared off in Best Actress, both losing to Geraldine Page. They'd previously both won 1982 Oscars for Sophie's Choice and Tootsie.
1978: Ellen Burstyn (Same Time, Next Year) and Ingrid Bergman (Autumn Sonata) were nominated together (only to lose to Jane Fonda for Coming Home), only four years after they'd both triumphed at the 1974 Oscars, for Alice Doesn't Live Here Anymore and Murder on the Orient Express, respectively.
Number: 1993
That's the last time Tom Hanks and Anthony Hopkins squared off in the same Oscar category. That year, Hopkins's performance as a tradition-bound butler in The Remains of the Day lost out to Hanks's revelatory turn in Philadelphia.
Number: 11
That's the total number of career Oscar nominations for Diane Warren, who was recognized this year in the Best Original Song category for "I'm Standing With You" from the Christian film Breakthrough. The writer of such Oscar-nominated classics as "Nothing's Gonna Stop Us Now," "Because You Loved Me," and "I Don't Wanna Miss a Thing" has never won an Oscar.
Number: 14
That's the number of Best Original Score nominations that composer Thomas Newman has to his name after his nomination for 1917. He also has one nomination for songwriting. He's never won.
Number: 26
That's the number of years that have passed since composer John Williams last won an Oscar (for writing the Schindler's List score). He has a grand total of 53 Oscar nominations, though, so don't feel bad for him.
Number: 6
That's the number of Star Wars movies for which John Williams has been nominated in Best Original Score. None of those nominations were for work on the prequel trilogy.
Number: 20
The number of years since Pedro Almodóvar was nominated in Best International Film (then: Best Foreign Language Film), for 1999's All About My Mother. Though in the interim he was nominated for Best Director and Best Original Screenplay for 2002's Talk to Her.
Number: 1
That's how many times South Korea has been recognized in the Foreign Language/International Film category, thanks to Bong Joon Ho and Parasite.
Number: 2
That's how many acting nominations Scarlett Johansson received, in the Best Actress and Best Supporting Actress fields. She's not the first actor to pull off such a feat.
Number: 5
That's how many of this year's Best Costume Design nominees come from Best Picture nominees, making this the first year EVER that no non-Best Picture nominees got a Costume nomination.
Number: 8
That's now many career Oscar nominations Bradley Cooper is up to, now that he's nominated for producing Joker.
Number: 6
That's how many years Saoirse Ronan has left to beat Kate Winslet's record for being the youngest actor ever to reach five Oscar nominations. Ronan got her fourth this year, at the age of 25. Jennifer Lawrence was just a few months younger when she got her fourth nomination, for Joy.
Number: 9
That's how many movies in the last 50 years have been nominated for Best Picture without getting any nods for Directing, Acting, or Writing. That includes this year's Best Picture nominee Ford v. Ferrari. The previous eight: Black Panther (2018), Selma (2014), War Horse (2011), Lord of the Rings: The Two Towers (2002), Beauty and the Beast (1991), Jaws (1975), and Hello, Dolly! (1969).
Number: 9
That's also how many Best Picture nominees — including 1917 this year — have had non-sequel numerals in their titles. The previous eight: 12 Years a Slave (2013), 127 Hours (2010), Apollo 13 (1995), 12 Angry Men (1957), Miracle on 34th Street (1947), The Broadway Melody of 1936 (1935), 42nd Street (1932/33), and 7th Heaven (1927/28).