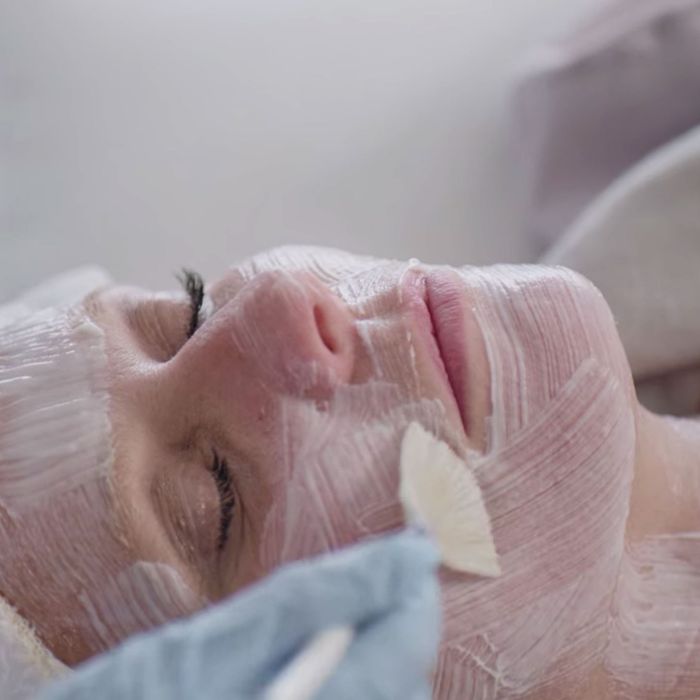 A vampire facial in action.
Photo: Netflix
Gwyneth Paltrow's foray into the streaming wars with The Goop Lab may only reach 60 percent absurdity levels (episode five's "body worker" energy experience is presumably being studied by Bad Place architects as we speak), but coming from a woman who's selling a $75 candle that smells like her vagina, the Netflix series still abounds with outlandish segments and even more outlandish activities. All in the name of modern wellness!
Honestly, we don't blame you if you choose to say no to giving Frau Goopiness the satisfaction of viewership, so allow us to instead give you some silly GIFs from the season with very little context. Come for the energy exorcism with orgasmic undertones, stay for the cold therapy.
This chap goes by the name Wim Hof, who enjoys swimming and exercising in freezing temperatures … for immune system reasons. "Just my using the mind," he explains, "I was able to make the skin temperature not go down after exposure." And he can teach you how to do it, too.
G does a lot of push-ups! G does a lot of breathing! We're feeling inspired.
Guided by legendary sex educator Betty Dodson, this very accommodating CEO gets a nice, in-depth look at her vulva. Dodson has coached approximately 7,000 women to date in her female pleasure workshops.
Facial acupuncture actually sounds great for this 2020 we've been having.
Gwynnie gets a vampire facial! For a cool $1,000, you too can get platelet-rich plasma needled into your face for rejuvenation purposes. "It grosses me off," she offers. "I thought this was going to be, like, blood all over the place."
Or, for something that isn't $1,000, you can force a group of your friends to "beam unconditional love" onto you in a circle. Very intuit.
The benefits of this psychoactive tea is just, like, totally your opinion, man.
Okay, these energy healing workshops warrant three separate GIFs. Here's a Goop executive in the midst of what she describes as an "exorcism" — equal in pain to being dragged by a rope — which involves a male "body worker" poking her back and waving his hands around in the air. "I show up and influence how energy is moving," he explains. "Out of context what I'm doing just looks wacky. I've been hesitant to show it, because it looks strange."
Julianne Hough is a devoted fan and gyrates around like a baby caterpillar. (And she allowed people to watch her do this at Davos just last week, orgasmic sighs be damned.)
Gwynnie loves it, obviously. "It's a very energetic experience," she sums up. "The first time he worked on me I pretty much cried the whole time."