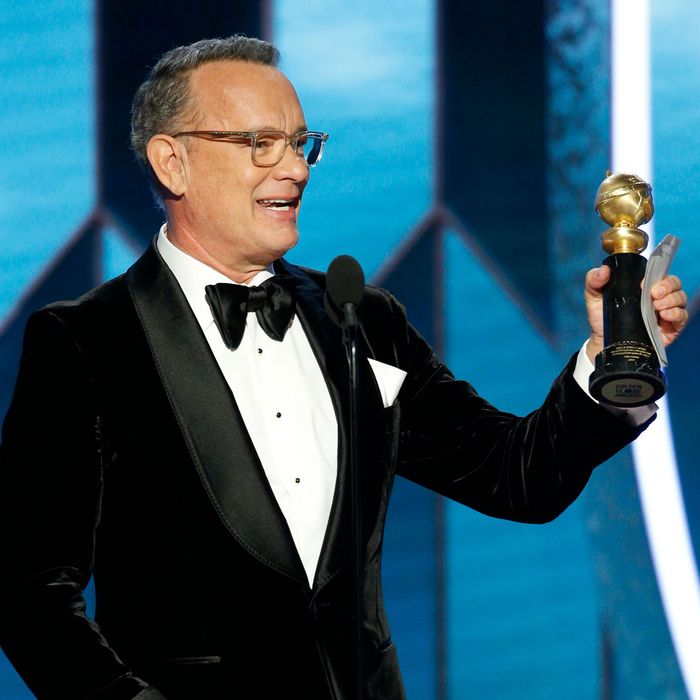 T. Hanks
Photo: NBCUniversal Media
The Golden Globes are one of Hollywood's drunkest and silliest awards shows, but this year it was exceedingly lukewarm. With Ricky Gervais as host, we braced for some daring (read: probably offensive) swipe at celebrity, but he mostly toed the line, and it all felt a little dull. There were a few surprise wins, including the one-shot 1917 pulling out a Best Drama win after Joker danced its way through multiple triumphs of its own, but nothing too surprising. Some winners vaguely gestured at the wider world, and a few, like Michelle Williams and Patricia Arquette, felt genuinely pointed. In the end, Hollywood's big boozy night felt closer to hangover than buzz. But hey, if the whole show is just an excuse to get Tom Hanks onstage to give a big, stirring, get-in-there-team speech, maybe that's purpose enough.
HIGH: Look, we're not going to call Gervais's opening monologue a "high." It was not. But you know what was pretty fun? Watching everyone in the room react to him, in a range of emotions that spanned from Hanks's dismay to Cate Blanchett's quiet moment of reflection to Amy Poehler's "Yeah! We're all here! We're doing this!" fourth-wall break.
HIGH: Ramy Youssef gets the resident Breakout New Guy We Like award by way of Best Actor in a Comedy for his series Ramy, giving the underseen series a jolt of exposure and Youssef the opportunity to say "Allahu Akbar!" from the stage — and also make a charming joke about his mom rooting for Michael Douglas. "Egyptians love Michael Douglas." (The Hollywood Foreign Press used to love him, and The Kominsky Method, too, but clearly they have moved on!)
HIGH: Stellan Skarsgård thanks the hair and makeup department on Chernobyl for making him some eyebrows that allowed audiences to finally discern whether he was mad or happy. (Though given that the show was Chernobyl, "happy" was never really in play.)
HIGH: Bong Joon Ho, accepting the Best Foreign Language Film award for Parasite, lovingly drags lazy American theatergoers: "Once you overcome the one-inch-tall barrier of subtitles, you will be introduced to so many more amazing films."
HIGH: Kate McKinnon introduces Ellen DeGeneres as the winner of the Carol Burnett award, thanking DeGeneres for her bravery in coming out years ago so that a young McKinnon could see her as a role model. "Am I … gay?" McKinnon remembers wondering to herself as a young girl. "I was … and I still am!" And then she and DeGeneres both tried really hard not to cry.
LOW: Gervais's relentless dependence on Cats jokes throughout the evening. Every joke about Cats has already been made, Ricky, and making more of them won't bring you any closer to being sent on a balloon trip to the Heaviside Layer, though that would make the ceremony at lot more exciting.
LOW: Quentin Tarantino thanks … no one? After thanking Robert Bolt, the writer of A Man for All Seasons, something no one really knew what to do with, Tarantino points out that, as the writer of his film, he really doesn't need to thank anyone else! He does, however, go on to thank the stars of Once Upon a Time in Hollywood, and also his wife, who he mentions is pregnant with Tarantino's first child. But after all the thanking to no one in particular, it felt pretty half-hearted.
WHOA: Missing Link pulls out a win for Best Animated Feature in a category that included Disney behemoths Frozen 2, Toy Story 4, and the CGI Lion King. One of its delightful, bemused directors, who had to walk all the way from the back of the theater, where the people who aren't supposed to win sit, captures the confusion best: "I am shocked!"
HIGH: While giving her umpteenth acceptance speech for Fleabag (winning Best Comedy Series, in this case), Phoebe Waller-Bridge thanks Obama for putting the show on his best-of-the-year list. "He's always been on mine," Waller-Bridge jokes, referring, of course, to the fact that Fleabag gets off to an Obama speech in season one, a joke you surely get because you are a good fan who didn't just jump on the bandwagon with season two.
LOW: Ansel Elgort sings the nominees for Best Original Song, and then begins applauding himself while still singing. This is his way of warning us all that he will be singing in West Side Story, isn't it?
WHOA: Sacha Baron Cohen goes all-in on his Jojo Rabbit introduction, saying the movie is about a "misguided child who spreads Nazi propaganda and only has imaginary friends … his name is Mark Zuckerberg." Rival tech billionaire Jeff Bezos, racking up Amazon awards throughout the ceremony, is probably thrilled to have dodged the bullet.
HIGH: While there are a few other mentions of the dire state of current events throughout the telecast (including Russell Crowe accepting his Loudest Voice win in absentia, owing to his decision to remain in Australia with his family), Patricia Arquette gets most direct in her acceptance speech for The Act, pointing out that when people think of this moment in history, they won't think about the 2020 Globes ceremony; they'll think about a country on the brink of war, referring to Trump's threat to attack Iranian cultural sites (a war crime) on Twitter. In a night of people dancing around or vaguely alluding to politics, thank Arquette for saying things directly.
HIGH: Another classic Olivia Colman acceptance speech, who won for her performance in The Crown. It starts with Colman saying she'd put money on this (her Globe win) not happening, continues as she explains how very exciting it is to be in the crowd at these awards, and finally swoops to a conclusion as she admits, "I got a little bit boozy because I thought this wasn't going to happen."
HIGH: Tom Hanks accepts the Cecil B. DeMille award, and everyone in the room weeps. Hanks begins by apologizing for his cold and nearly collapsing with tears when he looks at the table full of his family. But then he moves on to the menschiest, Tom Hanks–iest speech anyone could've hoped for. He does an impression of Cecil B. DeMille! He shouts out Barkhad Abdi, his underappreciated co-star in Captain Phillips! He even corrects a story Charlize Theron told in her introduction of Hanks, about how he'd given her time to collect herself during a shaky audition. In fact, Hanks said, he was taking the time for himself, to ensure the film team could cast her! Hanks ends with a description of old-school filmmaking, and the need to "check the gate" before a director moves on to a new shot. "I've checked the gate," Hanks says, near tears once again, "and the gate is good" [cue rapturous applause].
HIGH: Michelle Williams follows up her powerful, composed Emmys speech with a powerful, composed Golden Globes speech, focusing on how she wouldn't be where she is without a woman's right to choose, encouraging other women "when it comes times to vote, vote in your own self-interest — it is what men have been doing for years." Williams also prompts notable reactions from Busy Philipps (who wipes away a tear and cheers when Williams mentions her new fiancé, Tommy Kail) and Tiffany Haddish (who comes out to introduce the next category by shouting, "I'm about that women's choice!")
BRO: Brad Pitt promises his pal "LDC" he would've fixed the ending of Titanic.
HIGH: Awkwafina hugs The Farewell's Zhao Shuzhen as she heads to the stage to accept her Golden Globe. Just a nice tender little moment for you.
LOW: Because of its eccentric voting body, the Globes are traditionally a kooky, unusual, unexpected awards ceremony. Sometimes that's bad and frustrating, but it also means there's opportunity for less commonly known names and more traditionally marginalized voices to be represented onstage. This year's ceremony, however, reflects the nominees: pretty white and fairly male! Sadly, aside from one ugh-worthy joke from Gervais, who suggests rewinding back to a time when women weren't even allowed to direct, there is little recognition of that fact. There are a few bright spots, including Awkwafina's win for The Farewell, but it's an unfortunate day when Haddish yelling "Chernooobyl!" as an announcer becomes one of the most notable moments from a person of color onstage, simply because there were so few people of color onstage. (Still, she was great at yelling "Chernooobyl!")
LOW: The general confusion caused by Joaquin Phoenix's seemingly well-meaning but unintelligible acceptance speech, which comes with many bleeps and focuses on big important sacrifices like not taking private jets places. Perhaps only Rooney Mara, nodding along in the audience, could grasp the full complexity of what he was trying to say.
WHOA: In the face of an apparent Joker steamroll, 1917 pulls out a surprise win in Best Drama, which gives director Sam Mendes the chance to say that this is great news, mostly because the movie opens wide later this week and the movie needs to make money. What a good way to end the show, because isn't that what awards shows are really for anyway?
LOW: Ricky Gervais's hosting performance was not as bad as it could've been, largely because he was mostly absent once the broadcast got under way. Just in case you really missed him, though, he did show up again at the end.