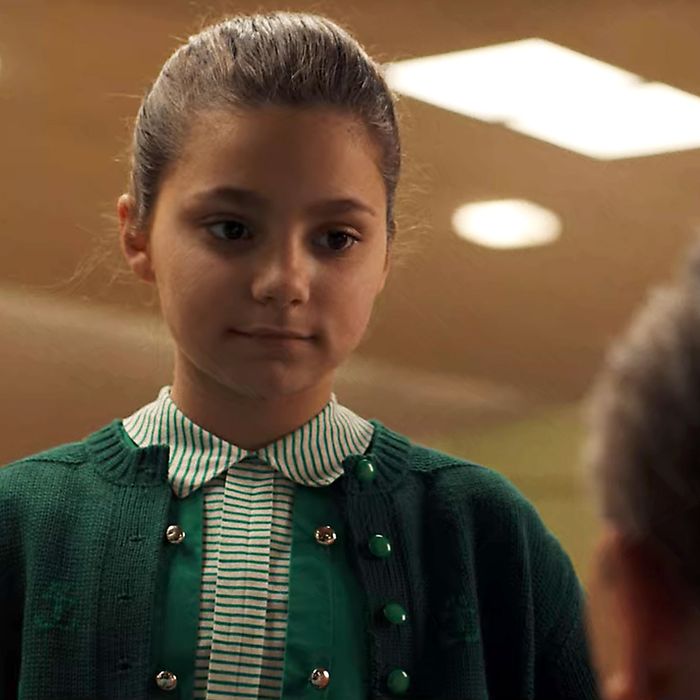 Lucy Gallina as young Peggy Sheeran in
The Irishman
.
Photo: Netflix
Lucy Gallina is only in the eighth grade, and already she can say she's worked with some of the greats. At 13, she is one of the stars of Martin Scorsese's The Irishman, specifically the actor who plays young Peggy Sheeran, the daughter of mafia hit man Frank Sheeran, played by Robert De Niro, who eventually becomes the right-hand man to Al Pacino's Jimmy Hoffa. This wasn't her first role; among other things, she appeared as Emily Schroeder throughout five seasons of Boardwalk Empire, a role she shared with her twin sister, Josie. But The Irishman marked the first major role she took on by herself, without her sister by her side.
In a recent phone conversation from her home in Hillsdale, New Jersey, Lucy talked about that experience, how I Love Lucy informed her portrayal of Peggy, and what she learned from working opposite De Niro and Pacino.
You had some experience working with Martin Scorsese before because you were on Boardwalk Empire. Do you think that helped you get cast in The Irishman? Did he remember you?
I think so, even though I was only 3 when I filmed it. When we were on the set of The Irishman, when I saw him, he came up to me and gave me a hug. So I think he remembered.
Did you have to audition for The Irishman?
Yes, I did.
What was that process like?
Just a normal audition process. Me and my twin sister, actually, we went in and both auditioned. I just got a call back. And then I ended up booking it a little while after that.
Is this the first time you've done a project without your sister, where it was just you?
Yes, it was. She's done two other movies without me, but it was the first time I did something without her.
How did that feel?
It was a little weird because normally, in the trailer, we hang out and talk and have fun. But it was really just me and my mom the entire time. And also some other people I met on set.
Is it hard when one of you gets cast in something and the other doesn't?
Not really. Because we're both really proud of each other when we book something. It's a celebration in our house.
That's nice.
Sometimes it's a little bit of jealousy, but not really ever full-on mad or anything.
So much of what you do as an actor in The Irishman is grounded in your facial expressions, and the way that you're looking at Robert De Niro's character. Sometimes it's hard for actors to convey so much without speaking. How did you approach that?
So when I played Holly in [the Hallmark movie] Christmas With Holly, I was 6 and I didn't really speak a lot until the end of the movie. I was mute, kind of, because of my mom's death. How I prepared for that is the same as how I prepared for this. I watched I Love Lucy because you get a lot of really good facial expressions [from it], and she kind of told the story with her face. So I just watched that a lot and just studied how she looked at certain people.
It's so interesting that you watched I Love Lucy because that's obviously comedy and maybe not as subtle as what you were being asked to do.
Yeah. In Canada there were no kids' shows. There was nothing. And that's where we filmed Christmas With Holly. So we just watched a lot of adult shows, or I just watched something on an iPad or something. That's really why we found it in the first place, but honestly, it worked out really well.
And how was it working with Martin Scorsese?
It was great to work with him again, even though I don't really remember working with him the first time. He just told me to not smile and just stare — a lot of staring and looking straight. And leave people questioning.
Did you talk at all with Anna Paquin, who plays the older version of Peggy?
Actually, no. I never got the chance to meet her, even though I really wanted to, and I still do.
Your shooting days probably never overlapped, right?
No, they didn't.
I was curious about the scene where Robert De Niro's character goes to beat up the grocer who had shoved Peggy. What was it like shooting that scene?
I saw it from a different point of view than the camera did. I could tell it was fake because Robert De Niro was not actually stepping on the man's head; he was stepping next to it. I saw the fake prop and everything that they used was really — it was kind of disgusting to look at. All the screaming and stuff was a little loud and very scary. But after every single take, as we were walking back, Robert De Niro would comfort me, and tell me, "Oh, I'm not normally like that. I wouldn't use that type of language around my actual children or anything." I thought that was very comforting. And it made the entire experience less scary and intimidating.
Peggy seems skeptical and maybe even a little afraid of her dad and some of his friends. But Jimmy Hoffa she really likes. Why do you think she likes Jimmy Hoffa so much?
I think she liked him because he was one of the only people who was really nice to her. And also, she didn't see him around with Joe Pesci and Robert De Niro, in their group, and I think she could just tell who was with that group and that Jimmy Hoffa was different. She knew that he wasn't like her father, or uncle, or any of them.
She thought he was more legitimate. Like he was not doing things that were criminal, even though he was.
Yes. I think that's what she thought.
What was it like working with Al Pacino?
He was actually my favorite person to work with. He was really welcoming to me. And I only filmed one day with him. He talked to me; he made me laugh. And it was just such a fun day because I went mini-golfing and I ate ice cream. He gave me some good advice, and he was just really sweet to me. And it just made the entire experience a lot better.
What kind of advice did he give you?
He gave me advice like "Take your time," and said, when you act in a scene, you don't have to impress anyone. You're not impressing anyone. They chose you for a reason, so just act how you normally do. Don't stress out.
I would imagine that when you're in a film like this, you are trying to learn things from these actors. Especially Al Pacino and Robert De Niro, and people who have been doing this for years and years. Aside from the things you just mentioned, were there particular things that you learned?
When I watched them acting scenes when I was either off-camera or just while I was still on-camera, they all acted with ease, but they also messed up sometimes. So it just reminded me that they're like me. They're all human. So there's no reason that I should be nervous about acting with them, because if I mess up, it's okay because everyone does it.
Had you seen any of their movies before? A lot of their movies are more adult.
The only one I saw was Home Alone, with Joe Pesci. That's the only one I saw because I was 11 when I filmed this, which was two years ago. I also saw The Intern, with Robert De Niro in it. That was a good movie. That was the only other one I saw. But I knew that they were all famous. My mom and my dad made that very clear to me, that they were very famous people.
I'm sure your parents probably explained this to you, but did you understand the significance of working with them, and Martin Scorsese, in a movie about these mafia guys? That's an amazing thing to be part of.
It's like all of them coming together, as one, is a once-in-a-lifetime experience. That's what they told me, that it's a once-in-a-lifetime experience.
Have you actually gotten to watch The Irishman yourself? Or have you only seen your parts?
Oh, I've watched the entire thing multiple times. We had a private screening of the premiere with a lot of my friends and family. And then, when it came out on Netflix, it was playing around my house 24/7. Even though it's really long, I've seen it a few times. It's just always on. It just keeps playing.
Do you think you want to continue acting and maybe be an actor professionally, once you're finished with school?
Yes. From this experience and my other experiences prior, I think that I really want to just work with more people who are going to inspire me to do better. I loved this so much. It was so much fun. Especially the whole missing school part. Even though I got tutored on set, it was really fun and I just — I loved the entire experience, and it'd be amazing to do it again.
Is there anything else you want to say about the movie that I haven't asked you about?
Not really, no. Oh! I really like the whole time period of the movie. I've always loved the '50s, and acting like I was actually in the '50s was one of the best parts of the movie. I love the clothing. The clothing is a little uncomfortable, but it was really pretty. And all the outfits that I wore, I really liked them. The decorations, everything was just really different. So it was really cool to be living in another world.
Yeah, it's like being in a time machine.
It was.
You said you have always liked the '50s. What is it that you like about it?
I just like the vibe of it, I guess. Everyone seems so happy back then. Apart from The Irishman. [Laughs.] Everyone back then was so happy. And it was just such a great time.
And are you basing some of this on I Love Lucy?
Kind of. [Laughs.]
This interview has been edited and condensed.