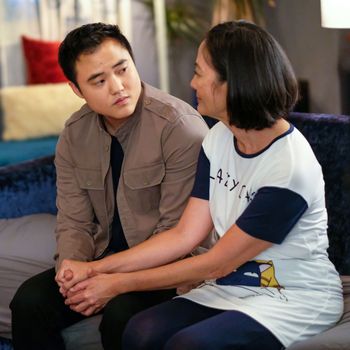 Photo: Erica Parise/SHOWTIME
"Bette Porter: She's not afraid to sleep with your wife!"
Yes, friends. That is actual voiceover copy from the attack ad run by Bette's rival mayoral candidate in this week's episode of The L Word: Generation Q. And believe me, when I heard those sweet, sweet words, I CACKLED with the force of 1 million cackles. It's hilariously perfect — probably exactly the ad that would be run by a straight white dude candidate facing off against a queer woman of color who did, in fact, sleep with a married woman. I only wish Dani, now acting as Bette's post-scandal campaign manager, could have cackled too.
Alas, instead she hitched up her high-waisted dress pants and headed over to see Bette. (She honestly never seems to hitch them — they just stay there. This whole season has been incredibly high-waisted. Thank god for Finley's relatably sagging dude-cut slacks, else my pants gender would have been totally unrepresented these past seven eps.)
Now, in general, Bette has had a doozy of a day. Alice isn't talking to her, there's the stress of the negative press from her Big Ole Husband Push, and also Tina came over for a nice tagine-cooked meal and dropped the news that she is getting remarried to someone named Kerry or Carrie or Carey. So, yeah, Bette is struggling and offering Dani whiskey, and I think we all know what is gonna happen here: Bette and Dani will soon be hooking up, thus completing the singularity because they are the same person, like if the two leads in The Parent Trap fell in love instead of realizing they were sisters.
And maybe Dani and Bette hooking up wouldn't be the worst thing, because something has to nuke Dani and Sophie's engagement. Currently, it's a race between Danette and Finlie, a portmanteau/'ship name for Finley and Sophie will definitely confuse if said aloud. Speaking of that bromance, Sophie's grandmother is hospitalized after a fall and awaiting surgery, and it's Finley who shows up to hang and be Sophie's support system. I'd like to thank the writers for giving us this look at Finley's positive traits; her mooching and barreling through details this season has sometimes felt like it would alienate friends, and it's helpful to be reminded that she is open, available, and loving.
This helps because when Sophie grabs Finley's arm as she's leaving the hospital, I felt invested enough to chant "KISS KISS KISS!" to myself, like I was awaiting Gene Simmons. I truly hope Finlie actually happens outside that moment, and before there is a wedding that everyone involved doesn't seem so stoked about.
Speaking of weddings, I'm assuming Nat and Gigi had a big one at some point (they seem like big wedding people) and that day has to be on both of their minds this week as Alice spends the episode realizing she's "on the bubble" both at work and at home. Yes, AL(())CE (that's her show's logo and I included the vagina) is in danger of cancelation and Alice has to accept help from her network's viral success-focused dumb-guy writer to try and save it. We'll see what he has dreamed up during next week's season finale.
At home, Nat and Gigi have predictably recemented their connection to each other not simply alongside Alice, but also without her, as Alice comes in from work and finds the two of them in bed together. Yes, a divorced couple who resent and long for each other does seem to be a difficult, loaded dating situation and also, as Shane says, "Throuples are complicated, Al."
Micah is back this week with a storyline about his mom coming to visit and showing Jose pre-transition photos. This is a violation of Micah's boundaries and he's justifiably upset and firm with his mother about the inappropriateness of her behavior. On an unrelated note, part of this storyline happens at a restaurant after his mom has consumed four edibles. I couldn't stop wondering how the fuck she was in public at this time and not deep in a dreamless sleep or staring at a wall with a need for some drum and bass to be played at a low volume.
Next week is our season finale (and congrats on the season-two renewal, Team TLWGQ!) and I'm predicting every ex-wife on the show — that's Bette, Tina, Shane, Quiara, Nat, Gigi, and soon to be Felicity — will form a human wall in front of the courthouse where Dani and Sophie plan to last-minute elope while Dani's dad stands nearby becoming friends with AL(())CE's annoying male writer. Can't wait!
Other Notes
• Shane is freaked out about becoming a parent. Quiara isn't. For now.
• Jennifer Beals's out-of-focus background acting in the scene where Tina tells her she is getting remarried is THE BEST. Also yay for Laurel Holloman's in-focus foreground acting in the same scene. Fantastic all around.
• Shoutout to the moment when Shane asks Tess if she's telling her to "eat a sandwich." That felt like a very honest moment for Kate Moennig.
• Lose It All ends with Sophie and her sister chatting outside of HomeState tacos and I hope after the camera cut away those two went inside and got one Brazos, one Comal, both on flour, add avocado cuz that's my order there and it's perfect.