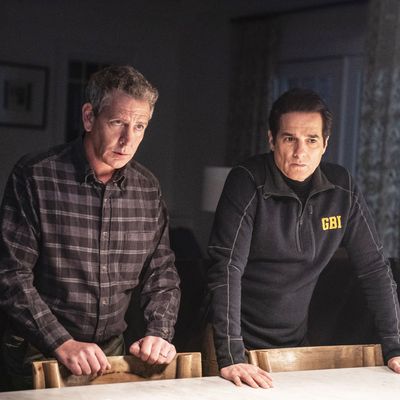 "There was someone behind him, and this was no illusion. He could see the shadow, long and thin. And … was that breathing?"
When Stephen King's The Outsider gets to this passage, one captured with oppressive terror in the HBO adaptation, it lands on the reader like a weighted blanket. There have been hints of the supernatural in the 250 pages that preceded it, of course, but it really stands out as a turning point, a revelation that something very malevolent hasn't finished whatever it wants to get done. In the show version, it plays a little differently. Richard Price and his team have been dropping more signs of the supernatural in the first two episodes than King does in the first half of his book, including the hooded figure at Terry Maitland's execution and whatever is haunting poor Jessa Maitland. It's also a more intense, visceral attack than imagined on the page, where Jack Hoskins's neck is "caressed." But the impact on the reader and viewer is the same — whatever it was that destroyed Terry Maitland's life isn't done yet.
While the scene in the barn is the attention-grabber in "Dark Uncle," it's mostly an episode designed to introduce us to a crucial character, Holly Gibney, played by Oscar nominee Cynthia Erivo (Harriet). Gibney connects The Outsider to other King works of fiction in the "Bill Hodges Trilogy" that has already been turned into a TV series called Mr. Mercedes on the Audience Network. This version of Holly is introduced using one of her very special skills to identify the make, model, and details of passing cars. After a call with Alec Pelley, she tells someone at a relatively empty bar that he's sitting in her seat.
In other words, she's very precise, mentioned as possibly on the autism spectrum in the books, and she considers herself an anomaly. It's not just that she can tell Alec Pelley who was pitching at a game he attended as a child, it's that she considers herself "unexplainable." And it's going to take someone with her unexplainable skills to solve this unexplainable case.
"Dark Uncle" opens in the barn, where someone found Terry Maitland's clothes along with something. First presumed to be semen, it's not quite that, but it does seem to have some biological properties. More confounding, as GBI Agent Yunis Sablo explains to Ralph Anderson, they found fingerprints of Terry Maitland's that seem to imply that whatever was mimicking the small-town Little League coach was aging or degrading in some way. If what Holly says later is true — that this is a story of a doppelganger — then the evidence found in the barn suggests that Terry Maitland's double had a very short shelf life. Has it reverted to a more original form, able to attack Jack Hoskins in the barn and come to Jessa Maitland and give her a message? Is it looking for a new host?
Ralph Anderson isn't even supposed to be involved anymore, as he has mandated time off after the shooting. But bringing the backstory of Derek Anderson's death to The Outsider has added a different dimension to his father's latest case; Ralph Anderson can't have another inexplicable death on his conscience. When a child dies before a parent, it tears at the fabric of normalcy. It doesn't make sense. It's almost as if Ralph Anderson needs the Terry Maitland case to make sense because he's already had enough in his life that doesn't add up.
When a prisoner is brought to a new facility, he makes eye contact with someone already there, but it's Jack who's about to have a very bad day, attacked by whatever left clothes with Terry Maitland's fingerprints on them in a barn. When he makes it home that night, he sees scars on the back of his neck that almost look like burn marks. He screams in pain, not for the last time.
Ralph Anderson is the one that suggests they need some help. And so Ralph and Yunis go to Howie Salomon and Alec Pelley to see if they have any idea what's happening here. Howie is the one who suggests Holly Gibney. As Alec says, "There's nobody better at retracing steps." He also adds, "As an individual, she's what I'd call unique."
It's Holly Gibney who first uses the word doppelgänger. "Everyone in the world has identical double." It's not a twin. It's not biological. There's a word for it in multiple languages. Ralph Anderson shuts her world history lesson down by saying, "I have no tolerance for the unexplainable," which allows Price to offer a quick primer of his take on Holly Gibney. She knows what day May 1 falls on 204 years from now. She can recite the lyrics of every rock song from 1954 to now. She is herself unexplainable. It is a more intense version of Holly Gibney than King may have imagined, but it fits in the world of the show. If the book is a very King concept with mystery elements, the show starts as a True Detective–esque mystery with supernatural elements. In keeping with that, there are people who have abilities that science often has trouble explaining. Price's exaggeration of Holly Gibney almost seems to be grounding the show: Yes, this is an impossible story, but sometimes people are just impossible.
Meanwhile, Jessa Maitland wakes her mother to say that "the Man" has a message for Ralph Anderson. When the Andersons arrive at the Maitlands', Glory Maitland tries to convince Jessa it was all a dream, getting upset when Anderson suggests that maybe it wasn't. What's the message for Ralph? He has to stop, and something very bad is going to happen if he doesn't. The creepiest moment of this series so far may be when Ralph Anderson suggests that "the Man" should give him messages directly and Jessa calmly replies, "I don't think you want that."
So what does Holly Gibney discover? Traveling to Dayton and investigating the locations the Maitlands and the van occupied only a month earlier leads her to a startling discovery: it happened before. Two sisters were sexually assaulted and murdered in the woods near Dayton, and the authorities questioned Terry's dad Peter. Has the Maitland doppelgänger already taken victims? There was apparently someone arrested for those crimes already — the same someone we've seen several times this episode fashioning a weapon out of his glasses. The same someone who uses that weapon to slit his own throat. As he bleeds out, "Dark Uncle" cuts to Jack Hoskins muttering the same ominous phrase, "Whatever you need me to do."
Inside Information
• Julianne Nicholson is again doing so much with her character. The way her voice catches on "He was such a good … dad," man.
• When Jessa saw "the Man," she said that he looked like daddy before but now looks more muscular. If he looks better now, should we assume he looks like Jack Hoskins now?
• The doomed prisoner is reading something in his cell called Lost in the Maze. I couldn't find that book cover or really the book, although there's something called Lost in the Maze: Finding Myself. I suppose they could be giving prisoners self-help books? Or Finding Myself could just be an easter egg in a show about doppelgängers. We'll see if it comes up again, but it's so centrally framed that we're clearly supposed to notice it.
• Jack is a total a-hole at the strip club, yelling that they should play "The Songs of the Humpback Whale." Yes, it's a real thing that was kind of a phenomenon back in 1970. Maybe if he hadn't been there, he wouldn't be in the shape he's in now.