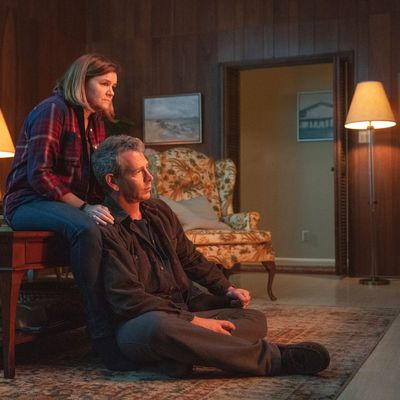 With the national obsession with crime shows and the resurgence of the horror genre, it makes sense that we would eventually get to a prestige mystery series that could be called a "supernatural procedural." With echoes of writer Richard Price's HBO hit The Night Of and a little show called True Detective, the series premiere of HBO's The Outsider unfolds more like the film and literary work of Price than his contemporary who actually wrote the source material, Stephen King. The master of horror almost takes a back seat in the premiere, as Price brings his attention to detail to the foreground while co-star and director Jason Bateman amplifies the tension in a way more similar to what won him an Emmy for helming Ozark than your typical King adaptation. The camera creeps around corners and eavesdrops on conversations in a way that feels like a cop show, but the air becomes increasingly thick with menace like the opening chapters of a King novel. It makes for a very engaging premiere, even if fans of the source material (and even some who have never read it) may wish it would slow down and let the confusion linger in the air a bit longer.
The set-up for King's best book in the last decade is wonderful in the way it grabs the reader, and it makes perfect sense that it would attract a writer like Price, who has excelled so much at stories of conflicting evidence and conflicted crime-solvers. Georgia detective Ralph Anderson (Ben Mendelsohn) is called to investigate the worst case he'll ever see: the brutal death of a child named Frankie Peterson, who has been mutilated in ways hardly imaginable. Understandably, a rush to justice comes into play, not only to get a monster off the street but to get some small amount of vengeance for the unthinkable crime that has rattled a community. This rush will impact several of the key decisions that start the season of The Outsider, yet another cop show that illustrates how doing things hurriedly can only lead to trouble.
And yet who can blame Ralph Anderson for his actions? After all, he has several reliable witnesses that point fingers directly at the killer of Frankie Peterson, Terry Maitland (Bateman), a well-liked local who no one could ever imagine would do such a thing. In fact, Terry was the baseball coach for Ralph's kid, who we learn died at a young age, an invention of Price's and not in the source material. It's a very "cop show" thing to give the investigator an extra piece of emotional baggage to explain why they push so hard for justice, and the premiere moves so rapidly that it's nice to have a little bit of humanity to hold onto in Anderson's character. He wants justice for Frankie because the universe has denied him justice for his own son. As he says, it colors everything he does, even with Terry. Not only is it a solid Price invention, it feels like something King probably now wishes he had included in the book.
Back to the case against Terry. Not only did a woman see him helping Frankie into his van, and not only did a kid see him emerge from the woods with blood around his face (remember that Frankie was literally bitten), but he was basically seen all over the area, including by a local strip club employee named Claude Bolton (Paddy Considine) and the cameras at his establishment. He even calls for a cab and makes sure it's recorded. As Ralph says, it's almost as if Terry wanted to be caught on tape. With encouragement from District Attorney Bill Samuels (Michael Esper), Ralph leads a very public arrest of Terry at a Little League baseball game. Before the DNA has been taken, before any questioning, they publicly point a finger at Terry Maitland as a child murderer.
And then everything starts to fall apart. Terry brings in ace attorney Howie Salomon, played by The Night Of veteran Bill Camp, who is literally always good. Salomon is stunned at the public defamation of his client. After all, if they had just asked Terry where he was the day that Frankie was killed, the cops could have learned this case doesn't make sense. Even with the physical evidence that starts to accumulate, something doesn't make sense. For while Terry may be on camera and seen by witnesses in a way that makes him look guilty, there's some pretty strong evidence that points to innocence, including being on camera dozens of miles away asking about Homer at the exact time Frankie Peterson was murdered. How can a man be in two places at one time? And what starts as a procedural familiar to fans of the man who wrote for The Wire becomes a bit more familiar to fans of the man who created Pennywise the Clown.
The first episode of The Outsider races through its set-up, covering almost a third of the book in one episode. Price seems to be more interested in the aftermath of the arrest than the confusion around the case itself that marks the first 170 pages of the novel. Why? Well, there's definitely a lot of story left to be told, but it feels like he and Bateman are using the fast pace to amplify the confusion. In a book, lingering on conflicting evidence has a different power than it does in a series premiere, which has a different obligation to grab viewers in order to keep them from flipping to another channel. (You've already bought the book; you may not keep watching the show.) So Price and Bateman cut back and forth and turn up the speed to replicate how quickly poor decisions were made here, but also to make sure you stay tuned for a two-hour premiere. Honestly, living in the impossibility of Terry Maitland being in seemingly two places at the exact same time might have been creatively richer, but shows like True Detective have sometimes been accused of lingering too long and being bloated overall. No one could call the series premiere of The Outsider bloated. If anything, one wishes it caught its breath every now and then, although the character work is likely to come further down the road.
It's pretty clear that Price is more interested in the aftermath than the set-up. King is notorious for being a master of set-up, but not exactly the same when it comes to following through. It feels like Price and Bateman know that the hook here is good enough that they don't need to spend too much time in that section of the novel. Pushing us forward into the meat of the story of The Outsider makes us feel like we're further engaged in the overall piece than we would be if the show took its time. So much has happened by the end of the first hour of The Outsider that it's harder to turn away than it would be with a slower, moodier start. It's hard to imagine anyone making it through the first hour and not wanting to see what happens next.
Inside Information
I was curious what Ralph was listening to that served as the score for the opening scene and maybe you were too: "Concerto for Piano and Orchestra No. 23 in A Major, K. 488: Il. Adagio" by Ivan Moravec & Czech Chamber Orchestra. He's got good taste.
It should be no surprise that HBO and Richard Price drew major talents, but the entire ensemble here is so perfectly cast. Mendelsohn conveys the world-weariness of a man dealing with grief without overplaying it. Mare Winningham and Julianne Nicholson in the roles of Ralph and Terry's wives, respectively, should allow both excellent actresses to find bigger fan bases. Even small roles by character actors like Yul Vazquez just seem right. And then there's Bill Camp, who makes everything better.
No one except maybe the Academy when it's time to hand out awards will give enough credit to the editing done here by Leo Trombetta. A four-time Emmy nominee, Trombetta is handling 170 pages of plot that jumps back and forth in time across multiple speaking roles, and he works with Bateman to make it not just coherent but something that builds in tension. Trombetta's last nomination came for a season three episode of True Detective. He should get one this year, too.
While we're on that subject, comparisons will be drawn to The Night Of and a lot of King adaptations, but the premiere of The Outsider really feels like it doesn't exist in exactly this way without True Detective. It has a similar structure and atmosphere to a show that was also about the cases that changed men's lives, much like this case will forever change the Andersons and the Maitlands. Maybe Stephen King could write season four.