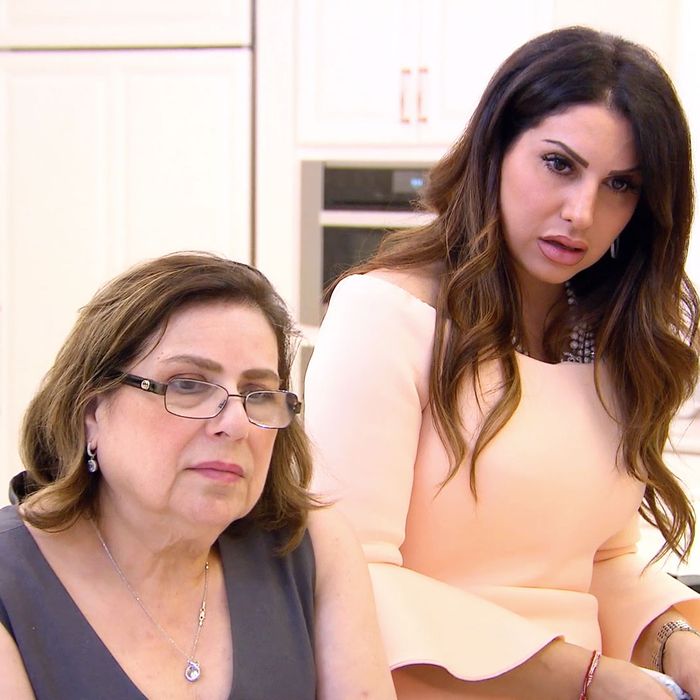 Welcome to 2020! You and I may still be shaking off our New Year's Eve hangovers (okay, maybe just you — I went to bed at 3 a.m., stone-cold sober, having somehow stayed up watching YouTube hair tutorials that I will never bother even attempting, for reasons I could not begin to explain to you or to myself), but it's another holiday altogether in RHONJ space-time. You guessed it: Syrian Orthodox Easter! At Jennifer's house, the children gleefully scatter and hide at the sight of a (cooked) lamb's head. "Kill it," one of them screams, though in point of fact it is already very dead.
Jennifer's daughter, Gabriella, who learned last episode that her uncle Steven is gay — a fact his and Jennifer's mother apparently won't acknowledge — asks her grandmother if the church doesn't support her uncle because he, again, is gay. No, Nana says. He's not gay. (He is.) Okay, well, she "didn't know that." (She did.) Do I hope that this awfully contrived-feeling plotline is a productive journey toward acceptance for this family? Sure I do! Do I love that a person's sexuality is being used as fodder for a story that, as it's developing so far, doesn't seem to actually involve him that much? Not particularly!
Jennifer's other brother remains engaged to that nice Turkish girl from last season, but is still waiting on her visa to come through. RHONJ has really become the second-most important immigration reality show of our time, after the sacred text that is 90 Day Fiancé.
Teresa and our baby girl — she's all grown up, can you believe it? — darling Gia are shopping for prom dresses when Joe calls from the ICE facility. Husband and wife start squabbling about, respectively, Teresa's spending habits and Joe's failure to contribute to the family's finances, given that, in case you are joining us for the first time here on RHONJ, welcome, he has been incarcerated for years, while she's taken care of their four daurters (if the first two syllables of that phrase don't rhyme, you're pronouncing "daughters" wrong). And, by the way, he shouldn't have made her sign a prenup! Well, he didn't want to marry her in the first place! Gia — the most emotionally mature member of the Giudice family by three lengths of the Turnpike — tells them both to stop or she will turn this figurative car around.
Also in the category of couples who should strongly consider parting ways (but, unlike Juicy Joe and Teresa, who can also be found within the category of couples who are definitely sleeping together), Danielle and Marty — et tu, Sweetcake? — have decided to blame Margaret for their divorce (and the abuse allegations? Her restraining order? His restraining order? Her second restraining order?). I will readily admit that my ride-or-die Marge has waded far deeper into the muck of this breakup than is advisable, but this is obviously absurd. Nevertheless, Teresa listens with great interest. This season, Tre is a snuffling truffle pig rooting around the forest floor for a reason to be angry at Margaret, and Big M's supposed "bullying" of Danielle is the best one she's sniffed out yet. Between her unflagging support for Danielle and, back in the day, Kim D (short for "Demon"), Teresa has the kind of taste in friends that both makes her uniquely suited for reality TV drama and makes me wonder if a not-unimportant lobe of her brain fell off, rattled down through her neck, and came to a rest inside one of her bubbies.
Teresa has invited the other women to a shopping event at a boutique operated by Steven Dann, a designer I have never heard of but who I am going to go ahead and declare fashion's most famous Steven whose last name is also a first name, after Steven Alan. This store appears to be in, hilariously, Great Neck, but the staff has nevertheless been extensively drilled in Jersey crisis prevention. For example: The Champagne the women are pounding has wisely been served in plastic glasses, as demonstrated when one is almost immediately knocked to the floor.
Danielle is dressed in head-to-toe Versace, which is conveniently the kind of Versace that says "Versace" all over it so there's no missing that it is Versace. (To be clear: I love this look.) After everyone who isn't Danielle or Teresa inevitably begins to gossip about Danielle, Tre angrily confronts the entire group. In particular, in her capacity as Danielle's attorney, she is ready to sue Margaret for alienation of affections for her instrumental role in ending the greatest love story of our time. All hell breaks loose. Margaret calling Danielle a "prostitute" for approximately the 34th time on this season alone is one thing, as is Danielle lambasting Margaret for cheating with "the fucking contractor … that got paid to fuck you," but Danielle telling Marge to get her "titties … done," is, apparently, entirely another.
Margaret dumps her flute of water on Danielle's head. What we thought was hell before was, in hindsight, heaven breaking out. And luckily, Danielle packed her pitchfork. She smashes a candle we just learned costs more than $600, then somehow gets her hands on Margaret's purse and dumps it out, like a cat swiping hairbrushes and perfume bottles off a dresser with a gleam of icy hatred in one eye, and a gleam of possible rabies in the other.
Dolores screams at Teresa, for once. Jackie — who, adding to the surreal atmosphere, was not only invited, but is seemingly getting along swimmingly with Teresa — screams at Danielle for swatting at her arm. Danielle screams at Melissa. Melissa screams at Danielle. Teresa screams at Melissa, then at Jen too, for good measure. The staff, no doubt remembering their Jersey crisis training, proceed toward the exit.
It was ten years ago that we witnessed Ashlee Holmes pull out Danielle's weave. And now, to christen a new decade, the Posche fashion show prophecy has come to fruition once more: Danielle yanks, hard, on Margaret's ponytail. But thanks to the great advances we've made in hair science since Obama's first term, this baby stays attached.