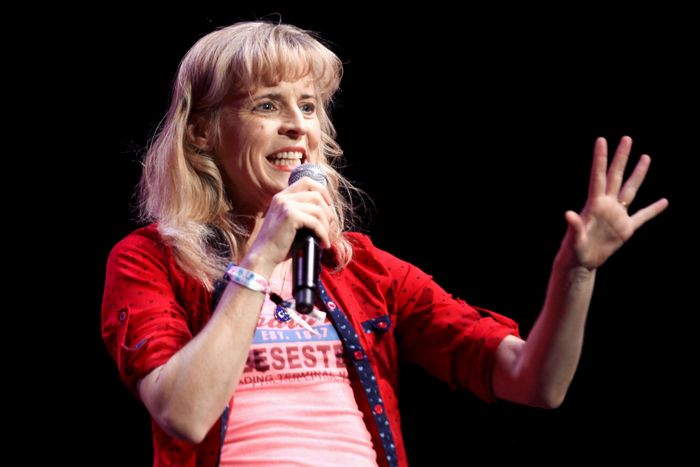 Who doesn't love Maria Bamford?
Photo: FilmMagic
The comedy-podcast universe is ever expanding, not unlike the universe universe. We're here to make it a bit smaller, a bit more manageable. There are a lot of great shows, and each one has a lot of great episodes, so we want to highlight the exceptional, the noteworthy. Each week, our crack team of podcast enthusiasts and specialists and especially enthusiastic people will pick their favorites. We hope to have your ears permanently plugged with the best in aural comedy.
The Three Questions — Maria Bamford
This week Maria Bamford is the focus of host Andy Richter's attention and his three questions — Where do you come from? Where are you going? What have you learned? — and she wades into a sea of answers as only her slightly loopy comedy mind can. She has no qualms explaining how her folks sort of encouraged her until they realized she was serious about pursuing comedy. No one around her saw it, apparently: "Some guy I knew as a kid posted on my Twitter, 'Your sister was always funnier,'" she says. "And he was right!" She had to find the motivation to push herself because "there was never a lot of pressure for greatness" from her family. There's a chemistry in Richter's exchange with Bamford that pulls out a lot of laughs and moments of shared realizations. They touch briefly on her struggle with anorexia and the time she was institutionalized, but that feels all behind Bamford now, who is comfortable in a marriage and her longest relationship. Both host and guest talk wistfully about someday moving out of Los Angeles and returning to their quiet hometowns, and Bamford goes into some of the things she's considered doing in L.A. to maybe move away from performing comedy — like the time she considered joining the LAPD, or teaching. She also talks about the inordinate amount of time she has spent in various 12-step programs for a variety of addictions: "The great thing about 12-step programs is, they give you a set amount of time to speak, and they shine a light when your time's up. It's like an open mic, but no matter how bad you were they can't kick you out!" Richter and Bamford cover a lot of ground, both shallow and deep, and pull off making it super entertaining. —Marc Hershon
Listen: Spotify | Apple | Website
Tigerbelly — Tiffany Haddish & the Coochie That Makes Stars
For an interview that begins with the question "Have you had a small dick before?" Tigerbelly's newest episode with Tiffany Haddish ends up in surprisingly profound places. As two old friends from the L.A. comedy scene, Haddish and Bobby Lee's chemistry is evident from the get-go. Haddish levels with Lee, telling him some hard truths that he hadn't heard from another comic before. "You know the key to life is always be yourself … You probably stressed yourself out over these years trying to figure out How do I fit in? when you should just be you. Bobby motherfuckin' Lee." Therapy aside, Haddish talks about how always being kind to production crews inadvertently helped land her breakthrough role on Girls Trip. She and co-host Khalyla Kuhn bond over troubled childhood relationships with their mothers, which leads to the fantastic quote behind the episode's title: Haddish made her first TV appearance in 2007 while her mother was in a mental institution, and her mother's response to seeing it was, "My coochie makes stars." —Mark Kramer
Listen: Spotify | Apple | Website
The Underculture — Bernie Sanders and Donald Trump With Anthony Atamanuik
One of many reasons to be excited about Bernie Sanders's recent surge in the polls is the possibility of more Trump vs. Bernie debates. Specifically, James Adomian's Bernie Sanders and Anthony Atamanuik's Donald Trump. The President Show's prematurely canceled star joins this week's The Underculture for a small sample of the ongoing Trump vs. Bernie 2020 tour. Leaked footage from Sanders's home-security system reveals a late-night conversation in his kitchen that covers everything from commedia dell'arte to Jeffrey Epstein's island. Atamanuik's childlike Trump boasts about bombing General Salami and Italian ISIS, and Adomian's fiery Sanders vows to banish Trump to Fyre Fest Island. Afterward, the actual comedians fantasize about the potential real-world matchup, which would be accompanied by a 50-state Trump vs. Bernie tour featuring special guest moderator Tulsi Gabbard in Hawaii. Atamanuik is also excited to pitch a President Show reboot with Bernie Sanders if the senator moves into the White House. For many reasons: fingers crossed. Make sure to listen to the very end, when the two politicians join forces for a perfectly applicable duet of "Sympathy for the Devil." —Mark Kramer
Listen: Spotify | Apple | Website
Culture Kings — New Oscar Categories With Demi Adejuyigbe 
Much like the holiday season bringing about good tidings and cheer, the beginning of any new awards season is sure to bring about hot takes by all. Just when you thought you didn't need any more Academy Award nominee opinions in your life, the Culture Kings drop a hell of an episode discussing the very subject. Given that hosts Jacquis Neal and Edgar Momplaisir truly do live up to the name Culture Kings, if you're going to pay attention to any of the hot takes out there, let me suggest starting with the ones on display here. This week, Neal and Momplaisir welcome comedian, writer, and person who just recently did their first backflip Demi Adejuyigbe (The Good Place). Following a lengthy discussion of this year's Golden Globes, the meat of this episode comes when the three begin making up Academy Award categories they wish existed. Some standout categories include "Worse Cast Actor," "Best Athlete in a Movie Where You Go 'Oh That Athlete Can Really Act,'" and "Greasiest-Looking Hair in a Motion Picture." Without spoiling too much, just know Adam Driver was nominated three times for one of the categories. —Tom Rainey
Listen: Spotify | Apple | Website
Anna Faris Is Unqualified — Fortune Feimster
Billed as "relationship advice from completely unqualified Hollywood types," Anna Faris's podcast aims to keep it real. While some might arrive at that level of honesty through assertive aggression or a "the truth hurts" attitude, Faris provides an inviting compassion instead. It works to build community through easy yet enlightening conversations like the one with this week's guest, Fortune Feimster (The Mindy Project). Feimster opens up about performing for different audiences, how she came out, and how she met her fiancée, infusing each story with humor. The funniest, though, follows her time from church camp performances to college theater, both of which she admits were environments that didn't see her thrive. "I wanted to throw up every time I got onstage," adds Feimster. Faris is quick to give the comedian a chance to shine, however, goading her into doing a faux commercial audition as one of the best characters in her repertoire, Darlene Witherspoon — "no relation to Reese." The whole thing is an absolute hoot. Rounded out by earnest call-ins from listeners looking for actual relationship advice, which Faris and Feimster meet with equally sincere counsel, Anna Faris Is Unqualified is as moving as it is amusing. —Becca James
Listen: Spotify | Apple | Website
Other Podcasts We're Listening To:
Strong Black Lead — Roy Wood Jr.
Listen: Spotify | Apple | Website
We Stan Together — Lauren Ashley Smith
Listen: Spotify | Apple 
Amazing Colossal Podcast — Paul Reiser
Listen: Spotify | Apple | Website
Mega — Christ Is Prevention Hotline With Katie Featherston
Listen: Spotify | Apple | Website
Got a comedy podcast recommendation? Drop us a line at comedypodcasts@vulture.com.