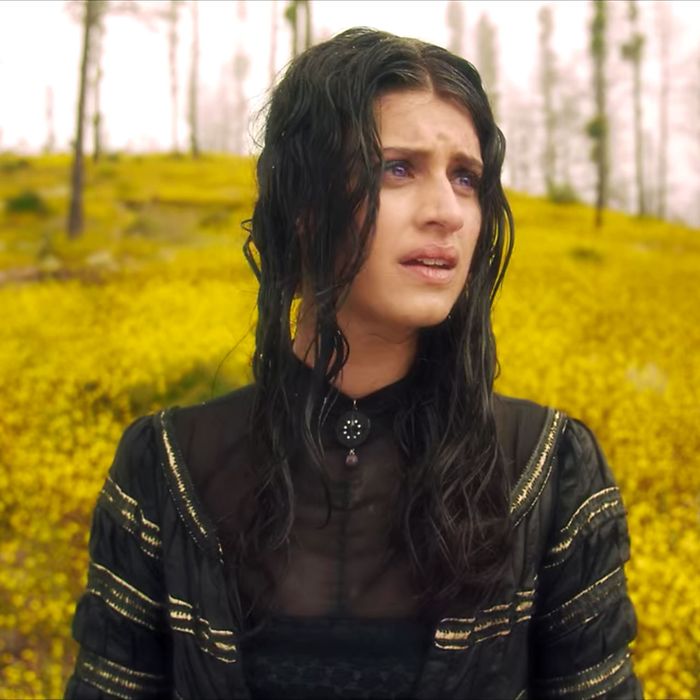 Anya Chalotra as Yennefer in
The Witcher.
Photo: Netflix
Fantasy novels, games, movies, and television shows provide a rich tapestry of the human spirit. The adventures of sword-swinging heroes articulate the dangers of taking to the high seas to explore unknown lands, the horror of riding through battle heavy with armor, the thrill of rescuing damsels in distress, and the moral difficulty of choosing whether to fight an enemy outright or make peace before war sweeps the land. They invoke magic within, daring readers to dream impossible dreams.
Those dreams, however, have been dominated by men. For years, women have often had a difficult time getting a fair shake in fantasy, no matter the medium. To have her books published in the 1960s, Alice Bradley Sheldon wrote under the pseudonym James Tiptree Jr. In 2012, 66 percent of Magic the Gathering characters were male. HBO's Game of Thrones suffered much criticism for the way one of its most powerful women, Daenerys Targaryen, showed up nude seemingly for no reason.
Andrzej Sapkowski's The Witcher, a collection of eight books that have been adapted into three video games, a short film, a 2001 film called The Hexer, a Polish miniseries, and now a Netflix series, feature incredibly strong women in significant roles: a powerful queen leading her troops into battle, a rape survivor taking revenge into her own hands, and a young woman turning into a powerful warrior. But in Sapkowski's novels, women's stories often come from the mouths of jealous or spiteful men told from multiple angles to show the chaos surrounding a word-of-mouth culture. While authentic and gripping, it doesn't bode well for the depiction of women. Lauren S. Hissrich, The Witcher showrunner, strategically made alterations to the original story, forcing Geralt of Rivia (Henry Cavill) — a freelance bounty hunter who was abandoned, experimented upon, and kills monsters for coins — to share the spotlight with a sensitive bard, a trauma surviving sorceress, and a princess destined to become a warrior.
The differences between the books and the show can best be analyzed through The Witcher's fourth episode, "Of Banquets, Bastards, and Burials," written by Declan de Barra and directed by Alex Garcia Lopez. In this episode, Queen Calanthe (Jodhi May) invites the kingdom of Cintra to court for her daughter Pavetta's (Gaia Mondadori) wedding feast. Sapkowski's version of the story, "A Question of Price" from The Last Wish, shows the 15-year-old Pavetta entering her wedding feast instead of being seated at the table with the rest of the family. After a full paragraph describing the young girl's beauty, three men mentally undress her. Throughout the dinner, Pavetta's mother and the men of the court, discuss her future at length. Pavetta only speaks when asked if she wants to marry the porcupine knight, who won her as a child of surprise, and when she casts a spell to that same knight, whom she had already taken as her secret lover. (In casting the spell, Pavetta reveals she's not a virgin because, as the story explains, only a penis can reveal magical abilities in a woman.)
The Witcher's TV version gives Pavetta not just a motive, but a deeper connection to her mother. Though a good deal of the dialogue in the series comes directly from the English translation of The Last Wish, there are key adjustments. The bloodlust Calanthe expresses in the books reads more like a love for the fight. The battlefield is the one place she feels like an equal, despite her many privileges as queen. "There's a simplicity to killing monsters," she tells Geralt when he asks why she chooses fighting over the comfort of her throne room. Covered in blood and well on her way to being drunk as she returns from the field of war, Calanthe demands Pavetta accept her duty as a princess when she sees her sitting despondently at the head table. "It'll be done soon," Calanthe gently tells her. "You think I wanted to marry your father? I'll have none of your waterworks here. You're the daughter of the Lioness, behave like it."
This moment gives Pavetta agency to tell her mother she deserves to be in a loving, committed relationship. "I could do better," she asserts, giving her mother pause for the first time since she entered the scene. It's a moment of power for which magic can't take the credit, transforming Calanthe from a warrior queen in power to a complicated woman forced to operate within the patriarchal systems laid before her. Calanthe laments to Geralt later at the feast, "This, all this, because male tradition demands it," her voice filled with spite. "If I were a man, I could simply tell the whole lot of them to fuck off, declare outright who Pavetta should marry, and have done with it. Or, better yet, let the poor girl decide her own fate."
Of course, limiting feminist representation to women defeats the purpose of the cause. "Of Banquets, Bastards, and Burials" also highlights how the men of The Witcher got a glow-up for television. The show depicts Geralt's musically gifted bestie, Jaskier (Joey Batey), as an aspiring rock star who enjoys the company of women. During Prevetta's wedding feast, Jaskier brings Geralt to protect him from angry husbands whose wives he bedded. (Jaskier even courts a plus-size, older woman in the background of a scene.) This representation stands in stark contrast to Dandelion (pronounced Dan-dil-leon), the bard from the original text: In Polish, Jaskier means "buttercup," a name deemed too feminine for English audiences, so it was changed.
In his first appearance in Sapkowski's "The Voice of Reason," Dandelion gets in trouble with Geralt's mother figure, Nenneke, for pinching the behind of an underage girl who's trying to study. Geralt does nothing but laugh at his friend. But how could we enjoy the earworm "Toss a Coin to Your Witcher" if it came from a serial sexual harasser? If Dandelion were on the adventure, the audience would look for Geralt to take the creep out the first opportunity he got. Sympathetic and enthusiastic, Jaskier instead stands out as a fan favorite. He makes the otherwise reserved Geralt come out of his shell, and his music creates an auditory touchstone for viewers as the show revisits "Toss a Coin" to show the passage of time.
Similarly, loving the book version of Yennefer proves difficult, because without the rich backstory provided in the show, she comes off as unfeeling and icy. Her backstory sees a few changes in Hissrich's adaptation and Anya Chalotra's performance. In the books, Yennefer's father leaves the family in part because of his daughter's hunchback and disabilities; in the show, he sells her to a witch named Tissaia de Vries (MyAnna Buring) for four marks. The books also make Yennefer's mother an abuser, who cruelly takes her pain out on Yennefer after her husband leaves; in the show, her mother is simply unable to stop him from abandoning them.
The treatment of Yennefer's disability and subsequent fertility issues is yet another great distinction between the original story and the show — mainly because Hissrich takes the time to explore the ways in which women are encouraged to remain childless in order to obtain power. The idea that childbirth is the only way to have a legacy controls much of Yennefer's story line. After she attempts suicide as a teenager, De Vries saves Yen's life, only to then degrade her and build her up as she sees fit at the magical academy Aretuza. But at the end of these trials, a promise awaits that Yennefer cannot turn down: Upon graduation, she can change her physical appearance to become her ideal self.
The series makes clear, however, that magic comes from sacrifice. For the beautification ritual to work, Yennefer must undergo horrifically painful surgery to have her ovaries removed. Once beautiful, she'll be assigned to a monarchy as an adviser. It's later implied that the sterilization surgery exists to control women like Yennefer. A baby between a king and a mage could unseat the dominant power structure composed of the wizards and mages who train and handpick the students who will advise monarchs. Yennefer chose to have her ovaries removed, but the choice did not seem like one at the time: Her options were to run away with her first love and be a nobody, or go after her dreams.
When real power and public acceptance are finally within Yennefer's reach, she grabs it with both hands. "Of Banquets, Bastards, and Burials" features Yennefer outside of Aretuza and serving King Virfuril (Ben Lambert) of her home country, Aedirn. Highly intelligent, Yennefer is bored with the stodgy members of the king's court. "I love that I traded everything to get my seat at court," she tells Queen Kalis (Isobel Laidler), as she escorts the queen back to the castle. "I love that I believed that this would all be worth it, that this would be my legacy. The greatest mage to have ever graced a court. And I really, really love that instead, I've gotten to spend the last three decades cleaning up stupid political messes. Glorified royal arse wiper."
Themes of class permeate the episode — Queen Calanthe believes she can order Geralt to kill the hedgehog knight, and Jaskier worries a royal may have him killed for his indiscretions — but the betrayal of Queen Kalis and Yennefer illustrates the impossibility of overcoming the great distance of wealth and status. Kalis's newborn girl, her fifth child, leaves King Virfuril without a male heir. Close to his 60s, Virfuril decides to hire an assassin to kill both the queen and the princess so that he may try again with a new wife. Yennefer's mage powers get a workout as she constructs portals from thin air to try and escape the assassin. Scared and frustrated, the power dynamics and class distinction between queen and witch reveal themselves as Kalis, stripped of her royal finery, demands Yennefer get up from her exhausted state. "Get up, you stupid, useless witch! How could you not foresee this?" she demands. "You were supposed to protect me."
Tired, frustrated, and aware she is not the target, Yennefer abandons the queen and the princess on a cliff. Second thoughts creep in and she goes back, but the baby drowns as she portals into an ocean. In talking to the deceased child on the beach, Yennefer says, "I'm sorry you didn't have a life, but truth be told you're not missing much." She goes on to recount all the ways the world betrayed her. From being sold off to the emptiness of her string of lovers, beautification and power didn't save Yennefer from becoming "a vessel for them to take and take until we're empty and alone." The longing for a child of her own, the frustration for what that child would endure, and the fact that her natural ability couldn't save the child makes for fascinating, compelling television.
Women empowered by their own agendas, horribly flawed women who aren't punished for these imperfections but allowed to grow into better people, and women actively seeking control over their bodies: These are the stories that fantasy trailblazers like Octavia Butler, Ursula K. Le Guin, and Alice B. Sheldon told years ago. Throughout time, women have been treated as vessels for men's emotions, lineage, and reputation. Both The Witcher show and the Witcher books acknowledge and attempt to address these injustices, but the show does so without repeating the harmful depictions of women as sexual objects. Promisingly, it also joins a trend of women-led fantasy projects that suggest a brighter future. Three current shows — The Magicians, Charmed, and Westworld — all boast women showrunners or co-showrunners. In 2017, HBO optioned Nigerian-American fantasy writer Nnedi Okorafor's novel Who Fears Death. Last summer, Disney bought the movie rights for Tomi Adeyemi's novel, Children of Blood and Bone, which spent 89 weeks on the New York Times best-seller list. A more diverse, womanist fantasy comes true.