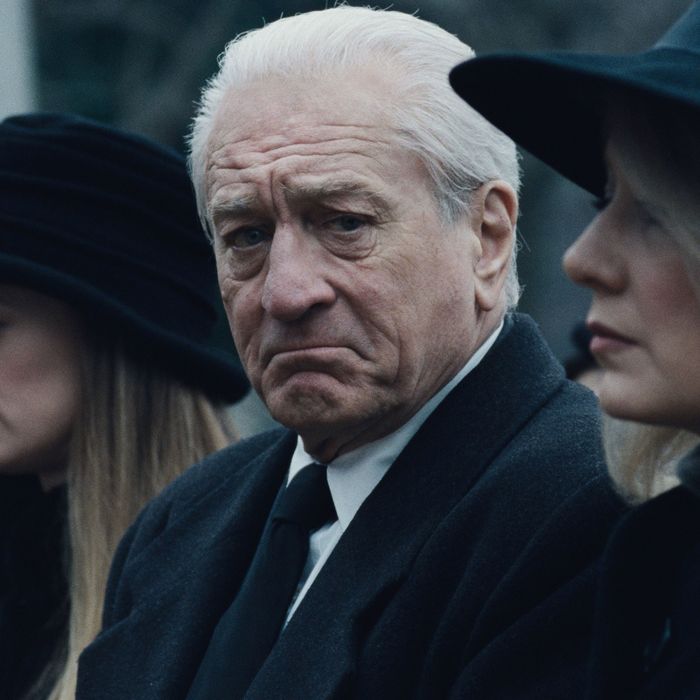 I'm talking about the enormous coffee-table tomes no apartment-dwelling film critic ever asked for.
Photo: Netflix
"Joke's on you, Laika Studios," I cackled, after the UPS guy drove off. "We voted yesterday."
That morning's delivery consisted of a heavy hardcover coffee-table book, filled with expensive paper featuring behind-the-scenes photos of the animation studio Laika's latest feature film, Missing Link. I held it in my hands for about 11 seconds before putting it out on the curb. When I went out again a few hours later, it was gone. Even with a bleak worldwide gross of $26 million on a budget of $100 million, Zach Galifianakis's performance as a lonely Sasquatch touched someone. That person, however, was not me. I received the tome for a much less romantic reason: I vote in a film critics' group responsible for dolling out statues during awards season.
Strangers on the internet like to accuse people who review movies for a living of receiving big checks from studios for writing favorably about their films. I can assure you, as a person who's been both a staff writer and a freelancer, that this is comedically untrue. (There is absolutely no money in this stupid career!) But there are a few weeks each year — awards season, they call it — during which film studios stop treating us like unwanted mosquitos and start seeing us as a voting body capable of carrying their movies to a golden future. In the run-up to the Academy Awards, they invite us to luncheons and receptions and intimate gatherings, events we're often too busy hammering out copy to attend. And as an insurance policy, they also finagle "For Your Consideration" home deliveries, hoping this will sway members of the Hollywood Foreign Press Association or the New York Film Critics Circle or the Los Angeles Film Critics Association to vote for their movies to win at the respective ceremonies.
For years the standard FYC package mostly consisted of screeners, inexpensively printed copies of screenplays, and maybe CDs of the score, guaranteeing that you'd have seen, read, and heard the film come voting time. But the past few years have seen a sharp increase in elaborately designed and absolutely enormous coffee-table offerings. The straw that broke the delivery guy's back this year was the book for The Irishman. Comprised almost exclusively of 240 pages of photos, it is 14 inches tall, 11 inches across, and weighs nearly eight pounds. It mixes stills from the movie with behind-the-scenes images: props, costume sketches, etc. There's a critic's essay from Tom Shone. There's even a picture near the back of the book of Martin Scorsese, Robert De Niro, and Al Pacino at a table holding those blue-and-white Greek coffee cups that does indeed make you say, "Hey, look at these legends."
I have no idea what to do with the thing. Just as I have no idea what to do with the 17.5-by-13-inch whopper of a book Netflix sent for Marriage Story (152 pages devoted to Charlie, and 152 pages devoted to Nicole), or the page-turner Universal sent, pitching Jordan Peele's Us in a similar fashion. Paramount and Sony also sent hardcovers for Rocketman and Little Women, with some lucky critics discovering that Greta Gerwig had signed their Little Women books. I cannot in good conscience put these books in my recycling pile. (Assouline sells the books it published for Netflix for $175 on its website. Pity the uninformed shelling out far more on eBay.) But I do live in New York, where space is at a premium. Then there's the silly ol' issue of ethics; I probably shouldn't be on the receiving end of gifts like this in the first place, let alone reselling them. So I polled some of my colleagues both here and in Los Angeles: What are they doing with their FYC loot, I wondered.
New York's own David Edelstein wasted no time calling the books "two-ton behemoths featuring undistinguished on-set photos [that] serve no purpose apart from killing trees." He does not give the books away ("That would be a practical joke"), and he never sells swag of any kind ("Anyone who would buy one of these books would probably be dangerous"). Of The Irishman's book in particular, Edelstein said it was nice to see the text by Tom Shone, whom he calls "a first-class critic and writer," before remarking that the book's best use was as a flat surface for rolling out gingerbread cookie dough over the holidays.
New York's Bilge Ebiri skips the cookie-making: He keeps the books unopened, in their shrink wrap, at home. (The books in support of kids' movies, though, get donated to his son's school library.) As does Tim Grierson, a Los Angeles critic for Screen International and MEL magazine, who said that this year's books joined the previous year's books in an unopened pile at his home. "I find them interesting because they suggest which movies the studios consider prestige films," he conceded.
Piles were a common theme. "Last year's batch are going to the donate pile, still in their shrink wrap, to be replaced by this year's batch, also still in their shrink wrap," a staff critic and editor from Los Angeles who preferred to remain nameless bemoaned. "I'd rather just not receive them in the first place. All they really do for me is create extra work."
"Why would I want my home to look like the Netflix lobby?" another prominent L.A. freelance critic, writer, and broadcaster, who also asked to remain anonymous, says. "Mailing unwanted, expensive books is passive-aggressive psychological torture. Studios know we critics value words and ink and print, so for years I kept every book and even dusted them once or twice. No more."
No. More. This blog will likely float into the ether, unread by studio executives responsible for green-lighting enormous For Your Consideration packages. But I couldn't let another awards season pass without letting at least some of us speak our piece. Including this anonymous critic, who would also like to cancel FYC pillows.
"I will never ever recover from last year's gift of a Roma pillow that was just a black throw pillow with the word ROMA on it in bright yellow letters," one critic told me. "Ridiculous, hideous, useless."
(For the record, I have never received any such pillows, but considering how much sitting on our asses critics do, I'd actually welcome this.)