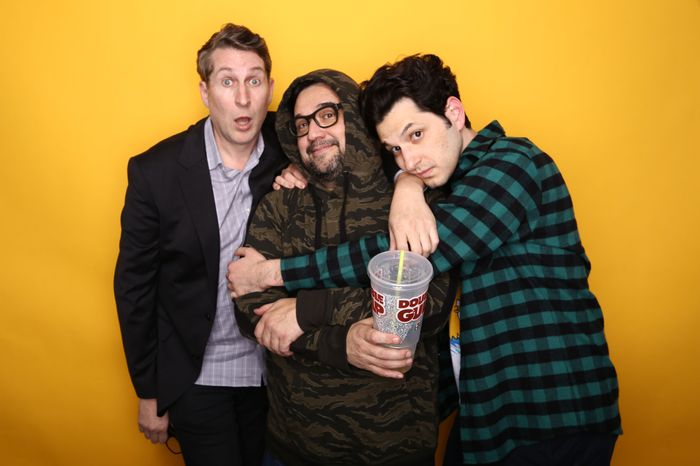 Scott Aukerman, Horatio Sanz, and Ben Schwartz.
Photo: Earwolf Media
The comedy-podcast universe is ever expanding, not unlike the universe universe. We're here to make it a bit smaller, a bit more manageable. There are a lot of great shows, and each one has a lot of great episodes, so we want to highlight the exceptional, the noteworthy. Each week, our crack team of podcast enthusiasts and specialists and especially enthusiastic people will pick their favorites. We hope to have your ears permanently plugged with the best in aural comedy.
Comedy Bang Bang - Forky on Top, Porky on the Bottom 
With the beginning of any new year, tradition and progress are intertwined as people try to change their behavior for the betterment of themselves. For some, this tradition comes in the form of a resolution. For me, this tradition comes in the form of listening to the annual New Year's episode of Comedy Bang! Bang! featuring Ben Schwartz and Horatio Sanz. Whether it's seasonal depression, or more likely the looming World War, this episode proves to be a much needed injection of silliness needed right now. As is tradition for this episode, listeners can expect a lot of singing, yelling, and, finally, the three working together to create a new "closing up the plugs bag theme" for 2020. Before opening up the plug bag, however, Aukerman and Schwartz welcome newcomer to the pod and music collector, Piggy Sorebacks (Sanz). In addition to his love of celebrity vinyl collections, Sorebacks has his eye on another very specific collector's item that I won't spoil for you here. Whether you're looking for a quick laugh or want to hear Sanz talk about working on The Mandalorian, this episode will not disappoint. —Tom Rainey
Listen: Spotify | Apple | Website
WTF - Brad Pitt and Leonardo DiCaprio
Imagine landing not one but two amazing "gets" in one show. That happened this week for host Marc Maron on his WTF podcast when he grabbed his road equipment and fled the safety of the garage. He had to in order to catch up with Brad Pitt and Leonardo DiCaprio, who were at a screening of Quentin Tarantino's Once Upon a Time in Hollywood in Los Angeles. In the show's opening, Maron says this "may be the last time I try to do one of these," by which he means recording guests out in the wild. The reason becomes apparent later on, when a mysterious crackling sound begins to really piss him off — an occurrence that makes Pitt howl with glee every time it happens. It turns out that the A-lister is a huge fan of Maron, IFC's four-season show where Maron plays a version of himself: "I've seen every episode three times, and I love it when your character loses it on that show, so I was hoping you'd do that here today. You don't disappoint!" Having to cover the territory of the lives of two guests of this stature is daunting — where does one begin? — but Maron does an admirable job, from how they got started and what their families were like to their early days doing some TV-show spots, like Pitt on Another World and 21 Jump Street, and DiCaprio in The New Lassie and soap opera Santa Barbara. The guests even discover that they both appeared on TV's Growing Pains and that both got their first gigs without ever having taken an acting class. We also learn that, even though they share a lot of screen time in Tarantino's latest movie, one didn't really have that much of an idea of what the other's scenes were about until they both saw the finished film. It's clear through the course of this chat that these two guys like hanging out together, almost as much as they enjoy double-teaming their podcast host and busting his balls just for laughs. —Marc Hershon
Listen: Spotify | Apple | Website
Mary Houlihan's Li'l Podcast - The Cool Guys #1 w/ Nick Naney
On this week's episode of comedian-artist Mary Houlihan's mutative podcast, Mary Houlihan's Li'l Podcast, Mary and guest Nick Naney present episode #1 of "The Cool Guys." Starring Ben Plant and Tiberius Wango, "two crazy-ass white boys wearing hoodies" with chalk-skin dads and part-moth moms, the show focuses on the latest news and culture of the week … like the hit TV show Nurse Jackie. Don't be too hard on them not being up on current events; Ben was recently trapped in a mall and Tiberius spent last month partying on the half of Ibiza that his dad owns. This parody of "two white NYC bros talking culture and politics" podcasts isn't all that different from the real thing, minus one of the hosts having to drink shampoo to cure his Stink Bone, a disease that causes your bones to smell like doo-doo. —Pablo Goldstein
Listen: Spotify | Apple | Website
Teen Creeps - Michael August's Scream: New Year's Evil 
Fear not. Teen Creeps hosts Lindsay Katai and Kelly Nugent made it to 2020 alive despite an ominous tagline from Michael August's New Year's Evil, which warned the women, "When the clock strikes 12, it's time to die!" The hosts continue to offer humorous takes on "trashy teen horror" by working their way through a myriad of YA horror novels from "their awkward neon youth." The latest episode tackles August's exciting entry in the Scream series. No, we're not talking about some never-before-found source material for the wildly famous movie franchise. Instead, the focus is on a little-known book set that sells itself as a collection of "fast-paced, suspenseful horror books written by top authors in the genre." Number six out of eight, New Year's Evil, delivers prose that's rife with typos and a plot that's ripe for poking fun at. The characters also provide an opportunity to riff. Take, for example, Charisse Bienville, a rumored witch, who lives in a "scary-ass house that suspiciously seems devoid of family." This recounting of the novel is especially funny when mimicked by Katai and Nugent, who point out how comically obvious it is that Charisse is not a normal teenager. It serves as a nice and chuckle-inducing reminder that high school could have been worse. —Becca James
Listen: Spotify | Apple | Website
Superego Forgotten Classics - Wuthering Heights
Season six of Jeremy Carter, Matt Gourley, Mark McConville, and Paul F. Tompkins's long-running podcast Superego drops this week on Stitcher Premium. But if you insist on not paying $5 per month for comedy subscription services like Stitcher Premium or Howl or Channels, etc., you can check out episodes of Forgotten Classics that were released behind a paywall in 2015, now available in the free feed. One person can only shoulder so many individual Patreon subscriptions, after all. But this one's a pretty good deal, especially for literary nerds: The Superego guys go above and beyond to retell inaccessible classics like The Red Badge of Courage and Lady Chatterly's Lover in a way that's still very smart but also very dumb (and usually in under an hour). If you have no idea what it means to "wuther" something, much less at great heights, that's fine — nobody's actually read Wuthering Heights, really, if you think about it. And why would you, when you can listen to the free Forgotten Classics version instead? —Kathryn Doyle
Other Podcasts We're Listening To:
Bad Boy Pod - Justin Timberlake
Listen: Spotify | Apple | Website
Hollywood Handbook - Jon Gabrus, Our Power Hour Friend
Listen: Spotify | Apple | Website
The Male Gaze - Talcum X w/ Ashley Ray
Listen: Spotify | Apple | Website
Action Boyz - Lethal Weapon 2 w/ Lauren Lapkus
Listen: Website
How Neal Feel - Blankety blanked in my blankety blank
Listen: Spotify | Apple | Website
Armchair Expert - Rainn Wilson
Listen: Spotify | Apple | Website
My Neighbors Are Dead - Jesse Thorn
Listen: Spotify | Apple | Website
Got a comedy podcast recommendation? Drop us a line at comedypodcasts@vulture.com.