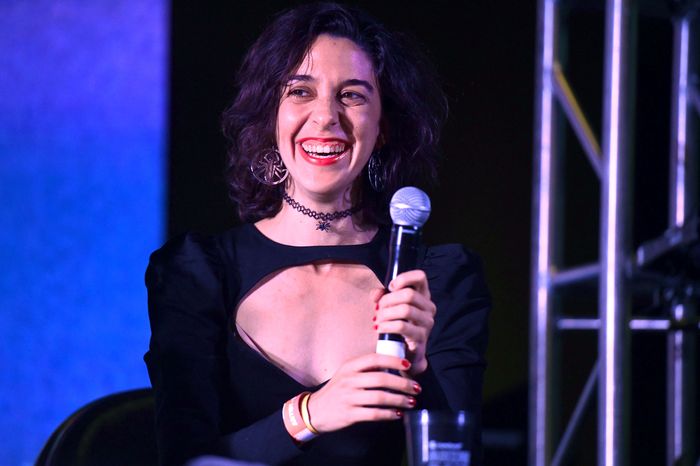 Jamie Loftus.
Photo: Scott Dudelson/Getty Images
The comedy-podcast universe is ever expanding, not unlike the universe universe. We're here to make it a bit smaller, a bit more manageable. There are a lot of great shows, and each one has a lot of great episodes, so we want to highlight the exceptional, the noteworthy. Each week, our crack team of podcast enthusiasts and specialists and especially enthusiastic people will pick their favorites. We hope to have your ears permanently plugged with the best in aural comedy.
My Year in Mensa – Phoenix in July
A New Year's Day treat saw Jamie Loftus finally put a pin in the year-and-a-half-long drama that started when Mensa let a dumb slut join by releasing this four-part tell-all miniseries. More a stream of consciousness based on her contemporaneous notes than a one-woman show, episode one starts off with a brief history of the supremacist IQ test and sets the stage for the peculiar weekend adventure Jamie commits herself to: the American Mensa Annual Gathering 2019. The background is serious and academic, but essential to understanding her relationship with the Hosers (and the existence of their revered Boob Thread) that she faces in episode two, "Phoenix in July." Punctuated by cutoff air horns and other silly sound cues, Jamie introduces the private, unmoderated, and Mensa-endorsed Firehouse Facebook group and reads off some of the visceral hate — including a truly scary death threat — that her initial article provoked in the echo chamber, and the story only gets increasingly crazier once she is repeatedly confronted face-to-face. After a year of occasional articles and interviews, hearing Jamie speak out in her own words is a hilarious catharsis. —Noah Jacobs
Listen: Spotify | Apple | Website
In Bed With Nick and Megan – Time Travel With Will Forte
Interviews hit a new level of laissez-faire (or maybe it's just "lazy fare") in the latest podcast to feature celebrity hosts interviewing other celebrities, In Bed With Nick and Megan. That's because 20-year Hollywood couple Nick Offerman (Parks and Recreation) and Megan Mullally (Will & Grace) invite their guests to join them aboard their California king bed at home to conduct their interviews. The fifth episode dropped this week, featuring Will Forte (SNL, The Last Man on Earth) in a funny, rambling discussion ("In our careful preparation for this show, I forgot to come up with a topic!" Mullally confesses), so they pluck time travel out from Forte's random leap into what kind of superpowers he'd pick if given the chance. This was after they talked about things like Offerman's recent beard trim and newfound love of sneakers, curved penises, and how dreams reflect one's waking state of mind. Forte picks time travel because he wants to "solve the mysteries of the ages," like who really shot JFK ("I could go to the Grassy Knoll in Dallas, but I wouldn't want to actually see him get shot — that would be gross — just who did it.") An abrupt left turn gets into the most recent season of TV's The Bachelorette and Hannah Brown's extreme Alabama accent, which then veers into the art of wedding proposals (Offerman made three "joke wedding proposals" to Mullally during a trip to Paris, with the ring tumbling into a sewer grate and off both the Eiffel Tower and the Pont Neuf into the Seine), and the hosts' not-exactly-a-secret vibrant sex life gets brought up at one point. We finally get to catch our breath when the hosts and guest declare their love for one another as the show wraps up. Whew! Who's next? –Marc Hershon
Listen: Spotify | Apple | Website
Why Won't You Date Me? – Vehicular Assault w/ Akilah Hughes
Nicole Byer ended the year the same way she started it: single and endlessly hilarious on Why Won't You Date Me?, where she continues to question why she can't secure a relationship even though she's "smart, funny, has a fat ass, and loves giving blow jobs." Joined by comedian Akilah Hughes (What a Day), Byer wraps up the decade by blaming her road rage on her extreme horniness. Coming from anyone else, that sort of declaration might sound absurd, but coming from Byer, not only will it make you laugh, it seems somewhat logical. A recent L.A. transplant, Hughes also shares a few car stories, but her take on dating in the city is funnier, especially when she compares it to Brooklyn, saying that in L.A., "People are having dinner like it was a plan, and I'm standing at the bar like, 'Anybody?'" The humor of bumbled bar outings is matched with tales of fumbled dates of the past, which includes the time Hughes scraped all of her toes during sex, derailing the moment and leaving a bloody trail of disappointment behind. The podcast ends with Hughes certain 2020 will be her year, which is a vibe that, just like this podcast, we should all subscribe to. —Becca James
Listen: Spotify | Apple | Website
Pod Don't Lie – Top 2010 Moments w/ Michelle Wolf
This week, the end of one of the greatest decades of the NBA is topped off with one of the funniest episodes of Pod Don't Lie. Michelle Wolf joins fellow New York stand-ups Sam Morrill and Stavros Halkias to recap the last ten years of basketball. Wolf shares fun stories about meeting LeBron, who's "to tall for small talk," and being introduced by Blake Griffin as someone who could be related to Blake Griffin. The freedom to openly talk about men's weight and call them "old" at 30 are two big reasons why Wolf has remained a hoops fan as an adult after playing as a kid. Don't ask her to say Kawhi Leonard's name, though. Halkias predictably shares some of the most memorable horny moments of the 2010s, which include Giannis's 2018 Valentine's Day gift and Mark Jackson's Finals commentary about LeBron's wife. As usual, the conversation drifts back toward the suffering all three have experienced as Knicks fans. Morrill's experience hosting MSG's People Talking Sports* (*and Other Stuff) and Halkias's dedication to the players' sex lives have turned Pod Don't Lie into the Howard Stern of NBA podcasts. —Mark Kramer
Listen: Spotify | Apple | Website
The Dumbbells – Happy New Year!! (w/ Stanger and Erin McGown)
Whether you've made some yourself or are actively taking a stand against them, there's no escaping talk of resolutions this week. So why not go all in and start the year off right with The Dumbbells? It's the only comedy podcast that can help you make them or stick with them. To kick off the new year, Ryan Stanger and Erin McGown, who's been stepping in for Eugene Cordero, answer listener questions and cover topics like how to structure your routines, what fitness apps are worth the space on your phone, what drink you should opt for in a vending machine, and how often is too often to be eating protein bars. Plus, Erin gives some tips on how scribbling in a little notebook at the gym can help make you look like someone who really, seriously knows what they're doing (or just a poet). New year, new you? Probably not. So, while you may not be able to magically start eating healthier and working out every day now that we're starting a new decade, the least you could do is ease into it by listening to two people talk about those things. Quite literally, in fact. It is the very least you could do.  —Leigh Cesiro
Listen: Spotify | Apple | Website
Other Podcasts We're Listening To:
Life Is Short – Jerry O'Connell
Listen: Spotify | Apple | Website
Juicy Scoop – Kardashian Xmas, RHOA, 90 Day & Drunk Karaoke
Listen: Spotify | Apple | Website
Hollywood Handbook: Pro Version – The Best Podcast Episodes Lists
Listen: Stitcher
Ask Ronna With Ronna (& Bryan) – Ring in the New Year With Ronna (& Bryan)
Listen: Spotify | Apple | Website
Got a comedy podcast recommendation? Drop us a line at comedypodcasts@vulture.com.