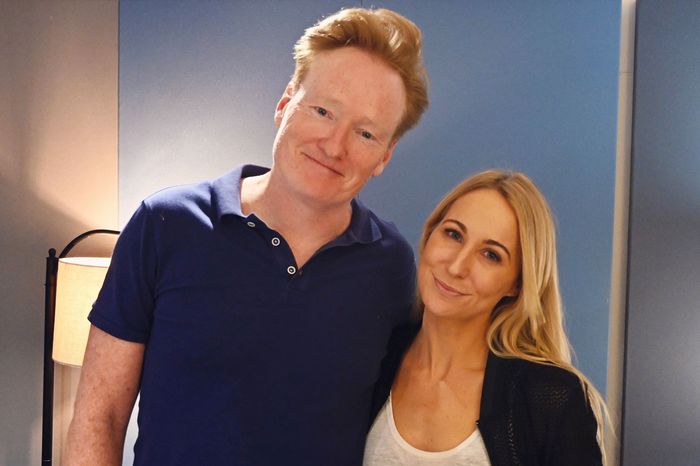 "You're the reason I do comedy."
Photo: Earwolf
The comedy-podcast universe is ever expanding, not unlike the universe universe. We're here to make it a bit smaller, a bit more manageable. There are a lot of great shows, and each one has a lot of great episodes, so we want to highlight the exceptional, the noteworthy. Each week, our crack team of podcast enthusiasts and specialists and especially enthusiastic people will pick their favorites. We hope to have your ears permanently plugged with the best in aural comedy.
Conan O'Brien Needs a Friend - Nikki Glaser
There's a very specific subgenre of comedy podcast that I live for, and that is Successful Comedian Speaks to Comedian Who Inspired Them to Do Comedy in the First Place. This week's episode of Conan O'Brien Needs a Friend with guest Nikki Glaser is a perfect example of said subgenre. The folks at Apple, Stitcher, or any other local podcast dispensary should take note and have some sort of algorithm that can pinpoint statements like, "You mean so much to me. You're the reason I do comedy," which just so happen to be exactly what Glaser says to O'Brien to kick off their conversation. Throughout the episode, Glaser proves her admiration has not waned over the years, even letting on that, like the rest of us comedy fans, she's out there not only reading, but commenting on the Conan Reddit page. And the adoration goes both ways, with Conan even asking Glaser to repeat a joke she previously told on his talk show. It's the perfect amount of gushing and recalling old bits mixed with each comedian making the other the perfect amount of flattered and uncomfortable. —Leigh Cesiro
Listen: Spotify | Apple | Website
Asian, Not Asian - [Sex Ep] All D*ck is Trash! (w/ Milly Tamarez)
This is the Milly Tamarez takeover … or is it? Try keeping up with the ever-changing power dynamic between host Fumi Abe and guest Tamarez (Flexx Mag, NPR) in Asian, Not Asian's newest installment of the "sex episode." Before welcoming their Junior Horny Correspondent, Abe and guest host Julia Shiplett talk about open relationships, birthing Shiplett's new Don Draper-worthy sales pitch, "Open relationships: The choice to be together." Then, it's time for their guest, mixed with some classic ANA hot goss. First, Abe issues Tamarez a public apology for once roasting her Japanese at a party. Once Tamarez properly roasts him back, they finally discuss the topic at hand. The three explore Tamarez's dating origins, her catchphrase "All dick is trash," and what it was like dating Asian men before Crazy Rich Asians. You'll find this episode is an interesting, nuanced conversation about race and dating in 2020 and a loud pronouncement that Facebook Dating is lame. But what's most incredible is the true ambush at the end of the episode: Abe reveals that he ghosted Tamarez on Tinder — and why. Judge for yourself who comes out on top! —Anna Marr
Listen: Spotify | Apple | Website
The Hornet's Nest - Tolkien/Stop & Shop
Rap fans know the origin story of Zev Love X, the early-'90s rapper who went into hiding after the death of his brother and resurfaced a decade later as the masked supervillain rapper MF DOOM. But what if he instead moved to New Haven, CT, and became a classic rock call-in radio-show host? That's the premise of The Hornet's Nest, a show hosted by a retired supervillain coming to terms with his past and his tedious present. In this week's episode, his guest is Professor Dan Evans, a J.R.R. Tolkien expert on hand to answer Dr. Hornet's callers' questions about classic rock's connection with The Lord of the Rings. But the past never dies, as Dr. Hornet has an on-air face-off against one of his biggest enemies: the manager at the local Stop & Shop, who's pissed off that Dr. Hornet clogged the Coinstar machine. —Pablo Goldstein
Listen: Spotify | Apple | Website
And That's Why We Drink - An Opera About Bread and a Fake Monogrammed Private Jet for Dogs 
Podcasts have been built upon less, but rarely have they created such a rowdy following than And That's Why We Drink, which is, essentially, a drinking game in podcast form. There's more to it than that — hosts Christine Schiefer and Em Schulz combine true crime and ghost stories in a giggly, macabre scramble of a weekly show. The latest episode is a live show from the end of last year that took place at the Wilbur Theatre in Boston, the city where these two story-spinning, drink-swilling fireballs first met. The rowdy audience, cued to drink at various points in the show (such as when Em announces one of her "fun facts" connected to a story she's reading), are into this, and the hosts wisely prepped by bringing a couple of Boston-based tales. The ghostly one is set in the world-famous Omni Parker Hotel, which turns out to be more spirit-infested than a graveyard. It seems Schiefer is a bit skittish, because she announces "I'm out!" nearly every time Schulz mentions a creepy sighting. But Schiefer brings her own brand of spookiness to the proceedings with a crazy true-crime story about a German illegal immigrant who crisscrossed the U.S., making up aliases and ingratiating himself with rich, stupid people from coast to coast. He even passed himself off as a Rockefeller at one point … just after he punched the tickets of a suspicious couple in Los Angeles, stole their pickup truck, and went back to the East Coast to become a Wall Street wannabe, get married, and settle down. Definitely a fun listen. —Marc Hershon
Listen: Spotify | Apple | Website
Life Is Short With Justin Long - Ginnifer Goodwin ;) 
Gigi and Alex reunited on Life Is Short this week, and we're into it. Let's backtrack. In 2009, the rom-com He's Just Not That Into You, which depicted the woes of hot Baltimore-based couples, came to theaters. While it contained many of the genre's shortcomings and existed in the same city and roughly the same timeline as The Wire in a sort of absurd way, it did have a few highlights. The best, of course, was Gigi (Ginnifer Goodwin) and Alex (Justin Long) falling in love. The chemistry was top-notch, due in no small part to the close relationship Goodwin and Long had forged years before. Back in the present, that decades-old friendship is still going strong as the two stars serve up hilarious banter on Life Is Short. The pacing is phenomenal, with Goodwin and Long going beat for beat as they reminisce about earlier acting gigs, which includes a part harrowing, part hilarious story from Goodwin about how she landed her role in Big Love. From there, they riff back and forth, with Long's laid-back interview style brushing up against Goodwin's genuinely old-soul interests, resulting in lighthearted jabs and laughter. Life is short, but this episode is worth your time. —Becca James
Listen: Spotify | Apple | Website
Other Podcasts We're Listening To:
Hills I'd Die On - Stop Asking Women When They're Having Kids: Liz Hacket
Listen: Spotify | Apple | Website
High and Mighty - Brad Pitt (w/ Dave Ross)
Listen: Spotify | Apple | Website
Office Ladies - Halloween w/Creed Bratton
Listen: Spotify | Apple | Website
The Legal Geeks - Defending Ben Solo for his Crimes as Kylo Ren
Listen: Spotify | Apple | Website
Got a comedy podcast recommendation? Drop us a line at comedypodcasts@vulture.com.