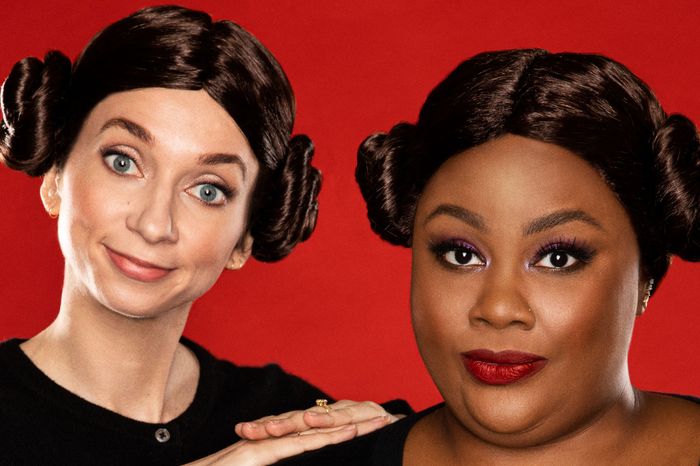 Lauren Lapkus and Nicole Byer have begun their
Star Wars
journey.
Photo: Headgum
The comedy-podcast universe is ever expanding, not unlike the universe universe. We're here to make it a bit smaller, a bit more manageable. There are a lot of great shows, and each one has a lot of great episodes, so we want to highlight the exceptional, the noteworthy. Each week, our crack team of podcast enthusiasts and specialists and especially enthusiastic people will pick their favorites. We hope to have your ears permanently plugged with the best in aural comedy.
Newcomers — Star Wars Ep. IV — A New Hope With John Gemberling
I've never seen a single Star Wars movie. And now, thanks to Nicole Byer and Lauren Lapkus and their new podcast Newcomers, I never have to. Byer and Lapkus are taking on the admirable task of watching all nine films to get to know this beloved franchise for the first time and get to the bottom of whether or not they've been missing out. They start with Episode IV — or as Byer calls it, Hope Is Here — but because of the decades' worth of pop-culture references seeping into the collective consciousness, it's kind of impossible to watch these movies with fresh eyes. That's why Star Wars fan John Gemberling is there for this premiere episode — not only to answer questions (like why some people have "normal" names like Luke and Ben, but others have names like Han) but to give some insight into what made people like these movies in the first place. It's no secret that the online Star Wars fandom is extremely, um … passionate, and, uh … not afraid to speak up. So Lapkus and Byer are clear about how this series is not just going to be the two of them ripping on this beloved part of culture. For devout fans, it's easy to appreciate Gemberling's perspective, where seeing these movies reminds him of being a kid and gives him that feeling of I'm home. But then there's also joy at the other end of the spectrum for listeners like me, where, like our hosts, I'm hearing and reacting to things for the first time, like that Luke Skywalker's job is "moisture farmer." And, for anyone who is really committed to following this journey, you can also listen to the watch-along episode for real-time reactions, which was recorded live as Lapkus and Byer watched the movie. —Leigh Cesiro 
Listen: Spotify | Apple | Website
Off Book: The Improvised Musical — Scott Aukerman in In the Name of Love the Musical: Logan Actually 
If you're a fan of Off Book, this won't come as a surprise to you, but, still needs to be said: Jessica McKenna and Zach Reino are two of the funniest and most talented people out there. Every time I listen to Off Book — which, honestly, should be every week at this point — I'm left completely blown away by what has unfolded in my headphones. Oftentimes I'm laughing so hard I have to pause the show so I can compose myself and remember where I am. This week is no exception to that, as McKenna and Reino welcome "Earwolf Daddy" Scott Aukerman to join in on the fun. Given Aukerman's history in musical theater, he seamlessly fits right in. As one may expect from the U Talkin' U2 to Me? host, Aukerman drives the plot of this improvised musical to that of a dystopian world where U2's Bono reigns supreme. Without giving away too much, know it's set in a world where love is finite and horses have replaced cars as a result. Keeping up? No? Well, considering that this is a wild one, that checks out. If you still haven't found what you're listening for, then look no further than this week's Off Book! —Tom Rainey
Listen: Spotify | Apple | Website
Food 4 Thot — Popcorn Is Gay Corn
Food 4 Thot is back with a "popcorn" episode, in which hosts Tommy Pico, Fran Tirado, Joseph Osmundson, and Dennis Norris II "lightning round discuss five spectacular topics." Each subject only gets five minutes of attention, which fuels an extraordinarily high and infectious energy among the hosts. The opening discussion focuses on social media, and it's funny to hear how varied each host's relationship with the platforms is. Tirado's outlook on the matter, though met with chuckles, is probably the most helpful. "My social-media platforms are not a democracy. Okay. They are a monarchy, and I am the queen," says Tirado before adding the takeaway that "you have to protect yourself." From there, the hosts cruise through tarot talk and a chat about having children before wrapping up with a conversation about how they consume culture and how they handle career- and relationship-based jealousy. And of course, the bookending segments are as uproarious as ever, featuring a classic game of "Homonym" with the hosts and a welcomed "Impure Thot" from Osmundson up top. The closing is all about Dolly Parton and the fantastic Dolly Parton's America podcast, which leaves you with the Thot's signature warm, fuzzy, peachlike feeling. —Becca James
Listen: Spotify | Apple | Website
Unhappy Hour — Hangover Hell With Josh Gondelman
Matt Bellassai, host of the Unhappy Hour podcast, is hungover, and he doesn't care who knows. In fact, the former star of BuzzFeed's web series Whine About It is feeling so bad that he's decided to make it the focus of the newest episode of his podcast. His producer and sidekick, Bari Finkel, is moderately sympathetic because she's been there, too. Their "Deep Dive" segment up front is all about hangovers — why they happen (the science-y stuff behind the drinky part) and how you can try to get rid of them … if you don't toss your cookies before you can chug down a folk remedy. There is also a warning from a news item about the dangers of men masturbating with banana peels, which is apparently a thing. ("Or at least it is for one guy on Reddit," muses Finkel.) Comedian, writer, and producer Josh Gondelman (Desus & Mero) joins the proceedings and goes on a rant about his gripe with modern movies. The entire show is really about Matt and his guests complaining: It seems that Gondelman has a series of sensibilities that keep him from enjoying the movie-going experience, but his solution is simple: "There should be more movies that are more fun for me, specifically." There is a lot of other territory covered in this hour — worst comedy sets, modern-day heroes of Massachusetts, and annoying people who complain about people who are filling up social media with pictures of snowy days and sunsets. Counter to the show's title, Matt and his guest tend to laugh a lot, and it's more than slightly contagious. —Marc Hershon
Listen: Spotify | Apple | Website
Other Podcasts We're Listening To:
Hills I'd Die On — Jennifer Aniston & Brad Pitt Should NOT Get Back Together: Sarah Franklin
Listen: Spotify | Apple | Website
You're Making It Worse — Cecily Strong
Listen: Spotify | Apple | Website
Stand By Your Band — Eve 6 With Myq Kaplan
Listen: Spotify | Apple | Website
Got a comedy podcast recommendation? Drop us a line at comedypodcasts@vulture.com.