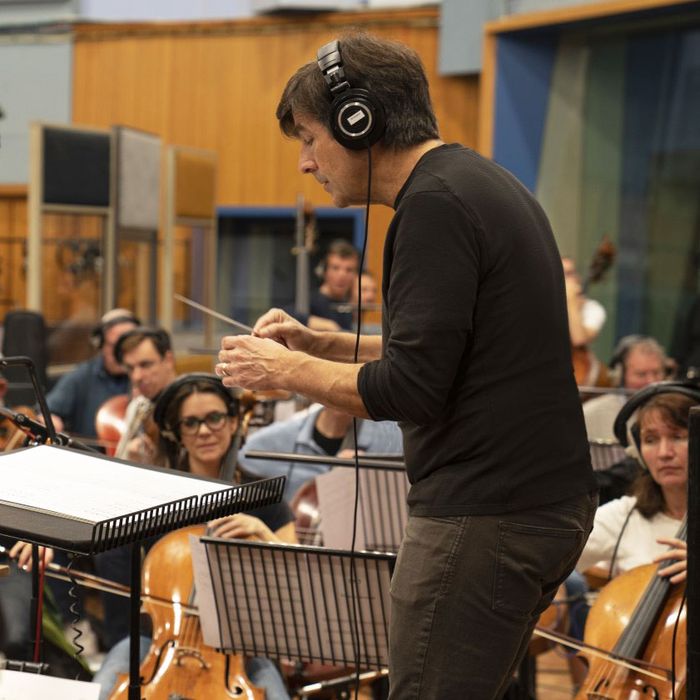 The prolific movie-score composer walks us through his career, from
The Shawshank Redemption
to
American Beauty
to
Finding Nemo
to
1917
.
Photo: John Wilson/Universal Studios
Thomas Newman's film scores — everything from The Shawshank Redemption to Finding Nemo to this year's 1917 — have made him one of the most prolific and instantly identifiable composers of his generation. And after over 30 years in the business, with a grand total of 15 Academy Award nominations (14 for Best Score and one for Best Song), he may finally win his very first Oscar next month, for his work on a Best Picture front-runner. Over the phone just weeks before the 2020 ceremony, Newman walked us through his storied career, discussing his frequent collaborations with 1917 director Sam Mendes, the surprising score he finds himself listening to the most, and what it's like to come so close to winning so many times.
1994
Nominated for: The Shawshank Redemption and Little Women
The Oscar went to: Hans Zimmer for The Lion King
We begin at the beginning (which is really somewhere in the early middle of Newman's career) with a double-nomination for his work on Frank Darabont's The Shawshank Redemption and Gillian Armstrong's Little Women. This was a monumental start to his life as an Oscar nominee, as those scores alone could make any career. When I ask how it felt to receive his first two Oscar nominations at the same time, he laughs: "It was good."
Prior to that, Newman was known for his work in the '80s doing "mostly teen comedies." He says he began "inching toward some degree of respect" after working on Robert Altman's The Player and Martin Brest's Scent of a Woman in 1992. By '94, no one could confuse Shawshank's score with, say, The Great Outdoors, the former ringing alternately funereal and triumphant, hell-bent on inducing goosebumps on either end of the spectrum. And then there's Little Women, his Copland-esque composition, which belongs to a small and special category of film scores whose cultural impacts spread so far beyond the frame that they have become synonymous with actual seasons. (It actually sounds like autumn.) Whereas Shawshank? Well, it sounds like every movie trailer produced for the rest of the decade.
1995
Nominated for: Unstrung Heroes (Best Original Comedy/Musical Score)
The Oscar went to: Alan Menken and Stephen Schwartz for Pocahontas
Here's a personal story about Unstrung Heroes: I have seen it exactly once, soon after it was released on video, when my parents rented it for movie night. I hated it. I couldn't tell you what it was about, just that it starred Andie MaCdowell and Michael Richards. But I hated it with such an intense childhood passion that my hatred became a long-running family joke. ("Is X worse than Unstrung Heroes," my brother would often ask.) Yet revisiting the score for the first time in 25 years almost makes me want to watch it again. What we have here is Newman returning to and expanding upon his comedic roots and laying the foundation for the twinkling, ethereal music that would eventually become one of his trademarks.
Over the phone, Newman reminds me that there were two categories for film scores at the Oscars this year: one for comedies, and one for dramas, and blithely asserts that his music wouldn't have stood a chance had there been just one. But the nomination helped him get noticed by an up-and-coming director named Sam Mendes. "It was one of the things that inspired his sense of who I was," he recalls.
(That, and a piece of Newman's music from 1994's The War — never nominated — which Mendes "always mentioned" he wanted to be used in the trailer for his first film, American Beauty.)
1999
Nominated for: American Beauty
The Oscar went to: John Corigliano for The Red Violin
The power of this score can be distilled into a single fact: Thomas Newman is the reason American Beauty's infamous and otherwise embarrassing plastic-bag scene worked. It's a movie whose reputation has yo-yoed a lot over the past 20 years, culminating in a near-universal distaste for Kevin Spacey. We may never decide (or feel any need to decide) how we actually feel about the film, but Newman's score is arguably the project's single most effective element, and a piece of the late '90s we can all carry around without shame. Newman speaks highly of all his experiences with Mendes, referring to him as an "exacting" director who thrives on collaboration. Newman was brought in while on hiatus for The Green Mile, Frank Darabont's follow-up to Shawshank, and was given a "small window" of around four weeks to do all the work.
"More time is not necessarily better time," he tells me. "The more time you have, the more time you ponder your identity."
2002
Nominated for: Road to Perdition
The Oscar went to: Elliot Goldenthal for Frida
As a follow-up to American Beauty, Road to Perdition represented a huge departure for both Mendes as a director and Newman as a composer. From a contemporary family dramedy about white middle-class American malaise to a thoughtful period drama about a gangster with a heart of gold? Strange! But Road to Perdition is the perfect entry point for someone who wants to figure out what Thomas Newman is all about, as it represents most of his sensibilities as a composer: his ability to blend orchestration with synthesized sounds, to weave somber elements of various musical genres into recognizable melodies. When I tell him this, he doesn't disagree.
"Even though it was a period piece taking place in 1931, it was a way of trying to get the best elements of my sense of ambience and mood and subtext along with some string writing," he says. He goes on to describe his scores as "inward/outward," meaning his songs are "inwardly psychological" works that "blossom into something more, like a tortoise coming out of its shell."
2003
Nominated for: Finding Nemo
The Oscar went to: Howard Shore for The Lord of the Rings: The Return of the King
American Beauty without the dread, Finding Nemo is the sweetest score on this list. ("Nemo Egg" is practically a lullaby.) There's an "innate drama" in reverb, Newman tells me, but here it feels like a thematically significant creative choice. Listen closely, and you're underwater.
2004
Nominated for: Lemony Snicket's A Series of Unfortunate Events
The Oscar went to: Jan A.P. Kaczmarek for Finding Neverland
Compared to the many phenomenal scores by Thomas Newman that were never nominated by Oscar (Meet Joe Black, The War, Desperately Seeking Susan, Fried Green Tomatoes, The Best Exotic Marigold Hotel, The Second Best Exotic Marigold Hotel, to name a few), it feels strange to see Lemony Snicket's in the mix here. But take a look at its competitors! Most of the nominees for Best Original Score that year were bizarre. Where's Jon Brion's Eternal Sunshine of the Spotless Mind? Where's Rolfe Kent for Sideways? Where's Michael Giacchino's The Incredibles? Heck, where's Clint Eastwood's sparse piano plinking from Million Dollar Baby?! What a strange year.
2006
Nominated for: The Good German
The Oscar went to: Gustavo Santaolalla for Babel
Steven Soderbergh didn't quite nail this throwback to postwar noirs, but Newman's deliciously effective score is almost good enough to make you think the director did. As a listener, it's so much fun to hear Newman step out of his comfort zone and into a dark alleyway some 60 years into the past, the period when his father, Alfred, was most active as a composer. "You want to mimic, but you don't want to be a mimic," Newman said, calling homages such as this "slightly scary." But his fear was unwarranted. Just listen to "Kurfurstendamm" and try not to picture an old Universal logo. You can't!
2008
Nominated for: WALL-E
The Oscar went to: A.R. Rahman for Slumdog Millionaire
Aaaaaand we're back to the Newman we know and love. In case you've forgotten, much of Wall-E is dialogue-free, and though our unlikely hero can't say more than two words (his own name and that of his floating one and only, Eve), Newman does a masterful (and occasionally hilarious) job of providing him a voice. ("Down to Earth" even earned Newman an additional nod for Best Song.)
2012
Nominated for: Skyfall
The Oscar went to: Mychael Danna for Life of Pi
"When you're working with a Bond franchise, the voice of Tom Newman has way less to do," Newman told me. "The franchise will win out over the individual." That said, his score is as dark and surprising as it is reverent to its Monty Norman's original James Bond theme. Do I think The Best Exotic Marigold Hotel (released the same year) is a better, more nuanced, and more pleasurable piece of music than Skyfall, and that it deserved the nomination over this? Of course I do. Did I tell him that? I didn't dare. But when I did ask which score he's most proud of — or the one he looks back on most fondly — he at first struggled to answer. And after name-checking Angels in America and all of his scores for Mendes, he interrupted himself. "You know, I'll tell you one that, when I listen to the CD, I so love the music," he said. "The Best Exotic Marigold Hotel. That one I particularly enjoy listening to. It's just a really fun CD for me to put on."
Take that, Skyfall.
2013
Nominated for: Saving Mr. Banks
The Oscar went to: Steven Price for Gravity
Like The Good German before it, here is an instance of Newman's music doing the majority of emotional heavy lifting for a movie that is otherwise a complete failure. Saving Mr. Banks is a deceptively nasty little entry in Disney's catalogue — a piece of revisionist history in which Tom Hanks and Emma Thompson's lovable faces are used to distract audiences from the ugly truth — but it's easy to believe! Why? Because Thomas Newman makes the whole thing feel so damned lovely. Newman spoke lovingly of the moment during the end titles when the orchestration references Dick Van Dyke's one-man band in Mary Poppins. "You could kind of see the light come over people's eyes when they heard that," he said. "Those things are wonderful to evoke."
2015
Nominated for: Bridge of Spies
The Oscar went to: Ennio Morricone for The Hateful Eight
Here's the thing about Bridge of Spies: You've likely forgotten everything about Bridge of Spies, not counting the fact that it's actually about something that happened between spies on a bridge. But, five years later, the score for Bridge of Spies remains exciting. Drenched in patriotism, it concludes with a jolt of wistful Spielbergian triumph.
2016
Nominated for: Passengers
The Oscar went to: Justin Hurwitz for La La Land
Oh, Passengers. Acting-wise, Chris Pratt and Jennifer Lawrence have no chemistry. Story-wise, their relationship is built on an ethical quandary that absolutely shouldn't be rewarded with chemistry. But even bad movies need to be scored (sometimes they even get great ones), and while this sounds a lot like Newman just rummaged through a file of unused work for WALL-E ("Define Dancing" and "Spacewalk" are as similar as the scenes they track), don't forget: WALL-E's score is fantastic. So think of this as a collection of its B-sides.
2019
Nominated for: 1917
The Oscar went to: TBD
And now we come to the end. 2019's 1917: Newman's 14th nomination and, very possibly, his first win. (He'll have to beat his cousin, Marriage Story score composer Randy Newman.) Much like Glenn Close's Best Actress nomination last year for The Wife, it's the kind of career-achievement Oscar nod that's attached to a piece of work that, frankly, doesn't reflect the creator's award-worthy career prior to it. When I bring this up to Newman, he tells me the film's story would have been hurt by the kind of score I might have expected from him: something perhaps more akin tonally to his music for Shawshank.
"Oftentimes music is descriptive, but the question I asked myself [with 1917] was, Is description going to make it less immediate?" he says. Mendes often reminded him to avoid piling "gloom on gloom," which made one of Newman's central challenges a tricky one: "How do you deal with terrible imagery and not make it just awfulness after awfulness, all the while not ignoring that there's awfulness." His answer to that question may in fact end his losing streak.