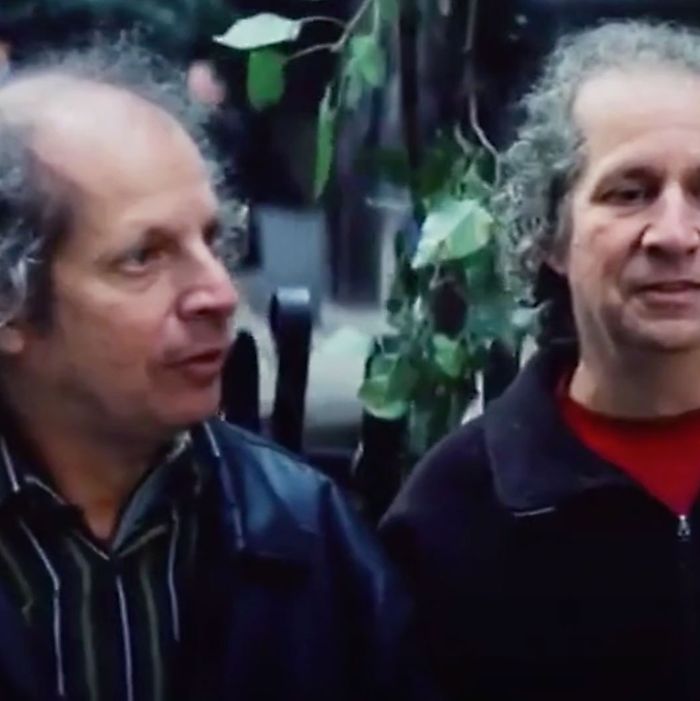 Meet Mitchell (left) and Stewart (right) Wenig.
Photo: A24
The Safdie brothers are known for hiring non-actors, letting their casting directors snatch people off the street to populate their weird, percussive world. In Uncut Gems, their vision of the Diamond District is replete with heavies and oddballs, famous friends, and the occasional cameo. Safdie friend (and Gems stan) Timothée Chalamet praised them for it, presenting them with an award at the National Board of Review awards last week, pointing out one of Gems' non-actor performances in the role of a mob enforcer: "That's not Keith Richards, that's Keith Richard Williams. If you've never heard of him, that's because the Safdies literally found him on the street in New York and cast him, like half of the characters in their movies, which sucks for actors like myself with résumés."
Two such characters, a set of brothers, pop up throughout the story of an indebted jeweler trying to buy time before his latest big bet fails. Howard Ratner races around 47th Street, avoiding creditors and chasing his own middlemen, all the while trying to get a rare Ethiopian opal appraised by an auction house. That's when two similar-looking men, each five-foot-nothing, run up on him: "Jesus! How'd you find me!," Howard says. "You following me? My office would never tell you where I am." The brothers seem just as incredulous: "This is the last straw!," one says. "You haven't been returning my phone calls or texts, you can't take ten minutes — you owe me 32 grand!" Howard brushes them off. "What? You bring your fucking heavy with you?" Everyone else knocking down Howard's door has goons (his brother-in-law, Arno) or bodyguards (Kevin Garnett), but this pair has the gall to show up unattended.
Meet Mitchell and Stewart Wenig (Mitchell is on the left, Stewart is on the right), who have become fan-favorites ever since the movie hit theaters late last year. They're New Yorkers, but in separate interviews with Vulture, didn't want to disclose much more than that. Mitchell collects celebrity autographs; Stewart is a singer-songwriter. They are funny and candid — and if I hadn't spoken on the phone with them, and heard them talk fanatically about the film in their New York City accents, I would've thought they were conjured for and by Gems itself.
A Brief Conversation With Mitchell Wenig
Mitchell Wenig: What's your name?
I'm Hunter. I'm from Vulture, New York Magazine's website.
Oh, great. Hi. How are you, Hunter?
I'm good. How are you?
Okay. Thanks for calling.
I'd like to start very generally: How did you get involved with the movie?
Well, maybe you could ask me questions.
Sure, yeah. Did you audition for this?
I auditioned for the movie, but I was in a prior movie working with the Safdies before.
Cool. Tell me about the audition.
The audition was with, I think, Jennifer, a young lady.
Okay. And do you remember what you read, or what the experience was like?
No, I don't remember.
Okay. So, what was it like when you got on set?
Oh, it was great. Very exciting working with Adam Sandler. I live in the city as well as Long Island, but the first day I was staying in the city. I went down on my own and met them in the Diamond District on West 46th or West 47th street at the jewelry store, and we were running through a scene in the movie. So that was good, and that took a lot of the day.
How did you meet the Safdies?
They noticed me eating in a diner downtown in Tribeca with two friends from my prior job, and after me and my two friends were finished eating, they said, "How would you like to be in a movie?" This was around eight years ago. And I said, "Sure. How about my two friends?" They said, "We don't want them. We want you." And that was prior to filming John's Gone, an independent film which ran in the Toronto Film Festival and the Cannes Film Festival, I think.
What do you think they saw in you?
They noticed me in the diner — you know, a restaurant.
Sure. What do you think they noticed about you that made them think you could be a good actor?
I guess they probably saw that I had some talent, or they liked the way I carried myself and probably how I talked with my two friends in the restaurant. I would say, for those reasons. Maybe they also like my presence, how I looked. And they figured, "He looks like an interesting guy to be in one of our movies." Maybe because I had long hair too. That could be part of it.
Either Josh or Benny said that you went to high school with their mom. Do you remember that?
I don't think I remember her in school. If so, she wasn't in my grade.
Okay, got it.
Maybe that was my brother. Stewart, S-T-E-W-A-R-T. Stewart.
What did you think of the movie the first time you saw it?
The new movie?
Yes, Uncut Gems.
I thought it was good. Very good. I think the Safdies did a great job directing it and very good dialogue was used for the movie — you know, the words. And also the editing was good, how they put the scenes in a special order so the story would come out the correct right way.
Is it hard for you to watch yourself onscreen? Some actors have trouble with that.
It's pretty easy. I wish I was in more of the movie, and hopefully I'll be getting into some other movies in the next year or so, I would hope.
Have you been recognized by fans?
Yeah. Last weekend I was in a Dunkin' Donuts and three ladies recognized me, who didn't even know each other, and they said they'd seen the movie and they knew it was me. And when we went to see a movie at a theater in Long Island, people recognized my brother when we left the building, outside the exit. And then, when I was on the train, I told a person that I'm in the movie and they asked for my autograph. It was like an older woman, like a conductor, but she didn't see the movie yet.
Okay, cool. Is there anything else that you want to say about the movie?
No. How did I do?
You did so well, thank you.
So the article will come out in a magazine?
It'll be online.
Oh, not in Time Out magazine paper? You know the magazine Time Out, do they still put that out?
Yes they do, but I work for New York Magazine.
Oh, New York Magazine? Okay. And you're Hunter, right?
Yes, I am.
Okay. I'm glad we enjoyed the interview, doing it together.
A Brief Conversation With Stewart Wenig
How did Uncut Gems come about for you?
I went to the audition with my brother and I kind of had the idea that I could be in the scene with him because we look alike.
What was the audition like? What do you remember?
They just asked us to say a few lines or something. I don't know. I don't think it was that much. But they already know my brother and they were fans of his.
How did you learn that you were going to be in the movie too?
The casting director contacted me and she said she wants me to be in all the scenes with my brother because we look good together. But then it turned out I was only in one of the three scenes.
Were you nervous before you started your first day?
Not so much.
Wow.
I also write songs, so I started writing songs [for Uncut Gems]. Like I wrote about ten songs for the movie, and I gave [the Safdies] a CD of the songs. I wrote a song with the title "Uncut Gems." And the Safdie brothers liked the songs and they like, know how they go and stuff. But for some reason they didn't put them in the movie.
How long have you been songwriting?
I've been doing it a long time.
Tell me about the music that you wrote.
It's pop music, kind of, with a little bit of a rock feel.
Can you tell me more about shooting your scene?
Yeah. It was exciting to do the scene together and to work with Adam Sandler. And then we watched all his movies and we talked to Adam Sandler and I told him my favorite movie out of his movies. And I even wrote some scenes [for Uncut Gems], like some things that I could say maybe for the movie. Adam Sandler thought they were funny, but they didn't use anything.
Did you like being on set? What did you think of the experience?
Yeah, it was good. It was new. I guess there was a lot of waiting around. I thought it was great to be in a movie.
What's your favorite Adam Sandler movie?
Happy Gilmore. You know, when he plays golf? I thought that was like the most outrageous that he was, was in that movie.
So what's your typical job? What do you do when you're not acting in movies with Adam Sandler?
Well, I write songs a lot and stuff, but I need a vehicle where I could … It would have been great to have it in the movie — you know, the songs in the movie.
Sure, let's talk about the music more. What makes you so interested in songwriting?
I'm just pretty talented, you know. I could really write a song that's made to order. Like, I thought that was a good idea to write [a song] with the film title. But then after, they said that wasn't such a great idea. But I've seen other movies where they did have the movie title in the movie [song].
What did you think the first time you saw the movie?
I thought the movie was good. Sometimes it was a little hectic, the movie, like a lot of people talking at once and shouting and stuff. I think some people didn't like that, a little bit, about the movie.
I just talked to Mitchell and he said that he's been recognized a couple of times. Have you?
I got recognized by people that know me, say, from already, you know what I mean? Like one guy called me and asked me how I got in the movie — that he saw the clip online or something like that. And maybe some other person also recognized me on the street. But they can also think that I'm my brother too, you know, because we look alike. So they don't know which one's which.
Yeah, you guys do look a lot alike. One of my friends thought you were twins.
Yeah. We get that a lot. And I think the Safdie brothers told us that someone thought that we were the Safdie brothers when they saw us in the movie.
Yeah, I saw that online. It would've been a funny cameo, regardless.
Yeah, because then they should have stuff for us, because they grew up as brothers, you know?
Was it weird for you to watch yourself onscreen?
No, I like it.
Do you want to keep acting?
Yeah. Do you know how we could get more opportunities?