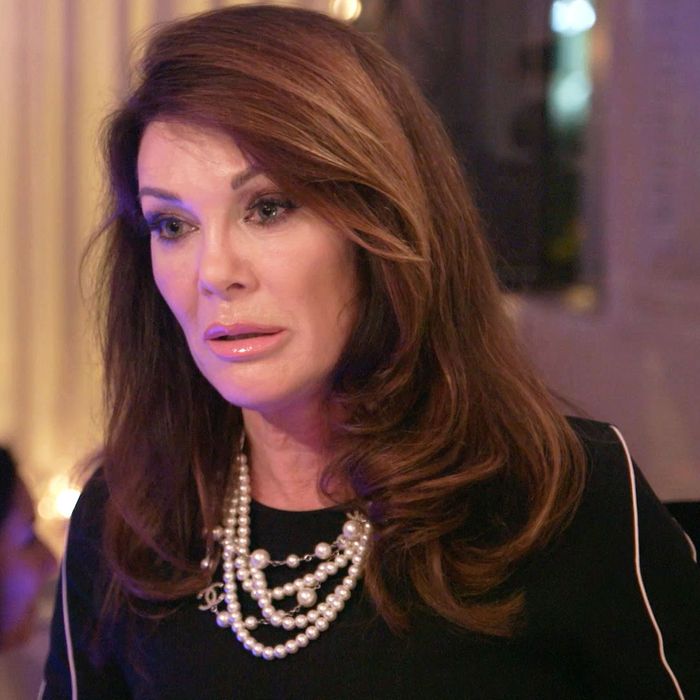 It is official: I do not understand this show anymore. Part of the confusion lies in very simple matters, like how I don't know where these people live or what their houses look like. I can't, on a visceral level, understand how the garments Katie wears in any given scene actually drape on her body, or why Jax is wearing a Tom Schwartz T-shirt (and where I could possibly buy one for myself). And then there is the deepest question of all: Who the fuck are all of these people, and why does this show keep focusing on creatures whose last names I don't even know?
But I also don't understand what this show is anymore on a more existential level. Like why, on God's burning earth, would any of these people want to go back to their jobs at SUR? When we started this endeavor together eight years ago, it was about a group of drunk, oversexed strivers working at a restaurant while trying to make their dreams of stardom a reality. They are all now famous. According to this French kiss of a story in the Hollywood Reporter (was it written by Lisa Vanderpump's publicist?), the original cast is pulling in somewhere around $500,000 a season just from the production alone. And yet there are two story lines in this episode about how former employees want to return to the warm bosom of goat-cheese balls and Pumptinis.
Tom Sandoval, who is now a small business owner (that is not a comment on the size of his business; it is a short joke), says even though Lisa fired him from SUR last year so he could focus on Tom Tom, he still picks up a couple of shifts a month so he can leave the bar with a huge stack of cash because it's instant gratification. If that's what he wants, he should dust off those abs of his and join the Magic Mike show in Vegas. Maybe they need a horn player.
When Tom's working one of his shifts, Ariana shows up in a beautiful red cape with her hair perfectly coiffed and asks Lisa for a few shifts a week because she's tired of sitting around the house. In a scene more choreographed than Meghan Markle's withdrawal from the royal family, Lisa says she needs to think about it.
I get that they both miss their jobs, the easy money, and, most likely, the thrill of being in the place where their celebrity status is most distilled, but it is time to move on. I also miss the job I had in my 20s working at a nightclub, but that doesn't mean I want to go back. I am now a grown person and must have grown-person employment, make grown-person money, and, most important, go to bed at a grown-person hour. The same should go for these two. It's especially ironic that Ariana shows up to beg for a shitty bartending job dressed like a real, legit L.A. lady. She doesn't need to go back to SUR. She could bartend anywhere, she could open a boutique, she could probably do a better job managing Kristen's T-shirt company than Kristen does. The whole point was to get the hell out of SUR and move on to something better. We have achieved maximum better, people.
As for the action at SUR, there's nothing I could possibly care less about. I would rather be tickle-tortured by a decaying sea cucumber than watch Dayna and Max go on a date. I would rather sit in a chamber of Todd Phillips's hoagie farts then hear about how Scheana is training Dayna less than she's training Charli, an unhatched Pokémon. I would rather watch Joker on repeat, which is basically the same as the chamber of farts, than watch Brett train Lisa Vanderpump in her backyard (with his shirt on). I would rather talk about Lucy Lucy Apple Juice for 24 consecutive episodes than meet Danica, who got suspended from SUR for pushing her bartender boyfriend, unless I can see this actual shoving of the boyfriend.
And I would rather do any of those things than watch Dayna do stand-up comedy. Oh my God, guys, Dayna's stand-up comedy. I give her credit for getting onstage and telling jokes, because she is braver than I am and probably better than I would be. However, this stunk worse than the Todd Phillips Chamber of Farts. It was the level of moderate humor usually achieved by supermarket greeting cards, Bazooka gum wrappers, and Family Guy episodes. What's gross is that everyone is like [light clapping], "She's good" [looking at each other smiling and nodding and still clapping], "She's good." No, she is not, and just telling me she's good does not make her good, just like telling me that Brussels sprouts cost a million dollars does not make it so.
The only things I vaguely care about in this episode have to do with the degradation of Scheana, and that's because, well, it makes me laugh. Can you believe Scheana bought Max an Apple Watch for Thanksgiving? What person is so insecure that they give gifts for random holidays? "Hey, happy Fourth of July, I got you a motorcycle!" I also relished Brett taking Scheana to the walk-in to break up with her for 15 minutes and Scheana totally taking that as a sign that he's flirting with her.
Meanwhile, we get little more of Stassi than her helping Brittany take her "booty-door" photos for Jax's wedding present. We get little more of Katie than her trying on old wedding dresses. We only see Lala and James make up for about three seconds in a recording studio. (Has James been demoted to the Pump Rules equivalent of "friend of"?) We don't even get a glimpse of Schwartz, yet we see Dayna and Max, two turtles in search of shells, go on a date together. What universe do we live in now, and will someone please tell me how to get a Lyft back to Valley Village?
Finally, the episode ends with a little bit of old-fashioned drama about Kristen and Carter, which, honestly, I'm having a hard time ginning up interest in myself. The problem is that Kristen has broken up with Carter, but he doesn't want to break up so he keeps insinuating himself into her life. Everyone thinks that's because Kristen pays all of Carter's bills, which may be true even though we have nothing to base it on. Kristen's rebuttal is "Maybe he's upset because he loves me and our family is being torn apart." It would be utterly pathetic if it weren't … no, that's just pathetic.
We've already established that Kristen is pulling in good money for the show; if she wants to have a kept man at home, then why do all these people care so much? It seems Kristen is always complaining about it to her friends and then not really doing anything about it, so that is what makes them frustrated. I think Kristen just needs to take control of the situation one way or another, but I also think that a part of Kristen relishes the drama of someone wanting and needing her even if she doesn't want or need that person. After all, if we've learned anything over the years, it's that Kristen is a perpetual-motion machine of messiness.
Jax has the difficult task of telling Carter that if he's not in a relationship with Kristen then he isn't invited on the group's joint bachelor-bachelorette weekend in Miami (something that hasn't been adequately explained, because we've been watching Charli Minus XCX learn how to use a POSitouch machine). Carter doesn't take the news well, and Jax advises him to just let Kristen go. "But what if that's not what I want?," he asks, before going out into the living room and giving Kristen the saddest, crying-est hug I've ever seen outside of a Hallmark Christmas movie.
In the apartment next door to Kristen's, which is where Tom Sandoval used to live, he and Tom Schwartz are lying totally naked on the knobby carpet in postcoital bliss. "I'm so glad you kept the lease on this place so we could meet up," Schwartz says, his hand rubbing sweat and secretions into Sandoval's chest. He changes position and can feel every cell of his skin peeling off of Sandoval's, both crying for release and begging to return to the warmth of contact. As he sits up against the wall and surveys the piles of clothes scattered around, he says, "Do you think we're becoming, you know, irrelevant?"