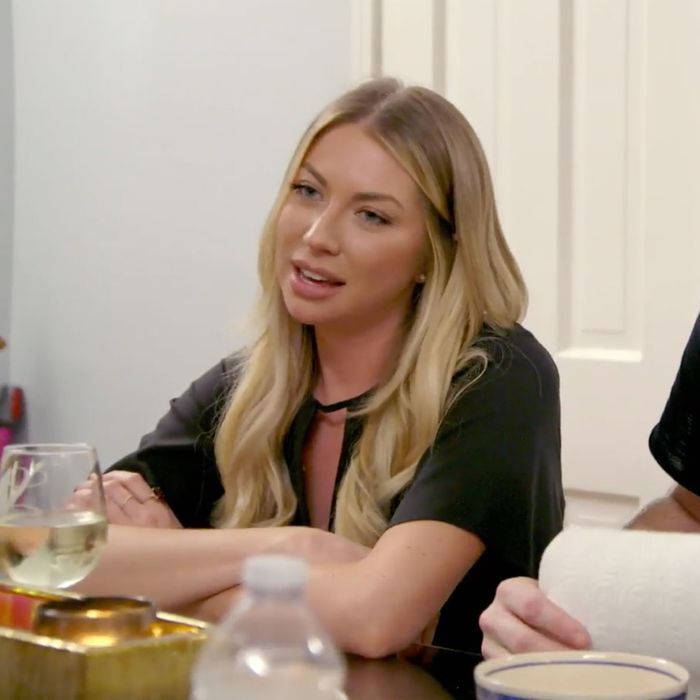 There have been a lot of changes this season of Vanderpump Rules, a show about the ravages of social media in those rapidly approaching middle age, but one thing has remained the same: the editors are absolute geniuses, periodt. First, when Scheana confronts Max about how he's treating her, we see all of his sappy text messages pop up on screen in a barrage of smarm that has been turned against him. Next we get an animated version of the origin story of SandiMan, the world's most annoying superhero who was bitten by a spider and the evil monster known as DJ James Kennedy, and used his powers for ineffective rage texting.
But finally, the master stroke of them all is a split screen of Stassi in 2012 and Stassi in 2020 to illustrate that she hasn't changed and why Tom Sandoval was triggered by her behavior at the Tom Tom book signing. Thinking about the hours it must have taken to find the footage of her saying, "How dare you ruin my birthday/book signing. How dare you," and make it sync up perfectly is just awe-inducing. I wonder if they had to speed up or slow down one of the loops to make them fit, or if Stassi has just been using the same tricks in the same exact cadence for almost a decade and they just matched up on their own. Either way, to the gentlemen and ladies that turn mountains of footage into these easily digestible chunks of deliciousness, we take our underwear off for you. Well, not the people who work at SUR. They aren't wearing any.
As for the changes in the show that I just mentioned, I need to come to grips with the fact that Max, Dayna, Danica, Brett, Charli, a poke bowl about to go bad, and the rest of the additions are here to stay, and instead of spending an entire season bitching about them and how I want them off the show, I'm just going to, well, cut it out and recap the damn show and then bitch about it on Twitter where such ad hominem gripes are the only things allowed to be posted. Read the terms of service, that is right in there.
My one gripe is that with Stassi's mom Dayna popping in for a visit that means we now have two Daynas. There is also Brett, Danica's hunky ex?-boyfriend (that ? is there because they're still fucking so maybe he's not so ex) as well as "new Brett" the SURver that Scheana keeps stroking with her impossibly long talons. That means there are two Daynas and two Bretts and not one shred of decency among the entire staff. That is an almost deadly ratio.
No matter their names, this new world order — where Lisa Vanderpump also talks to Ken in her closet while packing tiny Louis Vuitton dog luggage because she no longer does such things on Real Housewives of Beverly Hills — seems to revolve around Scheana. In a striking turn for her, she's now the old veteran at SUR and Dayna is the sexy newcomer with pert nipples who everyone hates. Scheana, along with Danica and Charli, are like the new witches of WeHo, trying to make sure that everyone hates Dayna.
At the end of the episode, where she's almost done with training, Dayna, Scheana, and all of their extraneous vowels go out into the SUR alley for a little chat. Oh, SUR alley, how I have missed you and your rat-soaked discarded tables. Dayna asks Scheana about what is going on with her and Max because it seems like the reason Scheana doesn't like Dayna is because Dayna is dating Max. Scheana says that's not the reason at all but she also doesn't offer any other reasons for hating her, not even a stupid one she made up, like that her head is tilted to one side.
The problem between them seems to be that they both want to think that their relationship with Max is more real than the others. At one point Scheana actually says with a human mouth, "Dayna may have seen Max's dick, but I saw his heart." Then she brings up the Apple Watch she bought for him for the 9 millionth time. The Apple Watch is the new Rob hanging a TV in under seven minutes. Is it that Scheana can only hold about a dozen thoughts in her head at any given time? Since most of them are related to Snapchat filters, she can only remember one fact about the man she's currently "dating" and has to repeat it ad nauseum.
The problem with the whole Scheana and Max thing is that they're both awful. Scheana wants to have a chat with Max because he called her "boy crazy." (I loved Lisa's reaction to Scheana when she told Lisa the news. "Nooooooo!" she exclaimed, like Scheana just revealed that Max, I don't know, has a bunch of old, racist Tweets.) She first goes by his work and, when he's not there, she texts him, guesses that he's out on a boys' night and shows up to talk to him. This is doing nothing to help the "stage five clinger" reputation she has. Yes, the boys actually say that, because they can only talk about girls in terms of shitty 15-year-old comedies starring Trump lover Vince Vaughn.
But when Scheana unleashes the evidence that Max was being a "fuckboi" who misled her, we see that Max is, of course, also awful. Her reading off the string of text messages while Max sits there dumbfounded is the work of a reality television veteran decimating someone entirely new to the genre. It's like Max hasn't learned that when you write something down on social media that it stays there forever and can be used against you. In the eternal words of Dorinda Medley's second favorite Tyler Perry quote, "Say it, forget it. Write it, regret it."
Yes, Max was gushing all over Scheana and then, when he was done with her, acting like she is the crazy one in front of the boys, which is typical asshole male behavior and thank god for Scheana calling it out. But man, does Scheana make it hard to root for her.
The other fight this episode is between Stassi and Tom Sandoval, who is pissed that she didn't clear her book signing party at Tom Tom with him, even though Tom Schwartz told him about it several days ago and was handling it. When Sandoval finds out that some of his bartenders can't make it the next day, he takes it upon himself to rage text her in the middle of the night that he's going to throw her out of Tom Tom or some bullshit like that.
The reality is that Schwartz was handling it the whole time. He was even going to bartend if he needed to, something Sandoval won't do at his own bar because he sees it as somehow diminishing his status as an owner. Oh, so he won't bartend at his own business to make sure it runs smoothly, but he'll keep bartending at SUR just for a little extra pocket money? Ugh, I'm exhausted with this one. Someone find me a fainting couch and a Peanut Butter Twix so momma can have a rest.
When Sandoval finally shows up at Tom Tom after a trip to the ER for a spider bite, he and Ariana take on Tom and Katie in front of all of the people there for the book signing. Everyone, including Lisa, is going to make a big deal about how this fight went down in front of a bunch of customers, but, come on, these are fans of the show. Those women all decked out in hot pink couldn't have been happier to see a real, true Vanderpump Rules fight right in front of their faces.
Sandoval's point seems to be that he has to be the one to find the bartenders, he is the one who makes the schedule, he is the one who knows how to work the computer, and all of this confusion could have been spared if Stassi had just come to him. That is no way to run a business, particularly a partnership. We get a few glimpses into what really goes on at Tom Tom through this fight, like when Sandoval tells Schwartz that it's a "really big problem" that he can't work the computers at the bar.
It seems to me that Sandoval's status as an owner is threatened by his partnership with Lisa and Tom, and so he reverts to being the one who "really runs this place" in order to find his value. It's a combination of narcissism and martyrdom that is exhausting but also the perfect personality type to excel at the reality television arts and sciences. This whole party seems to have brought to the fore some issues in the business that Sandoval has been stewing over, but instead of trying to fix them or talk about things with Lisa and Tom, he takes it out on Stassi, a non-paying client. It's totally the wrong reaction.
Stassi comes in hot and just starts yelling at Sandoval about how he's being a jerk, and the whole thing makes my head swivel but also makes me a little moist in the jeans that the old world order of my favorite people having petty half-drunken arguments on television has been restored.
When Tom and Tom talk at Sandoval's house later, Sandoval tries to say that Stassi is banned because she made a fool of him in his own place. What he doesn't seem to understand is that running a bar is still a service industry job. The customers aren't there to make him feel good, he's there to serve them, and if he can't do that, then his business won't last very long. (Except for the fact that his business is the center of a reality TV show, so it's probably immune so, hey, YOLO!)
As their conversation intensified and Sandoval got more worked up, Schwartz finally got out of his folding chair, the only furniture in the whole house, and walked up to Sandoval. "Baby," he said, caressing his cheek and then resting his hand firmly on his bicep. "Don't get upset. We'll figure everything out." He leaned in and pressed his lips against Sandoval's, their tongues probing and retreating, vying for space in each other's bodies. "I'm going to make it all feel better," Schwartz said, pulling him closer, wrapping his arms around him, and thrusting their crotches together.
"You'll even let me be little spoon?" Sandoval asked.
"I'll even let you be little spoon."