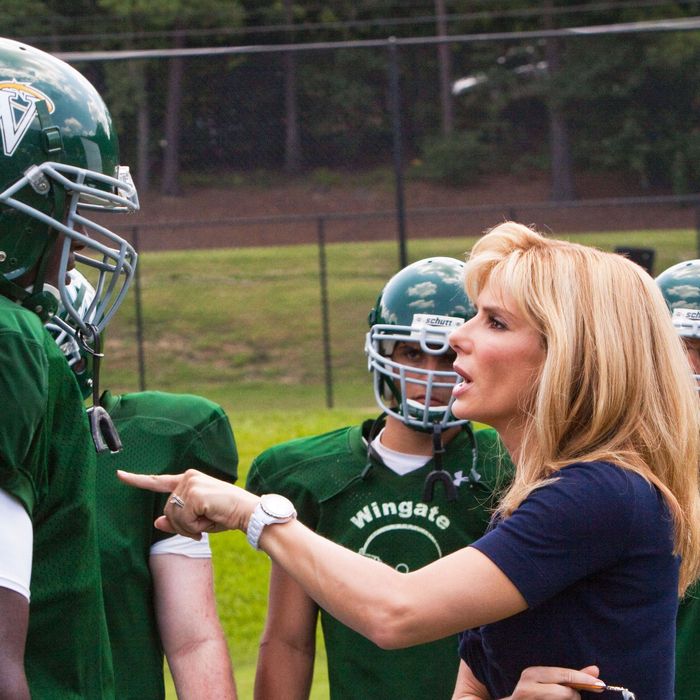 An Oscar what-if for the ages.
Photo: Warner Bros.
The Academy Awards are many things: They're a diversion, they're a business; they're an occasion to be dazzled by our most photogenic citizens, they're an open-mic night for you and your friends to roast Ansel Elgort; they're a reflection of what's good and bad about the film industry. But they're also a history. An imperfect history, to be sure, but there are few better, more accessible ways of tracking Hollywood through the years than by perusing the annual Oscar nominees and winners. And what's even better than history? That's right, you Tarantino stans: historical fiction.
The Oscars lend themselves well to speculation and alternate-timeline fantasies, mostly because what happens one year often depends on what happened the year before it — or several years ago, in fact. Would the drumbeat behind Brad Pitt and Laura Dern's 2020 Oscar nominations be so loud if they'd been more recently recognized by the Academy? Does Renée Zellweger's potential second Oscar win seem that much sweeter because her first was in the Supporting category? These Oscar narratives are like carefully constructed Jenga towers: When one brick gets pulled out, will the others fall? What if "X" had won the Oscar that year instead of "Y"? What else would have gone differently as a result?
The example I like to use to explain this phenomenon goes as follows: Say Al Pacino won Best Actor in 1974 for The Godfather: Part II instead of the sentimental career nod for Art Carney in Harry and Tonto. That means that in 1992, the narrative isn't "Pacino's finally gonna win one" for Scent of a Woman, and so Denzel Washington is more likely to win Best Actor for Spike Lee's Malcolm X. Which means that Washington maybe doesn't win in 2001 for Training Day, and instead Russell Crowe wins back-to-back Best Actor trophies for Gladiator and A Beautiful Mind.
Which brings me to Sandra Bullock. We're coming up on ten years since America's erstwhile rom-com queen finally got the industry respect she'd long deserved … in a movie of dubious quality. John Lee Hancock's The Blind Side is a well-meaning and deeply watchable movie that leans on the most tired of white-savior clichés. In this case, it's the based-on-a-true-story tale of a frosty-haired, take-charge southern lady who brings a black teenager into her home, teaches him how to play football, and sets him on a path to NFL stardom and paychecks. The movie never met a cliché it didn't like. But in addition to all its shortcomings, it was a leading-actress turn for the ages, with Bullock employing every ounce of her charisma to make the movie work. And to Oscar voters, that's often just as good as capital-A Acting. So despite stiff competition from Gabourey Sidibe (Precious) and Meryl Streep (who won raves for embodying Julia Child in Nora Ephron's final film, Julie & Julia), Bullock won the Oscar for Best Actress and gave the following speech (in which she unfortunately speaks rather highly of her soon-to-be-revealed-as-a-dirtbag husband while his cheating eyes filled with tears in the front row):
In the decade since her win, Bullock's name is the one that tends to come up most often during discussions of Oscar triumphs that weren't fully "deserved." Whatever that means. As somebody who's been following the awards for a long time, I say you can do far worse than recognizing an actress for a lifetime of star power, especially one who elevated middling pap into a massive hit. But we're going to indulge the Sandy Skeptics today, because playing the What-If game with Bullock's Oscar win takes us to some cool places.
Here's what happens in the mirror universe where Sandra Bullock lost the Best Actress Oscar in 2009:
1. Meryl Streep wins Best Actress for Julie & Julia. Carey Mulligan was there to announce herself as an exciting new talent, and Helen Mirren barely realized she was a nominee. Gabby Sidibe could have realistically won, what with a year's worth of momentum since Sundance and the Oprah endorsement. But Streep's the one who won the Golden Globe and tied with Bullock at the Critics' Choice Awards and had all the "When's she winning her third?" momentum.
2. Viola Davis wins 2011's Best Actress for The Help. With Streep's third Oscar win taken care of, there's no momentum to give it to her for her (frankly inferior) work in The Iron Lady. Instead, that honor goes, for the first time, to Viola Davis, who had won the SAG Award that year. Davis becomes the second black woman to win Best Actress, after Halle Berry, and she and Octavia Spencer become the first Best Actress–Best Supporting Actress winners from the same film since Gwyneth Paltrow and Judi Dench for Shakespeare in Love.
3. Viola Davis submits as a lead actress for Fences in 2016. With the pressure off Davis to finally win one, what with her pedigree as a leading actress already cast in gold, Davis submits as a lead for Fences, just as she was when she won the Tony Award for the same role in August Wilson's play. Her nomination in the far more competitive Best Actress category either bumps off her old pal Meryl (for Florence Foster Jenkins) or, more likely, since Streep's nomination came on the wings of a barn-burner speech at the Golden Globes just as Oscar ballots were being cast, the comparably lesser known Ruth Negga, for Loving.
4. Michelle Williams wins 2016's Best Supporting Actress for Manchester by the Sea. With Davis stashed away in Best Actress, the Supporting Actress contest likely comes down to Octavia Spencer, for her inspirational performance in the surging-late-in-the-race Hidden Figures, and Michelle Williams, for what boiled down to one wrenchingly sorrowful scene in Manchester by the Sea. In our timeline, Spencer and Hidden Figures had way more momentum toward the end of Oscar season, but without Davis to contend with, my guess is that Williams's case for the win solidifies over the course of the fall film festivals, and her "four nominations and no win yet" narrative takes over and powers her through to the Oscar stage.
5. Bullock wins 2013's Best Actress for Gravity. After losing such a neck-and-neck contest to Streep, Bullock goes from "rom-com actress who isn't Oscar's flavor" to "snubbed actress who is overdue for a prize." That prize comes after her essentially one-woman show in Alfonso Cuarón's dazzling Gravity. With such a great narrative (and also that crumbum of an ex-husband) behind her, Bullock proves to be unbeatable, even by the likes of Cate Blanchett doing her best Blanche DuBois for Woody Allen in Blue Jasmine.
6. Cate Blanchett wins the 2015 Best Actress award for Carol. Having won her second Oscar so recently is one of the few reasons why Blanchett didn't just storm through awards season collecting trophies for her career-best work in Todd Haynes's Carol. Without the threat of overabundance, Blanchett does just that, leaving all competition, including breakthrough ingenue Brie Larson, in the dust.
7. Rooney Mara wins the 2015 Best Supporting Actress Oscar for Carol. The uptick in Blanchett's Best Actress buzz is met by a corresponding uptick for Mara in the Best Supporting Actress race (we won't say anything about the category fraud here, since no one seemed to care then anyway!). Alicia Vikander has a strong base of support, but after a neck-and-neck race, Mara comes out on top. She and Blanchett become the first Actress–Supporting Actress winners from the same film since Davis and Spencer in The Help, leading Oscar prognosticators to erroneously surmise that Oscar voters prefer their actress winners in tandem, causing any number of subsequent squabbles on Twitter.
8. Rooney Mara is cast as Carol Danvers in Captain Marvel. Okay, this is a stretch. But hear me out: Brie Larson was cast as the MCU's first leading lady mere months after her Oscar victory for Room. Without that victory, yes, she's still a nominee. And yes, Jennifer Lawrence was cast in both the Hunger Games and X-Men franchises after merely being Oscar nominated for Winter's Bone and losing to Natalie Portman. But maybe the winds shift in this alternate timeline. Maybe the Oscar win for Mara reminds Kevin Feige how great she was in The Girl With the Dragon Tattoo. Suddenly, rewrites for Captain Marvel begin to accentuate Carol's stoic, whispery, fragile-bird qualities. And before you know it, it's Mara taking the Infinity Gauntlet handoff from Peter Parker in Endgame and leading the phalanx of MCU women into battle.
All because Meryl Streep's Julia Child bested Sandra Bullock's white savior.