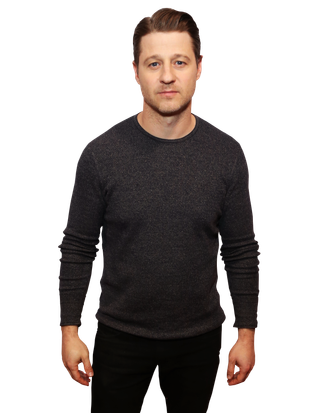 Photo: Manny Carabel/Getty Images
You may know Ben McKenzie as a guy punching rich kids on The O.C. or playing law enforcement in two very different kinds of television shows, Southland and Gotham. Bess Wohl's Grand Horizons, at Second Stage's Helen Hayes Theater, is his Broadway debut — though he's quick to point out that it's hardly his first time onstage, even if his obligations to a set of long-running TV series have kept him away for a while. In advance of the play's opening on January 23, Vulture caught up with McKenzie to talk about the show and how he's watched the TV industry change, and also his continuing quest for the perfect bagel.
This is your Broadway debut, but I don't think I've ever seen you do theater before.
It's been a long time, but I did a production of The Glass Menagerie at the Mark Taper Forum in 2010. I started off doing theater a long time ago when I first got out of college in New York. It was like Off–Off Broadway. So, I have been on the stage before, but it's been a long, long time.
Were you looking specifically to get back into it?
I was. When I first started acting in New York in 2001, my intention was to work. That was my prayer, to get hired. My dream fantasy at that point was to have a career where you do a little bit of everything, some theater, some television, some film. I grew up going to the theater. My uncle [Robert Schenkkan] is a playwright and screenwriter, and my first experience of the grand stage was seeing his play The Kentucky Cycle in New York. I was 12 years old and I remember being blown away by … it was all so huge and larger-than-life and so alive. When I moved to New York that was my intention. Like all plans, it doesn't work out the way you intend it to. I ended up in L.A. and did two shows and came back for Gotham. When my wife and I were trying to figure out our life post-the-last-TV-show, we just wanted to stay in New York and make theater a part of our lives because we love it. It feeds your soul in a way that I think that other mediums don't always.
How did Grand Horizons specifically come up? It's more of a comedy than the TV I've seen you in recently.
I heard about it through a friend. My point of reference on it was the playwright, Bess Wohl, who I've known since I started 18 years ago. We did summer-stock theater together in Williamstown, where this play started. I was always a fan, and that immediately piqued my interest, and then it all kind of came together.
A lot of the cast in the New York version is new, including you, and the play's about the relationships between a family. What's it been like to build it together?
It's been wonderful. I've never done a new play before, and the kind of exciting but challenging thing about being in a new play is that it is a living, breathing organism that's subject to change based on what Bess and [director] Leigh Silverman are seeing from the actors as we rehearse and do previews. It takes all of you. The main thing is the parents, Jane Alexander and James Cromwell; the two sons, me and Michael Urie; and my pregnant wife, played by Ashley Park. Jane and James are just iconic actors who are coming back to the stage themselves. They're leading the charge at 80 years old, or nearly 80. They're an inspiration — at least for me, mid-career, I look at them as people who've done it right and continue to.
Speaking of your career, on Gotham and Southland and The O.C., I imagine it might be hard to convince people you can go up for parts outside a sort of "Ben McKenzie" type.
Yeah, I think it's always a little bit of a double-edged sword. With the powers that be, it's not any one individual per se, but how the systems work is, they tend to say, "Well, this person can do this, let's have that person keep doing it," because, at the end of the day, it's a business. If people see that money can be made by someone doing something, they don't mind them doing it again, and hope they have the same results. I would say, on the flip side, that it's potentially more rewarding. I largely feel good about it, except when I'm scared shitless. That vacillation only occurs basically every hour, so it's a great place to be. [Laughs.] "I love it, I'm scared. I love it, I'm scared. I love it, I'm scared."
Are there other things on your career checklist, aside from doing theater?
It's always figuring out as you go, but we do want to stay in New York as much as we can. We have two small kids, so it makes it easier on our lives when we're able to do that. Then, yeah, I'm trying to do things, mainly in television, where I can be in on the ground floor — helping conceptualize them and create them and get them off the ground. Gotham in particular was 22 episodes a year and nine months a year of working. It was an incredible blessing, but that also becomes your entire professional life. I aspire to a little bit more of a varied experience.
The world of TV is full of reboots right now, and you're trying something different.
The notion of "We're gonna make the one cop show that people are gonna watch" — those days are gone and will never return. Creatively, perhaps that's for the better because it creates a more specific experience for the viewer and a deeper experience for the artist — arguably — if they're able to just delve into a particular subject matter or characters or whatever setting that they're really into. I think it's a fun time to be creating stuff because there's so much out there and there's such an appetite for it. We'll see if it can persist. I ended up on shows that were, I guess you might say, the old-school model of television. I've emerged from that like, Wow, it's a brand-new world, which is exciting and terrifying, a lot like going onstage.
I have one very specific New York question, which is that in 2015 you did a Grub Street Diet where you said you were trying a bagel a month after moving to the city. Have you found New York's best bagel yet?
I have yet to complete my quest. We are now living in Brooklyn, so there are new options available. It's a whole other borough to explore. Do you have a recommendation?
I spent one summer living over Bergen Bagels, by Atlantic Terminal. I went there almost every day, so maybe not the best in the city, but a favorite.
I am going to have to try that — all right, you've given me one! Check back in with me in another few years. I'll be like, "I'm calling you from Los Angeles. I'm eating a kale salad."