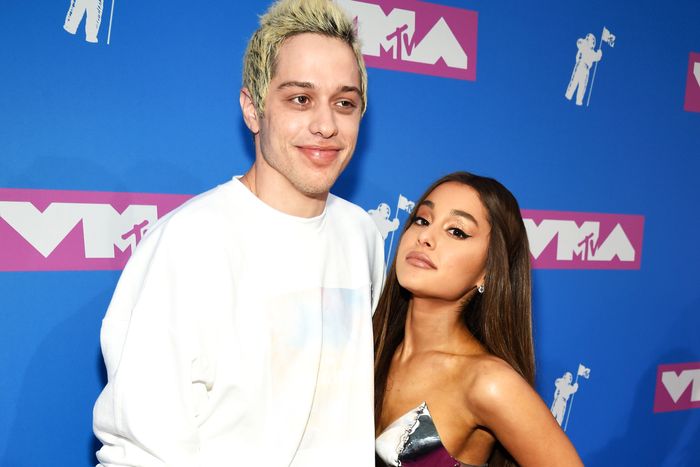 Grande and Davidson dated for one magical, "big dick summer" in 2018.
Photo: Kevin Mazur/WireImage
Pete Davidson is right about one thing. After his breakup with Ariana Grande, the world collectively rebounded with Thank U, Next. So, he figures, Grande got her double-album drop and now he gets his Netflix special, Alive From New York. In his set, sandwiched between the Dan Crenshaw controversy and 9/11 jokes, Davidson attempts to rewrite the relationship's history from his perspective, like that leaked Stephenie Meyer Twilight spinoff from Edward's point of view. Bella's side already went platinum, so what else is there to talk about? Inevitably, Pete Davidson found something to say. The Saturday Night Live cast member bounces to everything from her music to her fans to his "big dick energy" (or lack thereof). Here are all the cringey things Pete Davidson had to say about Ariana Grande in his Netflix special.
"I did make that guy famous and a household name for no reason. I did what, like, Ariana Grande did for me. I sucked his dick at SNL."
Transitioning from his Dan Crenshaw material to his relationship drama (we didn't say it was a smooth transition), Pete acknowledges a truth you, me, and all the NBC pages have been trying to block out.
"I wasn't gonna do jokes about this but then my buddy told me … he's like, 'Yo, I recently heard that Ariana said she had no idea who you were and that she was just dating you as a distraction.' So, now I just think it's, like, fair game. She has, you know, her songs and stuff and this is what I have."
Which one of Pete's four friends walked up to him with a fresh-off-the-presses August issue of Vogue and dished like that? That is messy. Have to respect it.
"My career would be over tomorrow. If I spray-painted myself brown and hopped on the cover of Vogue magazine and just started shitting on my ex."
For the record, many comedians have spray-painted themselves brown for worse reasons and still kept their careers.
"You're like, 'Pete, something had to happen to her, right? There had to be some repercussions.' No, she won Billboard's Woman of the Year and I got called 'butthole eyes' by BarstoolSports.com"
"Again, I don't want no smoke from the 9-year-olds."
Arianators, don't take the bait.
"I walked into Starbucks the other day, I was like, 'Hey man, can I have a medium coffee?' and the guy was like "…" and I was like, 'Fuck you, I'm going to Dunkin' Donuts.'"
Wow, this is so sad. Alexa, play "Thank U, Next."
"Then, that song came out and my friends were like, 'Bro, I love you. I love you, right? Shit is catchy. Shit is very catchy. You're gonna have a rough eight months.'"
"My grandpa, he goes, 'It's a slap. Peter, it's a slap.'"
To be fair, she's very nice to Pete in that song.
"I don't like that she talked all the shit on behalf of my dick. Like, I thought that was really weird …. First of all, let's just take a step back. Can you imagine if I said that shit? Can you imagine if I was like, 'Sorry it didn't work out. Nice pussy though!'"
Pete Davidson, men's-rights activist, ladies and gentlemen.
"It's just simply not true. She has little tiny little hands. She has just very little hands. Everything's fucking huge to her."
The king of dig dick energy renounces his title? It's Prince Harry all over again.
"She did that so that every girl that sees my dick for the rest of my life is disappointed."
Yes … that will be … the sole reason …
"I didn't even get to enjoy my 'big dick summer' or whatever the fuck it was called."
Hey, there's always next year.