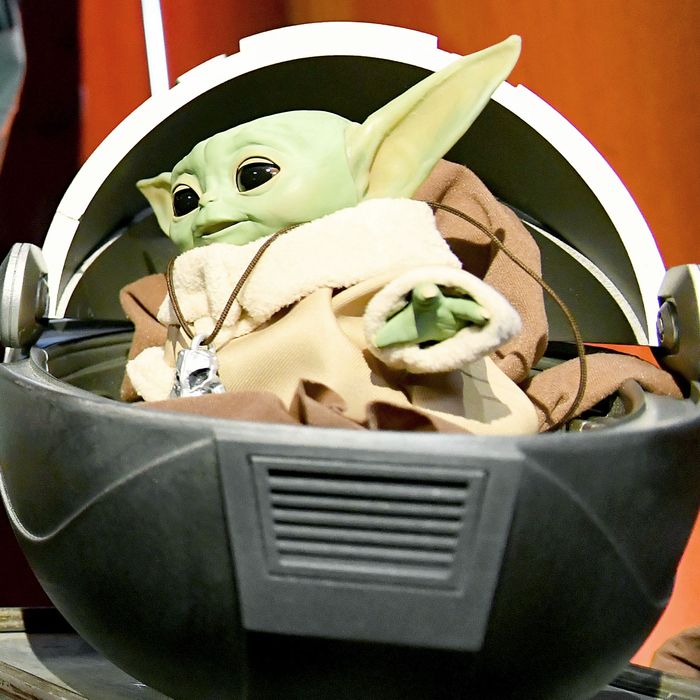 Photo: Craig Barritt/Getty Images for Disney
Art in the, ahem, Age of Mechanical Reproduction has many purposes, depending on which artist/philosopher/studio executive you ask: It helps us understand ourselves, it helps us understand others, it challenges us, it entertains us, it offers representation. It also sells toys. Loads and loads of toys, action figures, merch, plushies, and franchise-branded board games and collectibles. They're the cash cow that keeps everything from Rick & Morty to Care Bears pumping, and they help bring our favorite media out beyond the screen, incorporating it into our lives and over-cluttered spaces. We traipsed around the 2020 New York Toy Fair over the weekend, which is basically upfronts for merch, to see what we could find out about the year in pop culture based on its affiliated toys. It's like the world's biggest Toys 'R' Us (R.I.P.), only with things that aren't out yet and no children are allowed. Huge Al's Toy Barn vibes. It's a tough job, but somebody's gotta do it. Below, the findings from this grueling mission.
Our prayers for a plush Baby Yoda have been answered.
We have expressed disappointment in the past on Vulture dot com at the lack of soft, cuddly, Baby Yoda merch. But later this year, 100 percent cuddly improvements are on their way!
These ones were just prototypes, but they're so cute we wanted to The Child-nap them.
Don't bother us while we're feeding our son.
There are also Baby Yoda Funko Pops, both bobble and non-bobble.
Although, considering the way Funko Funko-fies everything into having a teeny baby body and huge cute head, these might as well be regular-Yoda Funkos.
While we're in Funko-land, we got a sneak peek at live-action Mulan's costumes.
Mulan comes out March 27, and when the "Reflection" instrumental drops in the trailer, we cry every time.
We tried to gather as much intel as we could about Pixar's other movie that's coming out this year, Soul.
But based on these Funkos, Jamie Foxx's human character will look like this fedora dude in soul form. Are the mini-souls … child souls?
The concept of the United Kingdom exists in the mythical world of Pixar's Onward.
Just look at the tiny Union Jack button on Barley's highly detailed denim vest. There wasn't nearly enough Cyclops Cop merch for our liking.
Is this a teaser for an upcoming Ellen DeGeneres reboot/sequel to Osmosis Jones?
Hope not! Also, we're not sure what "Smart Lab: Part of The Quatro Group" is, but it gives us huge Globo-Chem vibes.
SNL has been game-ified, so you can suffer through your uncle's David S. Pumpkins impression at your next family gathering.
Perfect for a "Girlfriends Game Night."
On that note, here's what every little girl wants: a Kristen Wiig Barbie looking stunning in mixed animal prints.
For WW84. It's uncanny! Depending on how many doll wigs you own (What's the natural average: 12? 15 doll wigs?) you can dress her up as Target Lady and Gilly, too.
Star Trek characters in cat form are a thing.
The erotic fan art can't be far off.
You can buy a Jamie from Outlander ornament for your tree this Christmas.
Complete with trendy slouchy boots.
The "blood debt" coins from John Wick are part of the Department of the Adjudicator, apparently.
Keep one of these on hand at all times, so that in the off-chance you run into Keanu Reeves you can hand it to him.
No merch was made of first-trailer ugly-Sonic. Or if it was, it was promptly sent to a landfill, jettied out to sea, or locked away in an unmarked warehouse somewhere.
Only cute, classic video-game Sonic allowed.
Beanie Babies channeled NYFW with a Beanie Baby runway.
Haus of Ty staying relevant.
Trolls World Tour will probably be massive judging by the amount of merch they've made.
And the Rachel Bloom hard-rock villain troll is adorable.
Not content with Baby Yoda from earlier, we wanted Baby Everything.
Trailers for The SpongeBob Movie: Sponge on the Run have teased a baby version of SpongeBob, but get a load of Baby Patrick! Those cheeks.
A big trend this year: toy versions of popular memes. Like Dabbing Squidward.
And Handsome Squidward.
And Tired SpongeBob.
And Mocking SpongeBob.
Not all memes were Sponge-based, though. There was also …
A whole line of ASMR toys, because the thing kids want to be most in this world … is a YouTuber.
Mindfulness Barbies that guide you through breathing and meditation and connect to your Headspace account.
There was also a foot spa Barbie, because self-care comes in many forms, all expensive.
Another YouTube-based trend: gender reveal toys.
The diaper turns blue or pink when you put it in water. Toys: the frontline of enforcing the gender binary on kids.
Momo!
Hey girl! Where you been?
A Hot Wheels Tesla Cyber Truck.
It makes so much more sense in toy form than actual-real-vehicle-with-humans-inside-it form.
A Carpool Karaoke game/toy/mic.
This is way too much fun and will cause a million accidents.
This real live Li'l Sebastian wasn't a toy or for sale but was of course the cutest and best thing there.
He was there promoting Netflix's Spirit Riding Free series. Of all the animated movies from the early 2000s, who could've guessed that Spirit: Stallion of the Cimarron would be the one to come back in a big way?
Baby Shark and the Shark family were all there, top-shelf.
Could these little squishy round cats be the next Baby Shark?
And hiding on the floor were some old, classic NickToons.
It's nice to know there's still a market for Aaahh!!! Real Monsters, even if they were giving me sad Corduroy Bear vibes.
Minion. Drones.
For when the revolution begins.
And a Minion fart gun.
Cursed object.
Here's a tiny, accurate John Cena.
He comes with tiny, accurate disembodied John Cena heads.
Spoiler alert for the end of Toy Story 4.
Bride of Forky.
Game of Thrones may be over, but new toy lines keep on coming.
Mini figs so you can act out your own, much better, finale.
We spent the whole time searching the Javits Center for Cats toys, and all we found was this lousy mug.
Hidden in the bottom corner of a booth full of Rick and Morty stuff. No company was brave enough to make sexy, furry, humanoid Cats action figures. What I would give for a Skimbleshanks Thomas the Tank Engine set!