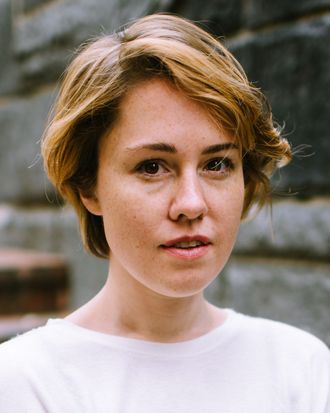 Caroline Shaw
Photo: Kait Moreno
When the composer Caroline Shaw needs a zone of gracious silence, the kind of place where she can be alone with the music in her mind, she takes refuge in the Rose Reading Room at the New York Public Library. It's a terrible place for an interview, though, so we meet in the lobby and then exit past Patience and Fortitude. Despite the cold, we settled at a café table in Bryant Park to talk about the works that the Attacca Quartet and Sō Percussion (with a little help from the composer, who is also a singer and violinist) will perform in an all-Shaw program at Miller Theater on February 6. It's the opposite of the library environment: The midtown soundtrack of screaming ambulances, barking guards, impatient horn-leaners, high-decibel phone conversations, and panhandlers' requests makes it difficult to think about her style, a thing of half-lights and tender chords. Even just talking about her subtle music makes it seem suddenly more fragile than I had ever noticed, more quietly at odds with the world's belligerent cacophony. "It's so great to be … outdoors," she says, as if startled to find herself in such an exotic place.
It's not easy for Shaw to explain how she creates, and as we start to talk, her sentences halt, veer, and double back as new thoughts intrude, then keep returning to a sturdy through line. That deceptive tentativeness makes me think of an annotation she once added to a percussion score, as purposeful as it is parenthetical and apologetic: ("i'm sorry, i put a bass drum roll in here. i'm really sorry.") Shaw's delivery also reminds me of the way her music — the 2015 string quartet Plan and Elevation, say — will suddenly dart into a 17th-century cadence, linger on a fragment of Debussy, then shake itself off with a dissonant shiver, without ever losing the thread. (That work is on the Attacca Quartet's 2019 all-Shaw album Orange, which recently won a Grammy for Best Chamber Music/Small Ensemble.)
"The pacing is determined by the conversations I enjoy — at what point I get bored, or at what point I imagine my mom would get bored," she says, with a laugh.
Some composers deal with the threat of boredom by cramming their scores full of drama and extreme sounds. Others embrace it, stretching time and indulging in trancelike repetition. Shaw describes her approach as the avoidance of both extremes. "I know what I don't like," she says: "plain harmonies that don't ever change. What makes me sad is hearing a sequence of interesting chords — and then it goes to vanilla. That's the worst." She's more open to music of intense complexity, like Alban Berg's Wozzeck, which she recently saw at the Metropolitan Opera. "Berg's chords just keep changing all the time. It's like: I just need you to slow down! Every moment is so rich and beautiful and textured, I love it! But I would never, ever write something like that."
At a brief, free program in Lincoln Center's David Rubenstein Atrium last fall, Shaw performed "And So," for voice and string quartet. Against a backdrop of spare, glassy string chords, her high, slender voice unfurls a line full of questioning hesitations. "Would a song by any other name sound as sweet and true?" she sings. The melody doubles back on itself, alighting, hummingbird-like, on a note where it won't sit for long. We're in a world that skirts hymnody, folklore, and a spare, calligraphic modernism. Gertrude Stein ("A rose is a rose is a rose") links arms with Billy Joel, especially his hymnlike 1989 hit "And So It Goes." ("And every time I've held a rose / It seems I only felt the thorns.")
The story of Western music often gets told as the relentless pursuit of originality, a constant discarding of conventions and furious avoidance of someone else's invention. But Shaw is less interested in perpetual revolution, maybe because she thought of herself mostly as a singer and violinist until she shocked herself by winning the Pulitzer Prize for music in 2013, when she was only 30. Since then, she's come to appreciate the power of using what she's done before as a springboard for each step forward.
"I think habits are interesting. At school they tell you to tear yourself away from your habits. But I like to notice them: Like, Oh, wow, I didn't know I liked that, but I obviously do. That's cool. I don't see why you should avoid a pattern, as long you're not lazy about it and you try to keep loving it and finding something new in it."
That philosophy permeates Taxidermy, a piece she wrote for Sō, in which percussionists explore the interplay of rhythms softly tapped out on flowerpots, until one player announces: "The detail of the pattern is movement." The other members of the group pick up the phrase (lifted from T.S. Eliot's Four Quartets) until that "whimsical existentialist mantra," as Shaw calls it, becomes part of the counterpoint.
She grew up in Greenville, North Carolina, playing Suzuki violin and listening to classical vocal music. Pop grazed her consciousness by way of her dad's Beach Boys CDs and a bit of anthropological curiosity: "I would ask friends to make mixtapes for me. You know, music that other people listened to." Even today, her influences are charmingly old-fashioned: Jerome Kern, Cole Porter, and 17th-century music, another repertoire in which surface subtleties give fizz to deceptively simple structures. She also plans her enthusiasms out ahead of time: bebop and late-20th-century jazz is on her docket at the moment. "I think I'm really going to love that stuff when I get to know it."
In adolescence, she attended a music camp in Vermont, and found herself hooked on string quartets, a drug that's stayed in her system ever since. She doesn't play in one anymore; "I'm grateful that my life doesn't depend on a marriage with three other people," she says. But as a composer she returns to the genre again and again, drawn by the interplay of subtlety, concord, and friction, like banter among old friends. She is energized by the task of writing not for abstracted instruments but for specific musicians she knows and likes. That collegial intimacy with performers is an excellent way to start a career — and, it turns out, a difficult way of sustaining one, especially when dream commissions start flowing your way.
"I wrote an orchestra piece" — The Observatory — "that the Los Angeles Philharmonic played at the Hollywood Bowl last summer. I loved it. I know Janet the usher liked it. But I didn't talk to the musicians at all. It was exciting, but not an experience to aspire to. Not like the Lincoln Center concert with the Attacca Quartet. I know them so well, and we made something together that was growing and living."
Still, for a composer whose musical upbringing was relatively narrow, she's comfortable in an impressive range of collaborative situations. In 2015, she collaborated with Kanye West on a reworked version of his song "Say You Will," enfolding his voice in a plush blanket of choral vocalizing. The partnership continued, fitfully, through a memorable session in Jackson, Wyoming, in May 2018.
"People were coming in and out of his bedroom, which was set up like a studio. A comedian Kanye was interested in came in with [the producer] Rick Rubin, and Kim came in, and he'd ask them what they thought [of the music]. I barely said anything, though. I don't make music in the room. I go home and in 24 hours I construct a world that I find really beautiful. I love using Logic [software] because you just get to paint. Writing for people is so much more work. And you get paid a lot more. If you get paid. That's still an issue."
Shaw's relationship with music is physical. For a performer, a note on the page is not an abstracted tone, but a constantly changing, visceral vibration. "For a singer, it's how you sit on a consonant, or how you curl a vowel. With the violin, it's about the minute things that you do to start a note and end it, and whether you're in control of all points in between." And yet, as a composer, she's reached a point in her career where she can no longer retain that kind of control over miniscule details. Strangers thousands of miles away pick up her scores and perform them without consulting her. The ideas that come to her at her portable electronic keyboard, in the library, or on a stroll, will eventually launch massive and costly events involving hundreds of people.
Despite her faith in habit, she relishes risk and uncertainty, too. At the moment, she's circling a project that remains mysterious to her: an hourlong dance theater piece involving the sounds of vintage technologies: vinyl records, wax cylinders, magnetic tape. "It'll be about archives and patterns and historical sounds, but without dwelling on their charming, twee quality," she says. "We don't actually know what it is, yet." She obviously enjoys the collaborative discovery, groping towards a large-scale work as if it were already there, suspended just out of sight.
With her gifts for melody and setting text, opera seems like a natural step, but she has a fraught relationship with the genre. "I loved opera when I was younger," she says. "It was a deep, deep love. It's probably why I'm a musician. And then I fell out of love with it. I guess it was when I went to Rigoletto and I was like, I'm dead. I can't understand the words and it's crazy, nobody talks about that. Also, I need stronger female characters."
Soon she'll be able to satisfy that need herself. The Lyric Opera of Chicago has commissioned a 40-minute opera "about loneliness" that, she says, still feels scarily amorphous. There's no libretto, or even a plot of subject yet, but she knows she doesn't want to write yet another lurid story in which the soprano gets killed off. "My only requirement is that it's not another opera about sexual violence. It's kind of a fun challenge to see if the heroine can survive this one."
After nearly an hour of cold wind in Bryant Park, Shaw is starting to look like her own survival is in question, too. As we get up to leave, she casually tosses out one of those incendiary flares that reframe the whole conversation. She does this in her music, too: introduce a sudden non sequitur that throws comfortable patterns into disarray. "Maybe I'll quit music and be a hospice nurse," she says, with an ambiguous smile. "That's my five-year plan." Her father is a pulmonologist, she explains, and she grew up seeing families of end-stage patients who had no idea how to talk about death. "I don't know if I can really put my money where my mouth is, but it seems like a possible thing you can do." Possible, yes, and maybe just as bracing a challenge as writing an opera in which the soprano makes it out alive.