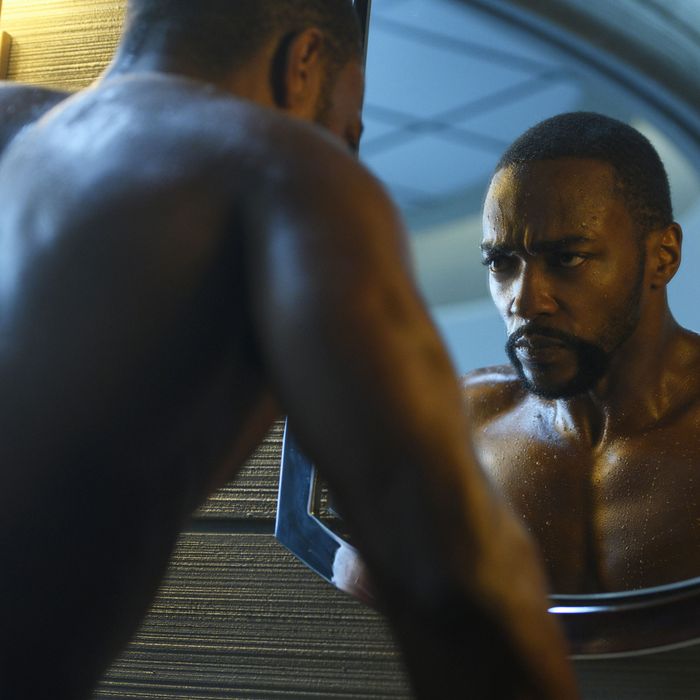 Photo: Diyah Pera/Netflix
Netflix's Altered Carbon is the rare show with a premise that allows for a leading man to be swapped out, Bewitched-style, and still make sense within the construct of the show. After all, in this vision of the future, the human body is just a shell, something that holds a "stack" that contains a person's memories, personality, and even skill set. This is how Joel Kinnaman can be replaced by Anthony Mackie as the character Takeshi Kovacs, and it makes just enough sense for the show to go on. In fact, most of the cast from season one is gone, although key roles played Chris Conner and Renée Elise Goldsberry keep us connected to the first year. Sadly, the supporting cast from that first season, which included strong work by Martha Higareda and Dichen Lachman, was one of its strengths, leaving the second season premiere feeling somewhat empty, like a show unsure of what it wants to do next.
The first season was about a man named Takeshi Kovacs hundreds of years into the future. Heavily inspired by Blade Runner, Altered Carbon was sci-fi noir, a show that asked questions about identity and responsibility. Kovacs was one of the last of an elite group called the Envoys, and his stack was pulled from storage and put in the Kinnaman "sleeve" to solve a murder. Kovacs befriended an A.I. built on the image of Edgar Allen Poe, played by Conner, and spent much of the season flashing through memories of the leader of the Envoys, the wonderfully named Quellcrist Falconer, played by Goldsberry. Many thought Falconer was dead, a martyr for a revolution that even sparked her own religion, but Kovacs's sister revealed in the season finale that Quell had been backed up. The season ended with him knowing she's still alive, at least stack form, and the last line hinted at the plan for season two: "He will find her."
The first line this season: "This is a ghost story." It's an odd opener, given that ghosts don't really exist in the world of Altered Carbon. After all, when you can't die, you can't become a ghost. In a world where people are forced to go on, resleeving into new forms over and over again, finding no relief, death is something of a reprieve.
Those words give way to a lounge singer doing her best at Cole Porter's classic "Under My Skin," a clever opening song given the premise of this show, but also thematically resonant with Kovacs's search for his long-lost love Quell. A woman named Trepp (Simone Missick) sits at the bar, which appears to be run by Poe. He's back! She's traveling and had landed on a place called Maghda Prime looking for Takeshi Kovacs. He's owed a lot of credits and will reportedly be at the bar to collect. They do a bit of catchup about who Takeshi and Quell were for viewers who haven't seen the show in two years. And then Poe glitches out. Uh oh. Something's wrong with his A.I. after a "vicious attack on his person-hood." Turns out that he doesn't even work there.
Someone comes to pay Kovacs, and more than one person stands up to claim the credits. Who is the real one? None of them, of course, but people start shooting and fighting and trying to claim the credits. Trepp looks bemused as the chaos heightens to the point that the singer flees the stage. As the man who left the credits is leaving, the singer stops him — it's Kovacs! And he knows that the guy tried to palm the credits and even kill Kovacs. It's only half of what he's owed, though, and needs the other half to get off-planet. And then Trepp interrupts with a bullet. She was hired to find him. Of course.
A Meth named Horace Axley wants to talk to Takeshi, and when Kovacs refuses, Trepp shoots him. She doesn't mess around. So now Kovacs is meeting with Axley anyway, who offers him a fancy new sleeve that looks like a Marvel superhero — specifically Anthony Mackie. It's also got a bunch of enticing bells and whistles, like rapid healing time and other special tricks. Seems Axley needs major protection, and no one can do that better than Kovacs, and he promises to give him Quell's location in return, along with enough payment to disappear.
Kovacs wakes up to a nightmare. He may have a cool new sleeve, but he's not only feeling residual pain from the shooting, there are also dead bodies around the lab. Something's happened. As he's trying to adjust to the new face in the mirror, someone sneaks up behind him and smashes him into it. He wakes up with a large shard of glass in his arm. He gets dressed and discovers more carnage, including Axley. Good job keeping him safe, Kovacs. You already failed. Kovacs learns they're back on Harlan's World, and fills Poe in on what Axley said about Quell.
Everyone learns that Harlan's World is now run by Danica Harlan (Lela Loren), who has just negotiated a peace treaty with the Quellists, the rebels inspired by Falconer. Although there's clearly tension in that peace and other political issues, and of which could have led to Axley's death.
Here's where things get a little confusing. Takeshi wants to go to a decommissioned hotel run by the Yakuza in a bad part of town. When he gets there, he flashes back to his death there hundreds of years ago, and finds some unsavory types who are just calling out for an ass-kicking inside. The action sequence that unfolds hints that this season could end up being more Wachowski than Ridley Scott. Afterwards, Kovacs is taken to a man named Tanaseda Hideki, an old friend and ally from hundreds of years ago. Hideki has no idea who killed Axley, but he will give Kovacs shelter and safety.
Kovacs gets a crumbling version of Poe's hotel back to life and goes to his room, where he has a talk with the ghost he can't leave behind. He then does something a little scary, jabbing a knife into the wound left by the glass shard to trigger his memory of what happened. It produces a vision of his attacker when he came out of the chamber: Quellcrist Falconer.
Altered States
• "Under My Skin" is an easy one to recognize, but wondering about the second oh-so-thematic song in the opening scene? It's "Illusion of You" by South Korean singer Jihae, who, guess what, plays the lounge singer sleeve occupied by Kovacs in the season premiere. That's a cool bit of stunt casting.
• What's a swamp panther? Trepp mentions it at the bar on Maghda Prime, and the mind reels.
• A lot of the atmosphere of season one has shifted, right? It feels less like Blade Runner 2049 and more like The Matrix Reloaded. Let's see if that continues.
• Mackie feels like an upgrade on Kinnaman generally, although the overheated voiceover isn't doing him any favors. This one works as a 1.5-man show, with just Mackie and Conner to keep our attention, but let's hope the supporting cast clicks into place soon.