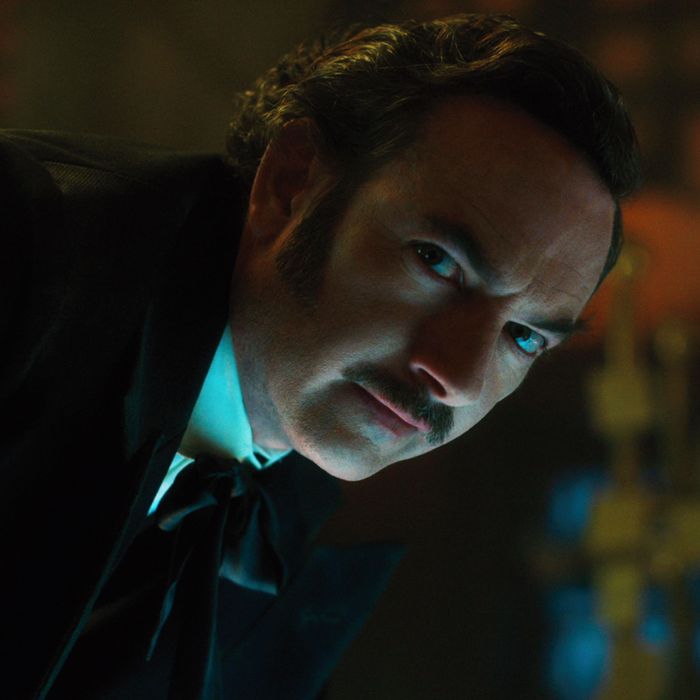 Well, that's more like it. After a couple of episodes that struggled to figure out this new season's identity, the producers of Altered Carbon find their footing in chapter three with an action-packed blend of familiar and fresh faces. It's an episode that doesn't feel as cluttered by narrative dumps as the first two, and really digs into the history of Takeshi Kovacs while also presenting a clear path forward for the season. Honestly, you could almost just start watching the season here and pick up on anything you don't understand that was established in the first two episodes.
"Nightmare Alley" opens with a tense scene between Harlan, Kovacs, and Carrera. The soldier is convinced that Kovacs is working for the rebels, but Harlan thinks he's just a lone wolf. She tells him that they're going to subject him to The Circle, a futuristic torture device that uses someone's greatest fears against them. It really is a bleak vision of the future to presume that people's own thoughts will be used as torture devices to extract information, and then they'll be left in a painful limbo for the rest of eternity.
Now that the assassin has been captured, Harlan wants Carrera off her world. It probably won't be that easy. She still wants to run a victory lap of sorts, announcing to the public that the killer of three of her cartel members will be put to death later today! Talk about your speedy judicial processes.
Poe hears this news and panics. He taps into an interesting A.I. interface, a sort of union where A.I.s hang out and network with each other? Maybe. It's a little unclear what's supposed to be happening there, but Poe only finds those of his ilk there, playing darts and looking for something to do. He meets Dig 301 (Dina Shihabi), who was named after a site on the planet. They're out of work and have nothing to do. It looks like Poe has a new ally!
And then Rei (Dichen Lachman) returns! The show really needed a bit of Rei's visceral energy, even if Tak's sister is just a figment of his imagination, at least the first time we see her. Rei and Tak talk about how much he hurt her and how he's convinced something is wrong with Quell.
Back in Carrera's torture chamber, Tak learns that they're going to use a technology on him to pull out familiar faces. They don't even just want faces of people Tak hates, they want to make it personal. Of course, it takes more "juice" than normal to get anything important out of Tak's brain. They turn up the heat and get to some of the faces they're looking for, ones familiar to people who watched the first season: Kristin Ortega (Martha Higareda), Vernon Elliot (Ato Essandoh), Reileen, and Quell.
Of course, Carrera knows what these four faces mean: this is Takeshi Kovacs. At first, it seems like it's just Tak's legendary status as the last Envoy that startles Carrera into suggesting that they cancel the Circle and just Real Death him as quickly as possible, but there's a definite hint that there's more to it than that.
Before the revelation, but after Trepp gets closer to finding Anil at a dig site, it's time for the Circle! As Poe and Dig work from the hotel to try to stop the execution through the system, the synths backstage at the Circle are told that the first one to execute Tak gets a bonus. They will take the form of the people extracted from Tak's mind and try to kick his ass. Imagine if someone who looked like a lost-love or dead friend was beating you to death. It's dark.
First, the coolest plot twist of the season so far: Carrera is Jaeger, a former CTAC officer with a violent history with Kovacs. He trained Tak, but also betrayed him and lied to him. Just as Anthony Mackie is playing the show's hero in new form, Torben Liebrecht is playing a notable villain with a new sleeve. And the timing is clever, as Carrera reveals his true identity just before Tak goes into the Circle, psychologically weakening him even further.
The combat starts with a synth that looks like Kristin Ortega, an ally from season one. Severely drugged, Tak first thinks it's really her, until she starts beating him with her synthetic arm (another reference to season one). As it appears that Dig and Poe may be manipulating the system, Tak gets the better of the Ortega synth and snaps its neck. Elliot doesn't fare much better in round two, especially as the drugs wear off, and then it's time for a Rei showdown, allowing for some excellent fight choreography between Mackie and Lachman. As it looks like Tak is actually going to submit to Rei and let her kill him, the door opens – it's Quell. And it's the real one, not the synth. Uh oh.
The power goes down in the heat of battle between Rei and Quell — thanks not to Dig and Poe but a Quellist working behind the scenes — and the two legendary figures have escaped. Making it back to the hotel, Kovacs and Falconer are finally together again after all these years. Now they just have to figure out what to do when the entire universe is hunting you down.
Altered States
• The episode title here should point you to a great 1947 noir starring Tyrone Power and Joan Blondell, based on the book by William Lindsay Gresham. It also happens to be the title of a current film being shot by Guillermo del Toro.
• Does anyone else think Elliot should have gone first in the Circle? If they're supposed to escalate in power and importance, Ortega has a badass arm and more history with Tak.
• Carrera tells his second in command at the end to "Activate Evergreen," which seems to startle even him. Who or what is Evergreen?
• Was anyone else kind of sad that the dumb soldiers shot the synth Quell and thought they had saved the day? Poor synth.
• Poe's new friend is a nice addition. Let's hope she sticks around.
• Tight action, a few unexpected twists, fun appearances by fan favorites – it's way more than you usually get out of a third episode. Let's see if they can keep up this quality level for the final five.