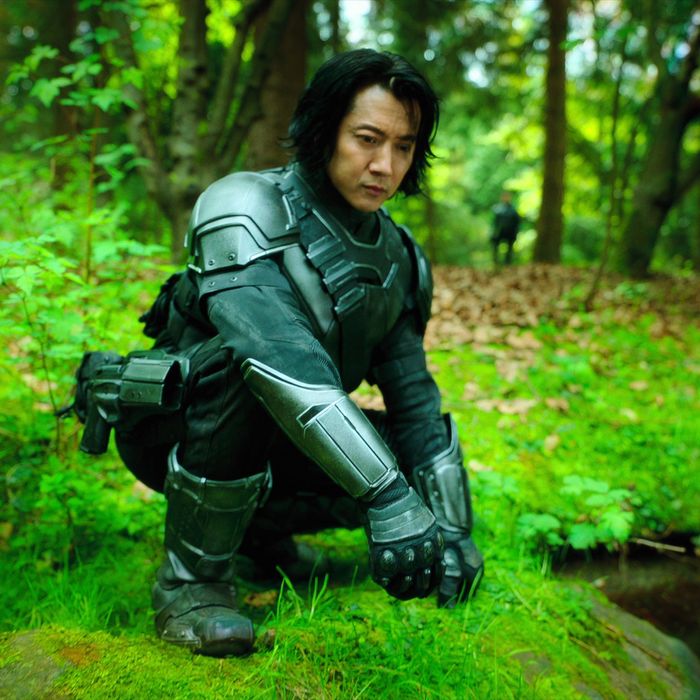 After all the fun action of episode three, where does Altered Carbon go to reach the midpoint of an eight-episode season? Well, the writers dig deeper into the major question of the season — Quell's mission — but in the process they lose a step or two in terms of momentum. It's a solid hour that ends with a couple of huh moments, but feels kind of transitional overall, getting us from the familiar faces of chapter three into the back half of the season where it appears all hell could break loose. Who's ready for two Takeshi Kovacs!?!?
"Shadow of a Doubt" is mostly about our first Takeshi Kovacs planning to escape and the mercenary Carrera trying to find him, all while the planet celebrates its founding by a man named Konrad Harlan (Neal McDonough). Both hunter and prey need resources and allies. (A lot of this show is about lone wolves learning they can't do things by themselves.) Carrera needs government resources and information from political prisoners, and he learns that the people he works for may have deeper secrets than he imagined. Meanwhile, Takeshi needs Quell back to normal and the help of his two greatest allies so far this season, Hideki and Trepp.
Quell needs to remember who she is and what she's doing first, though. She's clearly been in something of a fugue state, killing Meths for reasons she doesn't even seem to comprehend. And she has no idea of her background. Tak has to explain her own history to one of the most important figures in the universe, and their history together as its main power couple — the last Envoy and the leader of the revolution. She doesn't even know what she's doing or what she means to people, spending most of the episode watching videos about the history of Harlan's World and Quellcrist Falconer, with a nice interlude to remember what Takeshi means to her physically after trauma pushes them together again. One wonders if this high-priced sleeve with its high tolerance metrics and canine DNA has some upgrades in the bedroom, too.
Before then, Tak goes out to find them a way off the planet during something horrible called Harlan's Day that looks like a futuristic Burning Man. (Again, echoes of The Matrix Reloaded this season, with that film's infamous rave on Zion.) Before jumping into the street party, he fires Poe and replaces him with Dig, sending his literary AI buddy into a spiral of despair. Ouch. After all, Poe didn't catch that Tak had a bio-tracker; he's right that Poe's glitching would put him in jeopardy. Poe will almost certainly have a chance for redemption, though.
Carrera pushes Hideki into helping him find Tak while the last Envoy makes a promise to Trepp to help her find her brother Anil if she will help him escape. She may have wanted to partner up a few episodes ago, but he's the one who needs a talented ally now.
The Trepp character detail is interesting, but way too much time this episode is devoted to a fancy party for Danica and Harlan's Day. Yes, she's a character who clearly has a healthy ego that needs to be fed, but last episode pushed us into an action-packed hunt, not political gamesmanship in high-priced clothes. At the party, Hideki comes to get two blind transfers off the planet for Kovacs and Falconer. Would she not suspect that they're for the people she's hunting? Or is she too distracted by all the beautiful people? It's important, too, that he gives Danica a note for her father, suggesting she knows a way to reach him, and that the note contains the same symbol that Quell was scratching on the wall that Tak saw in the memory at the Soul Market.
In one of the series' most brutal scenes, Carrera is torturing Lila, the tech who helped the escape last episode during the Circle. While big guys like Tak get high-tech torture, people like Lila just get their teeth pulled. It doesn't seem fair. The soldiers come in and stop the interrogation just as Carrera is starting to find it interesting. The tech clearly knows something about the planet that Carrera doesn't and Danica doesn't want found out. Lila will soon wish she hadn't been "rescued."
And then we get one of the season's saddest scenes as Poe is "chatting" with Lizzie, but it's just a repeating recording, her saying goodbye for the final time from last season. It's something he wants to remember but won't if he reboots. But Dig has an idea! She is an archivist and maybe she can save his memories for when he reboots. She could be the R2-D2 to Poe's C-3PO, and save all of the memories of his friends and their adventures in the stars for Poe 2.0.
Things get even darker for an already dark episode when it's revealed that Danica has an ironic plan to murder those who have secrets that could hurt her, tying them to the fireworks that they launch into the sky to celebrate Harlan's Day to end their fancy-people party. Vicious. There's no way Danica Harlan gets out of this season without an ugly demise after that kind of cruelty.
Then things get weird. Quell kills Hideki, using the same weapon that she did on the other cartel members that destroys back-ups. But Hideki isn't a part of Harlan's elite? Why him? Kovacs gets there just in time to rescue Hideki's stack, and plugs himself into it, getting closer to the truth. Quell has been killing founders, the people who created this world. And she just destroyed another one, the sketchy guy who's been threatening Danica all season and just basically skulking around the periphery. Afterward, she arms a bomb at the Needlecast location, trapping people on the planet, and we discover what Project Evergreen means as the original Takeshi Kovacs walks out of the building just before the top floor explodes. Carrera/Jaeger welcomes home his "son," and it looks like things are going to get really strange in the world of Altered Carbon.
Altered States
• Poe reads from of a book of his namesake as he lies on the bar: "I shall die! I must die of this fool's sickness." It's from one of the master's best, The Fall of the House of Usher.
• Neal McDonough plays Konrad Harlan in the promotional Harlan video that Dig watches. He's a great, underrated character, but I'm more fascinated by the idea that he did his own reenactments for a promo video. That's some ego.
• McDonough has had an impressive "hey, that guy" career for the last two decades, probably still best known for his work on HBO's Band of Brothers, but he's been in movies big and small and a regular on TV shows like Justified and Suits. It's nice to see him here.