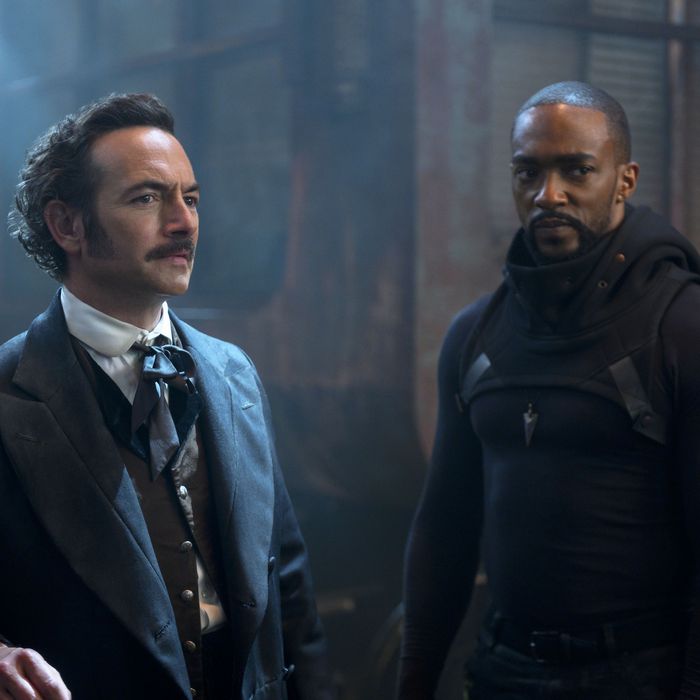 Photo: Diyah Pera/Netflix
Most of this season's big revelations happened last episode, leaving the season finale of Altered Carbon to hit beats that are pretty predictable if you think about it. It's an action-heavy episode that serves mostly to tie up everything we learned in the last chapter and defeat the season's true big bad, the Elder that's been controlling Quellcrist Falconer and is now in Colonel Carrera. Even the big bad's identity is a bit morally gray, however, as the Elder has been seeking vengeance for how awful the Founders were when they colonized this planet, destroying the lifeforms that lived there already. Of course, no one is rooting for the destruction of an entire planet, but a lot of good sci-fi plays with allegiance, asking viewers to question the motives and responsibility of "good" and "bad" characters alike.
Speaking of shifting motives, Kovacs Prime was clearly a mole, and he destroys the troops he leads to Nevermore so he can rejoin his new buddies. Meanwhile, Poe is going to figure out who's paying to keep Konrad Harlan safe while the newly possessed Carrera goes on a rampage. Where is he/it headed and what will it do when it gets there?
Here's why the writing on Altered Carbon can sometimes feel like it's making things up as it goes along to serve the narrative needs. After all, if Quell could just rain down Angelfire, then the Elder-Carrera would do the same, and the season's over. So to get around that, they decide that using the Orbital to rain blue hell almost killed the Elder in Quell, so it has to find an ancient artifact to use the weapon this time. Not only does this buy time for the heroes, but it gives the villain (Danica) something she wants to hold in her evil little hands.
Before then, there's a surprising amount of chatter. There are a few dialogue-heavy scenes this episode about how bad things happen when Takeshi Kovacs and Quellcrist Falconer get together. They are each other's greatest strength, but also the best way to destroy the other. Their connection causes as much pain as joy. Mackie and Goldsberry are good in these scenes, even if viewers probably wish the show would get to the climax faster. After all, the characters have earned these emotional beats now that Quell is freed of her Elder stowaway for the first time.
Missick and Lee also get a really good finale scene in which Trepp finds her father's body and destroyed stack. Remember, Kovacs Prime is the one who killed him. And it wasn't that long ago. However, his allegiances have totally changed, and Lee sells his confused guilt well, while Missick leans into the trauma and pain. They're also both good in a later scene in which Trepp almost gets vengeance for that pain. They've arguably been the best supporting characters this season. More on that later.
Kovacs and the gang tell Danica Harlan that there's an Elder in Carrera's stack, and that it wants to destroy the world. They need Konrad Harlan to bargain with the monster. Well, that's not going to really happen. Danica tosses them a dead stack, revealing that Konrad didn't leave — it was a coup. He's gone. Maybe the Elder will take the stack anyway and know its job is done. As the Orbitals start to move into position, they try to talk Trepp into somehow disrupting them with her neural coils. That doesn't sound fun.
At the same time, Poe wants to help track the coordinates of the Orbitals, but he glitches badly. A hologram of Lizzie comes to him again, ready to extract, archive, and reboot him. It's the program Dig designed to extract and preserve data. She would need a friendly face. (Why not her own? Ah well.) She tells Poe, "It's going to feel like dying." She has to wipe everything, and then rebuild him. Poe can never catch a break, but he decides he needs to save his organic friends first. He may not have much time left, but he's not going to squander it.
The Orbitals and most of the cast are converging on a Needlecast Station, at which our endgame will clearly play out. At the top, Quell, Tak, and Danica confront Elder-Carrera and tell them that they have the last Founder. He locks his Elder artifact in place as Trepp starts to freak out below. Danica moves forward and convinces the Elder to take the stack of her father. And then she pulls a gun and shoots Carrera before taking aim at Tak and Quell too. Never trust anyone who is willing to overthrow their own father. And then all hell breaks loose.
Danica Harlan goes out the way villains should after they have the nerve to say something like, "This world is mine." The Elder Jaeger drains her brain the same way it did the Founders. And then everybody fights! At one point, it's three on one with Prime, Tak, and Quell going after the being that is part Carrera, part Jaeger, and part ancient evil force. There's some pretty excellent fight choreography that ends with Tak's hand over Carrera's on a gun. After all, Tak's sleeve makes it so he can't pull the trigger on Carrera, but he can push his finger. When he blasts Carrera's brain out of the top of his head, the Elder "juice" gets on him, and he starts to be possessed too. Before it can take over, he looks at Quell, saying, "Survive." And then he calls Angelfire down on himself, and Takeshi Kovacs goes up in blue flame.
Dig gets the final narration for the second season of Altered Carbon, and it's about how we carry our past. This is a future that offers clean slates, but no culture can escape its own history. The only Takeshi Kovacs left, the "Prime" version, says that Quell was killed, even if rumors of her survival persist. And then it's revealed that she's going somewhere to start another revolution, taking the ghost of her long-lost love with her in the same way that Takeshi used to talk to the ghost of Quellcrist Falconer for generations. She tells his ghost, "There's nowhere you can go that I won't be with you."
Speaking of ghosts, Poe returns to Dig, but he doesn't seem to recognize her or know himself at first. He's starting from scratch. Or is he? He recognizes the end of Annabel Lee that she reads. He's still in there. Oh, and he's got a secret. He's storing a raw human DHF. As Dig downloads the data, and the face of whoever is in Poe's system comes into focus, she hints at what all viewers already know by saying, "Better get the good whiskey ready." Takeshi Kovacs is going to need a stiff drink.
Altered States
• It feels even more likely at the end of this season that Altered Carbon will be back, but will it be with Anthony Mackie? What do you hope? Do you want a third Takeshi?
• What do you want from a season three in general? As I said, this is a show with so much technology that anything can happen. So where do you think it should go next?
• The full titles playing for the first time since the season premiere reminds me how good they are. They're really tone-setting, with a great theme by Jeff Russo, and it would be smart to put them on each episode. After all, people who don't want them will just hit that 'Skip Intro' button anyway.
• Who's your MVP this year? Sadly, I don't think it's Anthony Mackie or even Renée Elise Goldsberry, which points at some sort of flaw this year in the writing, as they should be the scene-stealers. It's not even Chris Conner, who made a bigger impact in year one. I'd probably go with Simone Missick as Trepp, who was engaging from premiere to finale, or newcomer Dina Shihabi, who played Dig. And the season really picked up when Will Yun Lee returned. He added a physical presence it needed.