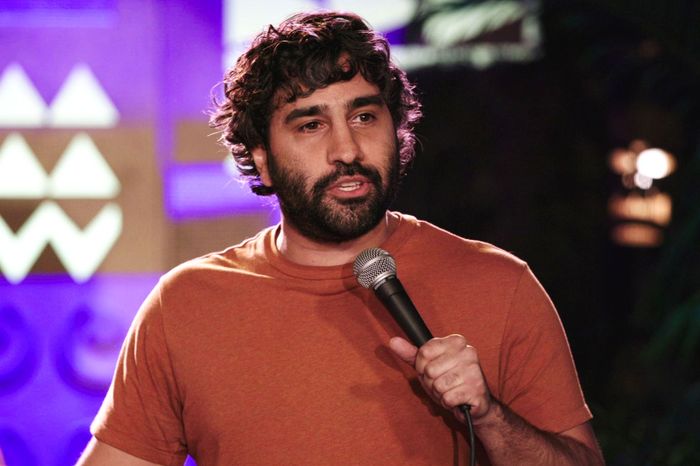 Anthony DeVito.
Photo: Comedy Central
A year ago, comedian Anthony DeVito had no intention of writing a one-man show. He was performing stand-up as usual, but he wanted to start talking about a subject he'd always avoided: his father. He began writing a few jokes and testing them out in comedy clubs and open mics around New York. DeVito quickly learned, however, that comedy-club audiences weren't taking these stories well, and perhaps it's a lot to ask a crowd to follow you from dating hijinks to hearing the story of your father's death. He wanted to share how he learned that story himself and how everything he knew about his father for the first half of his life had been wrong. After long conversations with fellow comedians and a renewed conviction that this was a story worth telling, he began writing a one-man show instead. The show is about himself, his father, and the web of lies surrounding them. Suffice it to say, his father's death was not an accident, and unraveling this secret is at the heart of the show, which debuted at Long Island City's The Creek and the Cave on December 9 and returns to Cherry Tree Bar this weekend.
DeVito is a regular at the Comedy Cellar, and his credits include appearing on The Late Show With Stephen Colbert, This American Life, and writing on The Break With Michelle Wolf, whom he frequently opens for on the road. His new show, My Dad Isn't Danny DeVito: A One Man Show About Family Secrets, begins with Anthony telling the crowd that, no, his father is not Danny DeVito. The comedian goes on to tell the audience the story of who his father actually was, including the chance encounter that began the unraveling. He was 15 years old and playing basketball in a park with some friends. They were casually calling him "DeVito" on the court, when a guy who looked just like him walked over, saying "Is your last name DeVito? I'm your cousin, on your father's side."
DeVito never knew his father, and he grew up believing that he passed away in a car accident when he was less than a year old. He was raised by his mother, aunt, grandmother, and great-grandmother, and he jokes in the show about relating to Mowgli from The Jungle Book and being raised by all women instead of a pack of wolves. As a child, his mother was always pointing out examples of bad fathers in their community: "Her logic was that if I saw a good dad, I'd be like, 'Hey, how come I don't have one of those?'" he says in the show. "We'd go to Toys 'R' Us with two different agendas: I'd be looking for G.I. Joes, she'd be looking for shitty fathers."
He had no connection with anyone on his father's side, except a biannual visit with his paternal grandmother. He was thrilled to have an opportunity for a real relationship with someone from his father's family, but when he went home that night and told his mother about meeting his cousin, her face fell. Rather than wait for this cousin to say something or for Anthony to start asking questions, she decided to tell him the truth.
She asked him to sit down, and she proceeded to tell him that there was another side to his father: He was a made man in an Italian organized crime family, and Anthony's mother had spent his entire life trying to shield and protect him from that. His father did not die in a car crash — he was killed. Before his death, his father had spent time in prison for armed robbery and multiple murders. His mother told him that he had been trying to better himself after Anthony was born. "She didn't mean, like, meditating and doing crossword puzzles," he says during the show. "He was trying to shed the mob."
DeVito's appearance is always slightly disheveled, with shaggy hair and a full beard. "My whole appearance is a reaction to him," he says. "People are shocked to find out I have criminal ties; they're shocked to find out I have ties, period." He exudes a sense of wholesome cluelessness while he describes his father as the type of man who didn't take shit from anyone. "I was always torn, as an Italian man, from being the one I was supposed to be," he says, "and the one that a household of women were raising me to be."
There's a warmth to Anthony, and it's one that clicks into place after experiencing his show. That "wholesome cluelessness" was, in some ways, manufactured through the years. Beyond the story of learning the truth about his father, the show is a story of how he came to define manhood for himself — one very different from the violent version of manhood his father knew.
He realized his father lived his whole life hiding who he really was, and Anthony knew he didn't want to do the same. In a way, his father's death is what allowed him to escape that life, and he didn't want to squander the freedom that came at such a heartbreakingly high price. "The more I kept it in, the more I became him," he explains, "because now I lived my life like he did, lying about who he was. Wealthy fathers, they pass on businesses to their children. Italian fathers pass on secrets." When he first presented the idea of a one-man show to his mother, she rejected it flat out. She didn't want to risk anything. He finally got her to agree to let him do it — under the condition that she read every joke before it ended up in the show.
There's actually a strange precedent for DeVito publicly divulging family secrets. In 2015, he told a story on This American Life about his grandmother. The only man in the house was a tenant named John, who rented out floor space in his living room and largely kept to himself. He discusses his relationship with his grandmother and the man he was led to believe was a tenant in their home. When he was 8, Anthony learned "the tenant" was actually his grandfather.
While interviewing his mother for This American Life, Anthony told her, "There were so many lies happening in the house at one time, do you know what I mean? Because nobody was just saying what was going on. It was like a corrupt government or something. I don't even know."
"It seemed normal to us." she responded. "Whatever the situation is, you want to make it seem as normal as can be."
Now Anthony is addressing a different lie from his childhood, this time with considerably higher stakes. One-man shows from comedians can have a reputation for forgetting to be funny. This one is darker than many, but it's beautifully offset by DeVito's charm and penchant for silly jokes. "A car accident," he jokes in the show. "My mom had the first word right, car, not the second work, accident. I don't know that he accidentally threw himself into the trunk and then closed the lid. Seemed like a car on purpose." Jokes like these serve an important role as opportunities to laugh with Anthony, despite everything.
The tone of My Dad Isn't Danny DeVito is a delicate balance — it's terrifying and heartbreaking, but at the same time, there's a caper element to it, sort of inseparable from old-school Scorsese or Coppola movies. Anthony's one-man show is about finding out who his father is, but like most one man-shows, it ends up being about finding out who he is. It's about growth, honesty, loss, and power. And somehow, it's still incredibly tender, and of course, hilarious.
DeVito's show will return on Wednesday, March 11 at the Fat Black Pussycat Lounge.