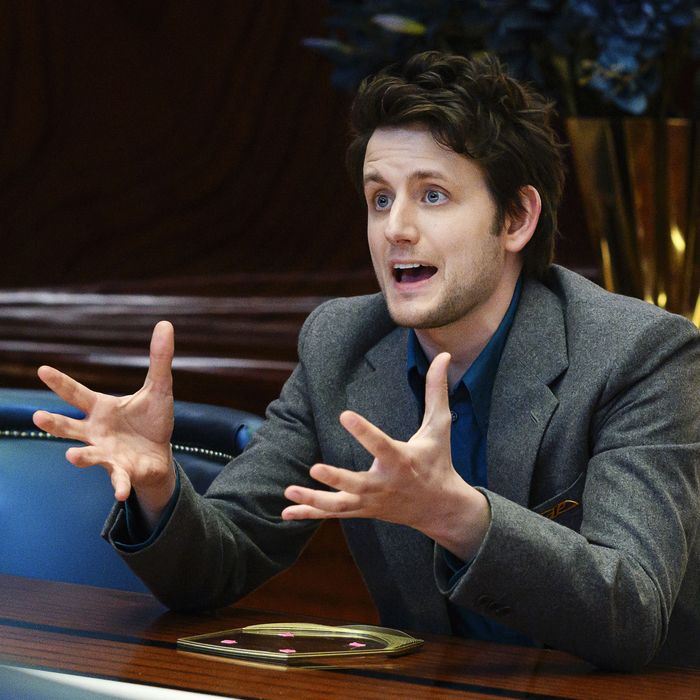 Note: This week's episode of Avenue 5 is available early via HBO streaming platforms. It will make its broadcast premiere at 10pm ET.
The appeal of Avenue 5 is that it's a kind of futuristic, satirical Lord of the Flies, the story of what happens when civilization breaks down in deep space and the passengers have to spend three years (or six months, or three-and-a-half years) rewriting the rules of society. At this point in the journey, however, no one has quite broken out the conch shells. The passengers, represented by the perpetually agitated Karen, are looking at the suddenly prolonged mission as a customer-service problem, like a flatscreen TV on the fritz or a side of beef that hasn't been cooked to their specifications. And the people in charge — who are some combination of morons, ignoramuses, sycophants, and actual actors — are in denial about the situation, too, because they lack the imagination to see where things are actually headed.
And so the ship — and, unfortunately, this episode of the show — is drifting along in a state of uncertainty and confusion. It's a little like the scene in Fast Food Nation where a group of activists break down the holding pen at a large cattle company and are shocked to discover that these liberated animals are making no attempt to leave. They're used to these guardrails being up, and will continue the same routines even when they're not, because there's a feeling of security in assuming that everything is being handled. Passengers on regular cruise ships will tell you that they don't even feel the water as they zip across the ocean, which gives the illusion that nature has been conquered — or, at least, it's been conquered right up to the point where they hit an iceberg.
For now, the signs of deterioration are more subtle. The funniest bits in "I'm a Hand Model" come toward the beginning, when the ship's housekeeping staff and waiters are still doing their jobs, but starting to drop the standard niceties that go along with it. In the middle of a typically apocalyptic morning argument, Mia and Doug notice that the fresh towels laid out on their bed have been crafted in the shape of a human sphincter. ("It's usually folded into a swan or a saggy rabbit," says Mia.) Even Matt, the customer relations chief, pauses to admire the "beautiful" puckering, which required a level of care that speaks to a dedicated contempt behind the scenes. At breakfast, Karen's husband Frank (played at Andy Buckley, who you might recognize as David Wallace on The Office) doesn't get the omelet with sausage on the side that he ordered, but the waiter shrugs it off. "This is a different dead animal with different-shaped eggs," he says.
What the staff hasn't processed yet is that they don't have to do their jobs anymore. And by the same token, the passengers haven't figured out that no one has to accommodate their needs, either. As Herman clings to the faint hope that the delay will be shortened and NASA will come through with the rescue shuttles they need, it's really left to the dim Captain Ryan to think about how to maintain order. As an actor, he specializes in sustaining a plausible illusion, so he takes steps to placate the masses by appointing Karen his "Passenger Liaison Officer." In exchange for this title — and a much nicer suite, courtesy of one of the dead guys currently orbiting the ship — he gets to have his chief adversary pissing out of the tent rather than in it. Now she can spin all the bad news, like announcing to her fellow passengers that she negotiated the re-estimated five-year trajectory home to three-and-a-half years.
The thin, overarching joke of this episode is that actors are taking on every role, including the ones that should definitely be handled by people with actual expertise. Captain Ryan is too dim to realize that his entire crew was cast like a failed Star Trek pilot, each manning controls that look ultra-sophisticated, but doing nothing more consequential than changing the lighting on the bridge. The crew, in turn, has believed that Captain Ryan has been in command because he has this cool-looking steering wheel where he stands sometimes. (Actors are not very bright.) It turns out that Herman didn't like how competent the engineers looked, so they've been tucked away below deck on the off-chance that the automated ship needs some tweaking.
Meanwhile, Herman doesn't want NASA to charge his company a crippling fee for a rescue mission, so he looks into hiring actors for a vigil outside JUDD headquarters to raise public awareness. All this negotiating for a mission that may not take place for another three years is a better distraction for Herman than the immediate problem right in front of him. He's used to corporate maneuvering, which is still something he can control, unlike the simmering unrest of 5,000 people stuck on his space cruise. When Iris brings up the sensitive issue of life-sustaining food and water — turning waste fluids into drinking water and growing fungi in the garden — it's not a conversation he's ready to have. It's more assuring for him to bring NASA to its knees than consider a near-future where diners will have to subsist on food that will, in Matt's words, taste like "a lightly seasoned mattress."
For now, everyone on board the ship has tacitly agreed to kick the inevitable chaos down the road. But like those orbiting corpses that keep ruining spa sessions and stand-up sets, reality will impose its will eventually.
Asteroids
• Zach Woods is still collecting a disproportionate share of laughs on the show, in part because he's just an extremely funny performer and in part because as Matt, the bedraggled customer-service rep, he can score off the absurdity of trying to appease passengers as order collapses around them. Matt has an answer for every complaint: Gum on your pillow? "In some cultures, that's actually considered good luck." The lady at the nursery called your son a "pig"? "Well, to the Chinese, which is most people, pigs represent wealth and hard work." He can spin the madness forever.
• "If trajectory porn is your thing, prepare to get your rocks off."
•The show's climate-change estimate is grim: For Karen, 2024 is the year "the fish in our pond boiled to death."
• Once the fake crew is revealed, suddenly their TV show tech-speak is wildly unpersuasive. According to one, the fastest way back to earth is to "head downwards through an event horizon."