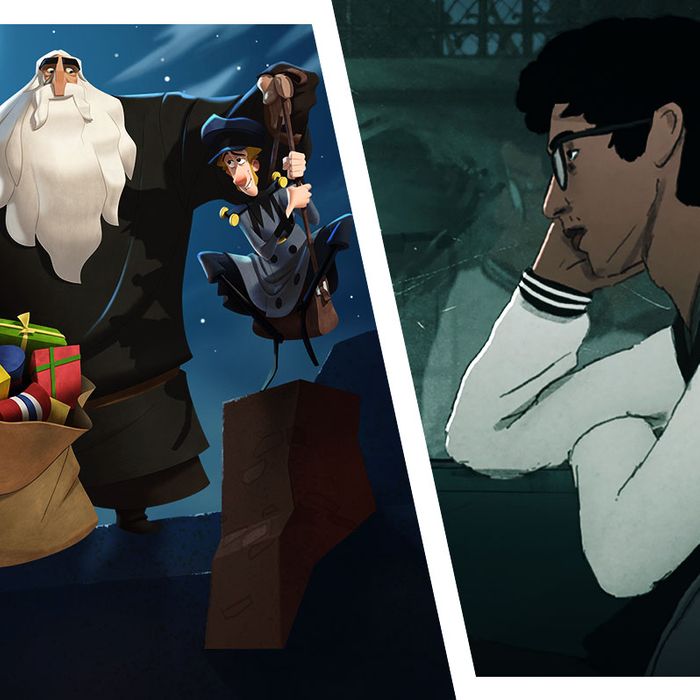 The streaming platform's in-house animation studio has 30 projects on the horizon. But first, it's eyeing Academy recognition.
Photo: Courtesy of Netflix
Best Animated Feature Film has turned out to be one of the more unpredictable categories of this year's Oscars, thanks in part to the recent success of Netflix's delightfully weird Santa Claus origin story Klaus, which won all seven categories it was nominated in at the Annies, the animation industry's annual awards, a couple of weeks ago. It also scored a BAFTA win over the weekend. Directed by Spanish animator Sergio Pablos (whose credits include Despicable Me and Tarzan) and following the adventures of a lazy mailman and an embittered toy maker, the movie is the first animated feature film to be produced by Netflix, and its resurgence suggests that the race is a lot tighter than anyone had assumed.
But Klaus is not the only Netflix film among the nominees: Jeremy Clapin's I Lost My Body, a mournful, lovely, grown-up tale about a severed hand making its way across Paris looking for its owner, also got a nod. (That one was an acquisition; Netflix bought international rights to the film after it premiered at Cannes.) That the streaming service scored two Best Animated Feature nominations in a year that Disney only got one (for Toy Story 4) seems like yet another sign that the cartoon landscape is changing dramatically.
Will any of this translate to an Oscar win? LAIKA's stop-motion wonder Missing Link could also score its own upset, but it's never a great idea to bet against Pixar and Disney. Toy Story 4 has won its share of industry awards, including the Producers Guild's prize for animation, and some Academy members might even want to award the Mouse House just for the incredible year it's had at the box office. Meanwhile, Klaus didn't get nearly the amount of press coming out of the gate that Toy Story 4 did. Pablos's film received a limited theatrical run in early November; however, it has been available worldwide via Netflix since November 15, which means Academy members have had plenty of chances to see it.
Regardless of who wins the Oscar, the success of Klaus and I Lost My Body, two very different films, caps off a mighty year for Netflix animation. The streamer, which is already home to such diverse shows as Love, Death and Robots; Voltron; Seis Manos; and Castlevania, has not been coy about its move into the world of animated features. In 2018, the company announced plans for its own in-house animation studio, and hired legendary artist James Baxter (whose creations include Belle in Beauty and the Beast, and Rafiki in The Lion King) as its head of character animation. It has been steadily poaching talent from other studios while accelerating production on all fronts.
Later this year, Netflix will release Over the Moon, directed by Glen Keane, another Disney legend, who was the supervising animator for The Little Mermaid's Ariel, as well as the Beast and Aladdin. 2021 will see the arrival of Guillermo del Toro's stop-motion Pinocchio. In 2022, we'll get Jacob and the Sea Beast, from Chris Williams, co-director of Disney's Moana. "We're starting at a hundred miles an hour, basically," Baxter said when I interviewed him late last year. "We're doing a lot more than anywhere else I've ever been. I mean, just our in-house original animation division has about 30 different productions going right now. We're building a studio while we are creating lots of different projects for the screen, and it varies from feature-length films to series to strange hybrid things in between."
What's funny is that none of this infrastructure was around when Pablos first started working with Netflix on Klaus. The idea of a fanciful, somewhat dark origin story for Santa Claus was cooked up by the director nearly a decade ago. He had opened his Madrid-based studio, Sergio Pablos Animation, in 2004, and was determined to make the movie there. But the idea of a holiday-themed original animated feature film proved a tough sell to studios, as it would have meant releasing during the year's most crowded season and taking on such four-quadrant behemoths as Star Wars and whatever animated title Disney had in the works. (That, by the way, turned out to be Frozen II, now the highest-grossing animated film of all time.)
Netflix also initially rejected Pablos's pitch. "We went to Netflix three times altogether," he recalls. "The first two times they told us, 'We just don't do feature animation. That's not in our plans.' The third time, they told us, 'We still don't do feature animation, but we're looking for Christmas content so we might make an exception in your case.'" That was 2016. The exception soon turned into a whole new arm of the company. "While we were working on Klaus, Netlix just transformed," Pablos says. "This whole division grew and we found ourselves suddenly spearheading this slate that did not exist before we got started."
There were good reasons for Netflix's decision to ramp up production of features. It would soon have a major rival in Disney+, which has now become an essential source for animated and family fare. More than half of Netflix's global audience watches family content every month, and such movies and shows tend to be quite sticky, driving not just subscriptions but renewals as well. Until recently, Netflix's animated offerings included a lot of Disney classics; now, those films are slowly migrating back to their ancestral home. As other studios launch their own streaming services, Netflix will find itself increasingly in need of more films to fill the gap. That's presumably also why they recently signed a deal to internationally stream classics from Japan's Studio Ghibli.
Theatrically, it's an uncertain time for the animation industry. Disney had a record year, but other companies' major offerings have largely disappointed. Sequels to The Secret Life of Pets, The Angry Birds Movie, and The Lego Movie all dramatically underperformed compared to previous entries. That Netflix doesn't concern itself too much with theatrical box office works in its favor in this regard. We don't know how Klaus did theatrically, but the company did announce that nearly 30 million people viewed it in its first month. ("Viewed," in this case, means they streamed at least 70 percent of the film. The number doesn't count repeat viewings, which Netflix says have also been high.)
This has meant, however, that the filmmakers who work with it often have to accept a trade-off between a big huge theatrical release and the ability to get the film in front of a massive home audience. "Of course I was thinking about a theatrical release when we were doing the film," says Clapin, director of I Lost My Body. "But Netflix wanted the film so strongly that we thought, Maybe this is a good opportunity for us." He notes that the film has had a proper theatrical release in France, where a window of 36 months is imposed between a movie's appearing in cinemas and its streaming debut.
That global streaming audience is a huge selling point. While Disney+ has certainly shown spectacular growth, just recently announcing that it's hit 28 million paid subscribers in its first ten weeks, it's still dwarfed by Netflix's 148 million paid subscribers. That has allowed Netflix to leverage the breadth, diversity, and international nature of its content as a way of appealing to both consumers and filmmakers. The company's reach around the world is not just a data point, but a philosophy as well, it seems. "They're starting to commission lots of shows from African and Latin American and Indian studios," says Alex Dudok de Wit, an associate editor at Cartoon Brew. "And these aren't just serving as studios. They're developing their own stories rooted in those cultures." Netflix has been heavily involved in the Japanese anime market since 2018. Last year, it signed a deal with South Africa–based Triggerfish Animation to produce Mama K's Team 4, its first animated series from Africa, about an all-girl superhero team based in Zambia. One of the streamer's most popular kids' programs is Mighty Little Bheem, an animated Indian show about a curiously strong toddler who gets in various misadventures in his rural village. "Different perspectives, different kinds of filmmakers, first-time filmmakers, and the types of stories that you haven't seen before in animation," Baxter says. "That's something Netflix seems to be particularly good at, finding different voices from all over the world."
"We look at it with a broad lens, knowing that animation is a type of storytelling that works really well globally," says Melissa Cobb, vice president of original animation at Netflix. "When you dub animation, you find that you really are able to have it feel very local and relevant to people across the world in a different way than live action." She adds that "outside the U.S., people think of animation as a medium that is telling stories for people of all ages, whereas in the U.S., I think there is more of a tendency to think of it as very family-oriented."
That speaks to why Netflix can release both a family film like Klaus and a dark, moody existential drama like I Lost My Body within weeks of each other. The company is not identified as any one thing, creatively speaking — unlike Disney, which has a highly specific identity developed over nearly a century of what might be the most successful branding exercise in human history. "As our audience has matured, our platform has matured," says Cobb. "Oftentimes, when you have a new technology, the first adopters can be more 20-year-olds who are trying out something new. And the taste profile sort of follows that. But as we end up in more and more homes all over the world, we're reaching deeper into the family market."
Netflix has also appealed to filmmakers by effectively giving them free rein to do whatever they want. "There isn't any sort of house style," Baxter says. "We're not being required to fit into what you might expect from a Disney film or from a Dreamworks job. There's no expectation in terms of what the different projects have to be in terms of their style or their tone." As Pablos puts it: "The way that we were given complete creative control of this thing was unheard of for me. I never experienced something like that."
That sense of freedom and risk-taking is evident in Klaus, too. As they worked on the film, Pablos and his team developed a method of animating in the traditional, two-dimensional method, which companies such as Disney and Dreamworks mostly abandoned years ago, but then lighting it in three-dimensions, thus giving everything a more rounded look. The resulting images carry a lot of the warmth and inventiveness of hand-drawn animation, with the solidity of computer animation. And it looks like no other animated film I've seen. "It's extraordinary," says Baxter. "What Sergio has done has really been to elevate the possibilities of what you can do with hand-drawn animation." For his part, Dudok de Wit was stunned. "I can't overstate how unusual it is for an American company, a major studio, to invest in a 2-D film like this," he says. "Really, it's been ages."
Narratively, Klaus is just heartwarming enough to qualify as a holiday release but still amusingly idiosyncratic in its characterizations and plotting. It's filled with people who do cruel, petty, vindictive things, and while they do eventually come around and discover the goodness within them — this is, after all, a family picture — it takes a lot longer than usual. Watching the movie, I could imagine all the notes that might have flown back and forth had it been made at one of the major studios. In that light, Klaus's deeply strange sensibility felt like a small miracle.
Will it all last? Who the hell knows? Netflix is quite careful about revealing numbers, and not everybody thinks their spending spree will continue indefinitely. As Disney animation itself once discovered, no renaissance lasts forever. But if you're lucky, its legacy lingers. "As an animation lover, I've never seen this, ever," says Dudok de Wit. "I've never seen a company come in and chuck this amount of money at this variety of projects before. I don't know that it's ever happened in the history of animation. So it's really exciting — even if it just lasts for two years before it all collapses."