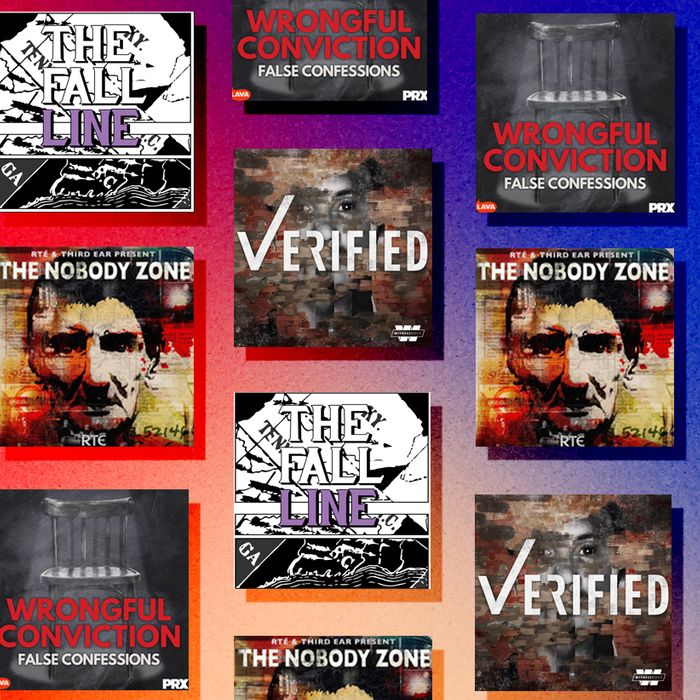 The true-crime podcast universe is ever expanding. We're here to make it a bit smaller and a bit more manageable. There are a lot of great shows, and each has a lot of great episodes, so we want to highlight the noteworthy and the exceptional. Each week, our crack team of podcast enthusiasts and specialists will pick their favorites.
The Nobody Zone, "A Hidden Truth"
The premise set forth by writer and narrator Tim Hinman in this podcast's opening moments is almost too outlandish to believe: For 30 years, an Irishman terrorizes the London Underground, pushing unsuspecting strangers onto the tracks just as a train comes barreling into the station. He goes undetected for decades, yet ultimately confesses to these 13 or so murders — but is never prosecuted. Inconceivable, right? Well, that "too outlandish to believe" part ends up becoming the central conflict of The Nobody Zone, this new podcast from RTE and Third Ear. Is this supposed serial killer, Kieran Patrick Kelly, a 20th-century Jack the Ripper? Or are his alleged crimes (and the massive cover-up that ostensibly ensued) simply the imaginings of a troubled former cop? I, for one, am resisting the urge to Google and allowing this disquieting story to unravel in due time. —Amy Wilkinson
Wrongful Conviction: False Confessions, "Robert Davis"  
Lawyers Laura Nirider and Steven Drizin take over the mic for the tenth season of the podcast Wrongful Conviction, to delve into the case files of false confessions. If the hosts' names sound familiar, it's likely because they appeared in the 2015 Netflix documentary Making a Murder, representing Brendan Dassey in his pursuit to get his conviction for the murder of Teresa Halbach overturned. This podcast doesn't focus on Dassey's ordeal specifically, but instead highlights a different case each week in which someone confessed to a crime they didn't commit. The lawyers' first case, that of Robert Davis, is a heartbreaking one. (Though, I suppose every wrongful conviction case told here will end up being a heartbreaking one…) As a senior in high school, Davis is implicated as an accomplice in a heinous double murder. Through questionable interrogation tactics, he ends up confessing and taking an Alford plea (in which the plaintiff does not admit culpability), sending him to prison for 23 years, even though he had nothing to do with the crime. His lawyer never gives up on him, though, and there is a somewhat happy ending to be had here. Unfortunately, our country has a long way to go when it comes to criminal-justice reform, and Wrongful Conviction: False Confessions is just one more tragic — yet necessary — reminder. —Amy Wilkinson
The Fall Line, "Part 1: Cedartown Jane Doe"
The newest season of The Fall Line continues doing what the podcast does best — examining and elevating the cases of the missing and murdered in the southeastern U.S. that have been neglected by the mainstream media. In this first episode in a two-part series on the case of "Cedartown Jane Doe," co-host Laura Norton dissects the circumstances surrounding the September 16, 2003, fire resulting in the death of a teenage girl who has yet to be identified. She delves into the accelerating meth problem in the area, directly associated with the rise in violent crime, along with the birth of ICE (yep, that ICE), impacting the Latinx population of Polk County, including Cedartown. While two of the three people in the burning house at 506 7th street were identified, the young girl remains one of the "missing missing" — we still don't know her name, and her disappearance has never been reported. Delivered with Norton's usual urgency and elegance, this episode provides a vital understanding of the context of Cedartown Jane Doe's death. —Chanel Dubofsky
Verified, "Maria and Kate"
Couchsurfing.com seems like a trustworthy way to find cheap places to crash while seeing the world, but a slew of positive reviews doesn't mean much IRL. In Verified, journalist Natasha Del Toro shines a spotlight on a beyond-disturbing series of sexual assaults committed by a police officer in Italy who offered his place up to young women traveling abroad. The first episode starts with Maria, who traveled with her friends from Portugal on holiday to Italy. They were hoping to stay in Venice but couldn't find any available hosts; instead, they posted a note looking for a place to stay, and "Leonardo" contacted them. While it wasn't ideal, it seemed workable; after all, Leonardo was a police officer. However, Leonardo drugged Maria during dinner before he and a friend dragged the young women out to party in Padua. She was in and out of consciousness for hours, and by the time it was over, they just wanted to get home. They were confused and horrified, with Maria especially left wondering exactly what happened to her while she was barely coherent. She began reaching out to other people who had left reviews for Leonardo, and what she found was enraging.
The second episode features Kate, who encountered Leonardo during a quick trip to Italy while she was on her semester abroad in England. The details differed slightly, but the end result was the same: Leonardo drugged and sexually assaulted Kate. When she got back to the U.K., she filed a complaint about her assault in Italy that seemingly got lost in the shuffle. (The Guardian's story about the sentencing of Dino Maglio features what I assume is Kate's story, under the pseudonym Anna, here, along with information about the other women he assaulted.)
Maglio was convicted in 2015 of raping a 16-year-old Australian woman, and while he was still under investigation for three other assaults at the time, I can't find any news about him since then. I'm looking forward to finding out how these women found justice and stopped a predator — hopefully for much longer than the six and a half years he was originally sentenced to. —Jenni Miller