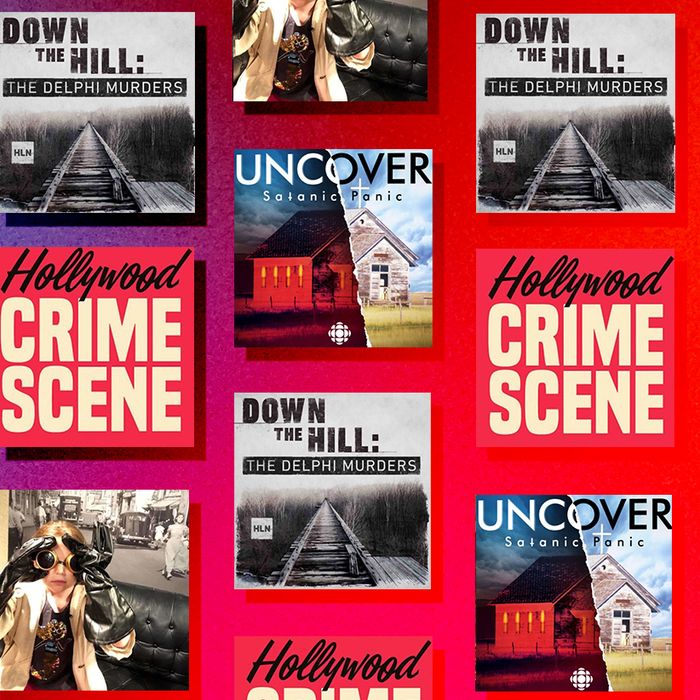 The true-crime podcast universe is ever expanding. We're here to make it a bit smaller and a bit more manageable. There are a lot of great shows, and each has a lot of great episodes, so we want to highlight the noteworthy and the exceptional. Each week, our crack team of podcast enthusiasts and specialists will pick their favorites.
Hollywood Crime Scene, "Patty Hearst"
As we all know, crime never sleeps (seriously, though, can we stop doing crimes to each other?!), and while it's easy to get swept up in the whirlwind of a late-breaking case, sometimes it's nice to simply revisit one of the classics. Which is what Hollywood Crime Scene co-host Desi Jedeikin does this week with her look at the bonkers story of Patty Hearst. A refresher: In 1974, Patty Hearst, the granddaughter of newspaper mogul William Randolph Hearst, was kidnapped from her Berkeley home by a group of radicals calling themselves the Symbionese Liberation Army (SLA). After being held for months, she announced on a tape made by the group that she was joining the SLA and changing her name to Tania. She was later captured on security footage robbing a bank in San Francisco while wearing a beret and wielding a very big gun. Patty was ultimately caught 19 months after her abduction and claimed to have been brainwashed; she was tried, convicted, and served 22 months. Jedeikin infuses this retelling with her typical wit, and it's striking to hear just how many random big-name players were involved (John Wayne?). As they say, only in Hollywood… —Amy Wilkinson
Down the Hill: The Delphi Murders, "A Picture & A Search Warrant"
In February 2017, Abby Williams and Libby German disappeared while on a walk in the woods in Delphi, Indiana. Twenty hours later, the search for the middle-schoolers culminated in the worst way imaginable. While the case has yet to be solved, it's hardly cold — as of today, there are more than 50,000 tips. In episode three of Down the Hill, (it's an eight-episode series), hosts Andrew Iden and Barbara MacDonald reflect on what we don't know about the murders, which is basically everything, including how the girls were killed (although the FBI was called in quickly after the bodies were discovered, so project onto that what you will). What we do know: There's nothing about this case that isn't genuinely horrible, and, on Libby's phone, there is a photo and a video, and a search warrant was issued for a property near where Abby and Libby were found. Down the Hill paints a stark picture of a small town upended by the murders, and places the families and friends of Abby and Libby front and center, in addition to looking at who the girls really were, instead of allowing them to exist solely as the victims of an unsolved crime. Get ready to be knocked over by details, and count down until the next episode. —Chanel Dubofsky
Uncover: Satanic Panic, Episodes 1–3
While the mania around Satanic ritual abuse seemed to have reached its climax in 1990, when the charges in the infamous McMartin preschool trial were all dropped, the fear still lingered. The new season of CBC's Uncover takes us to the small town of Martensville, Saskatchewan, which succumbed to its own Satanic Panic around 1992. Producer and host Lisa Bryn Rundle examines the hysteria that took over the idyllic small town with help from folks at the eye of the storm, some of which have avoided discussing the matter for decades. That includes Claudia Bryden, who was a rookie officer fresh from the RCMP when she began investigating a single abuse allegation that spiraled into something that took over the entire town. This grew to include rumors of a local Satanic cult called the Brotherhood of the Ram, a "Devil Church" where they abused children, and other, increasingly lurid yarns. The third episode focuses on John Popowich, an officer in Saskatoon, who was accused of taking part in the abuse. The archival interviews with Popowich, who was finally cleared in 2002, and his wife are intense to listen to as they describe the havoc false accusations created in their lives; at one point, Popowich even begins to question himself and whether or not he could have committed these heinous crimes and just blocked out the memories.
This seems outlandish to us now in 2020, but as someone who was fascinated by the salacious news reports of SRA in the '80s, anything seemed possible. You only need to read about Pizzagate or even Jeffrey Epstein's death to see that the anxiety slash fascination with cabals of powerfully evil people that sexually abuse children will never go away. Some academic with a much worse Google search history than mine must have written about the history of these obsessions. Either way, I'll continue tuning in to try and understand how our darkest fears can cause us to turn on our neighbors and relatives. —Jenni Miller
Sticky Beak, "Love, Doreen" 
On February 3, 2020, the 32 year old missing person's case of Doreen Vincent was reclassified as a homicide investigation. Doreen was 12 when she disappeared from her father's home in Wallingford, Connecticut, on June 15, 1988, and then … nothing. In 2019, the Faded Out podcast unearthed Doreen's case and devoted a 26-episode season to it. And now, Jessica Fritz Aguiar, a Faded Out co-host is continuing to examine the case with Sticky Beak. If you're not from Australia or New Zealand, you've likely not heard the term "sticky beak" before. It's a person who pries, who would be accused of not minding her own business. In the first episode of Sticky Beak, Fritz Aguiar owns this title for herself — she will continue to pursue answers in Doreen's case, but also to restore Doreen's voice to her. Already, it's a tender and powerful rendering. Listeners to Faded Out (and fellow sticky beaks) will devour the details revealed in this new podcast, but if you're not already familiar with Doreen's case, start here and prepare to be absorbed, shaken, and infuriated. —Chanel Dubofsky