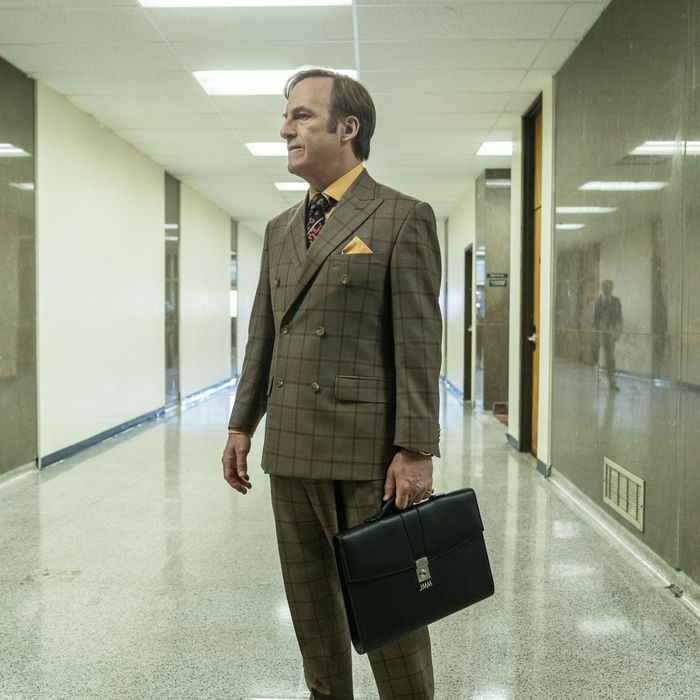 Photo: Warrick Page/AMC/Sony Pictures Television
At least Jimmy's honest with Kim about being dishonest. (For the time being, we'll refer to our flawed protagonist by his given name, distinguishing when his character is operating under his professional alias, Saul Goodman.) He comes clean about having offered half-price counsel to nonviolent felons, even if he's not entirely forthcoming about how many such cases he's agreed to take on — or how much more likely his potential client pool is to commit misdemeanors now that defending themselves is cost effective. Turns out they're almost constitutionally guaranteed to run afoul of some statute concerning vandalism or grand theft or some comparable, reckless flouting of New Mexico norms. Which is what Jimmy was banking on. Only it necessitates needling his prosecutorial counterparts at the Bernalillo County Courthouse until they relent and compromise on some sort of plea that does little else but fulfill the prophecy of criminal justice as a parlor game.
But at this stage, Jimmy's colleagues have yet to realize just how far Saul will go to rig the results in his favor. What else explains how otherwise intuitive ADA Ericsen (Julie Pearl, one of many Saul-iverse semi-regulars on whom the franchise has smiled warmly) doesn't raise an eyebrow when her elevator malfunctions moments after Jimmy jams his way in, jousting over Bluetooth with some nameless ne'er-do-well? Perhaps that little bit of exposition prior to Jimmy's entering the frame, the one that lays bare Suzanne's smothering caseload, the kind that makes one susceptible to Saul's charms and entreaties over 20 minutes of makeshift deal-making that would make Monte Hall look small.
With Saul as his guiding hand, Jimmy's making a killing off the lesser impulses of Albuquerque's reliably delinquent ranks, even giving them a little push into their next petty act. But if this show and its forebear have returned over and again to one central theme, it's that one needn't travel back to the future in order to complicate time and space. Emboldened by Saul's 50 percent discount for doing bad, two sub-Pinkman misfits we'll dub Beavis and Butt-Head (played with degenerative abandon by Sasha Feldman and Morgan Krantz) accelerate their meth habit, eventually getting greedy and purchasing more packets of powder than the 5th Street outpost's drain pipe can handle.
Enter Domingo — now and forever known as Krazy 8, or Ocho Loco, thanks to Lalo's provocation during a deeply unpleasant game of cards — playing handyman, followed in short order by the cops. Nacho saves the day and cozies up to Lalo by playing superhero and literally leaping off rooftops to save their product before the narcs hammer their way into Mouse's lair, but Domingo's already in cuffs and being hauled off. This makes Lalo nervous, so it's Nacho's job to save his friend's ass and get him sprung from his stay behind bars. Thus Jimmy can barely begin lapping up his celebratory cone of mint chocolate chip (the only flavor that matters) before Nacho and his terrifying, Vin Diesel–look-alike muscle, Blingy (KeiLyn Durrel Jones, no doubt tired of the Vin Diesel comparisons) roll up and beckon his presence. That sad, gently licked cone of mint choc chip, much like the stolen garden gnome Beavis and Butt-Head left shattered and prone in a cul-de-sac, is among the least consequential collateral damage in Jimmy's careless game of judicial chess. Beavis, Butt-Head, Veronica Nicks, Tanika Berkman, and all the other pawns may well end up where they were predestined, whether sooner or later. Jimmy, Krazy 8, Nacho, and others they have yet to encounter but who will reorder their centers of gravity are on a radically altered course.
Not that "50% Off" doesn't scatter some procedural bread crumbs along the way. Gus and Lalo have only taken first steps in their little dance to see who can conquer the region's drug trade. Lalo's no fool, and he knows Gus is trying to edge the Salamancas and Don Eladio out through cunning subterfuge (not that he knows Nacho is Gus's inside man yet, even as Nacho risks his life and freedom to get closer to Lalo and keep his family safe from Gus) and a stealth scaling-up of operations. Luckily for Lalo, as long as he keeps swapping out Tio Hector's vitamin drink for booze, his uncle will dispense wisdom with the ring of that telltale concierge bell. It looks as if we can soon anticipate an outright attempted robbery of Gus's loot.
Then there's the ballad of "Gringo Mike," who's bottoming out — and lashing out at poor Kaylee — as he mulls the set of choices that dragged him down from protecting the streets of Philadelphia to reckoning with guilt over his son's and Werner's deaths and a doomed fate fixing Gus's mess. Mike's interior drama isn't as gripping as, say, his adversarial relationship with Walt or his surrogate fathering of Jesse, but it beats watching him and Kaylee play house as if making some kind of spiritual amends.
The most enticing aside, however, is when Howard arrives and dangles an offer to have lunch with Jimmy and chat. Not Saul, to be clear. With matters concerning Chuck's will and testament put to rest, this could be one last shot for Jimmy to go legit and fill the shoes of his brother's legacy. Or, from Howard's point of view, regrow something noble from the roots of their shared guilt. Besides, that big house Jimmy's eyeing for him and Kim, never mind all the movie nights in front of their plasma TV, aren't gonna pay for themselves. Then again, he does have a system.
Apart From All That
• Of course, Kim loves After Hours. Who doesn't love After Hours?
• Writer Alison Tatlock cut her teeth on In Treatment. Sold.
• As the show nears Breaking Bad's timeline, it's even more thrilling (and tragic) to see the whole arc of characters like Mike and Krazy 8.
• Still can't decide whether Lalo is supposed to be this hateable.
• Prediction: Kim will eventually live in that house — without Jimmy.
• Is Tuco's term almost up?