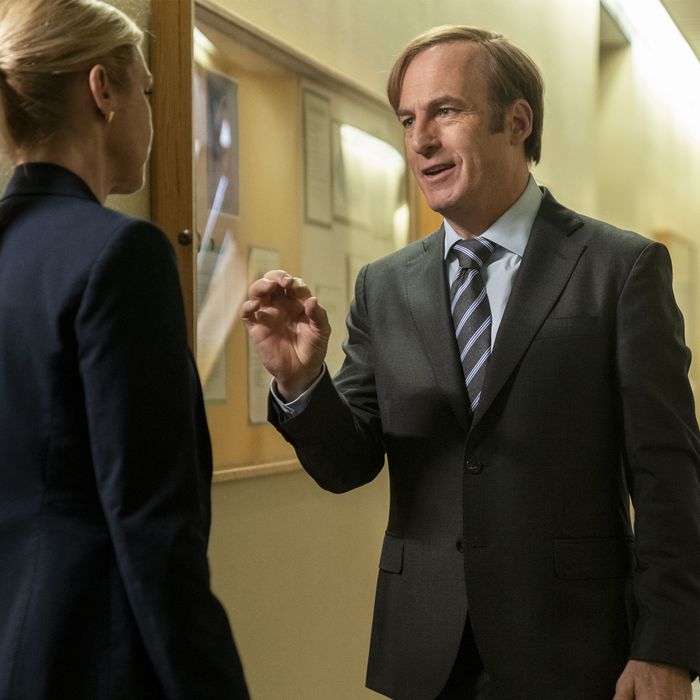 Kim is having a tough time persuading the people around her to steer clear of risk. There's her client Bobby, a young father with one more on the way, who's looking at several years in jail if he doesn't plea down to as many months. But despite his list of priors and the predictability of trial outcomes, Bobby insists that the twinkle in his eye and the bun in his wife's oven will woo any panel of 12. And then there's Jimmy, who's made the snap decision to go into business as Saul Goodman, black-market cell-phone hawker turned lawyer for the delinquent and downtrodden.
"I can't see it," she says over takeout, as much their common ritual as practicing law. "You will," he promises. But Kim's already half-faded, blending into the background of his big ideas like peel-and-stick kitchen backsplash. She eventually meets him somewhere between Jimmy and Saul to help harangue Bobby into taking the DA's deal, but it's pretty clear that while Jimmy's more self-possessed than ever, their identity as a couple has a crisis to counsel out.
At least Kim has time to consider who she is independent of Jimmy now that Jimmy's inseparable from Saul. Casper, Kai, and the rest of Werner's crew are a shell without their foreman, whom Mike had to put down after his disappearing act from the Superlab site. "He was worth 50 of you," Casper growls as Mike hands him plane tickets back to Europe with little time to waste. In what can only be described as a mixed blessing for the late Mr. Ziegler's laborers, they've been hastily — and temporarily — recalled from their duties as Gus scrambles to cover his tracks after having to expose his operation to Lalo.
Well, sort of. All Gus did was give Lalo a tour of his supposed chicken chiller. And this was only after Lalo came around Gus's chicken farm with Juan Bolsa to mediate, snooping and asking questions about why some of the Salamancas's product was stepped on. Gus pinned the whole snafu on poor Werner, insisting the architect got greedy and went on the lam with a couple kilos in tow, forcing Gus to improvise and filter in some subpar local smack. Bolsa implored Lalo to appreciate that, with Gus, it's all business and never personal. Essentially, to give him benefit of the doubt. But as Lalo reminds him, recalling the time Hector shot Gus's partner in cold blood south of the border, Fring's motives are mortally intertwined.
This all underscores how, despite Jimmy and Gus's surface as polar opposites, they are both perennial outsiders tunneling their way toward commanding respect. And each has committed to compartmentalizing their vulnerabilities in order to slough off the low expectations of naysayers and nemeses from their past. Gus has evolved into a stoic brute, prone to cautioning combustible allies like Mike about transgressing even slightly, no matter how heavy a toll their work takes on the soul. Jimmy, for his part, has fully and finally flowered as an overqualified huckster eager to exploit his second chance without Chuck or anyone else's choice words. The larval Mr. McGill, Esq. has fluttered off unfettered as the garrulous Saul Goodman.
That Saul pitches an actual carnival tent and convenes a gathering of Juggalo-worthy acolytes to acquire half-price burner phones as a kind of presumed down payment on future legal services is pretty to the point. His pastel suit game restored to "Inflatable" glory of yore. and hair more evangelist bouffant than its later, iconic hangdog part, Saul spins a tale to junkies and lowlifes from far and wide about his reputation as the "magic man" of criminal defense. (Huell is all too happy to stand as living testament to his legendary prowess at making prison sentences disappear.) This spectacular exhibition, hastily amassed under the cover of night, is the precise inverse of how the Salamanca clan — now presided over by Lalo, with Nacho and Krazy 8 his wary lieutenants — goes about its business of collecting money from corner men and sawed-off-shotgun-toting ladies like middlewoman Mouse in monotonous, workmanlike fashion while sweating the daytime hours away.
The question is, how much does Jimmy quietly absorb from spending time around the likes of Lalo, whom we know from Breaking Bad crosses paths with him roughly concurrent to his dealings with Gus? And does all of that, taken into account alongside his imminent, ruinous run-in with Walter White, prepare the future Gene Takovic to take out Jeff the cabby (Don Harvey), who outs him as Saul once and for all at a lonely bench in that Omaha mall? We probably have to wait till at least this time next year for the answer to that. Gene may be tired of running from himself, but Saul's only started hitting his stride.
Apart From All That:
• Good to see that Lalo, like his uncle, appreciates fine footwear.
• Is there any sadder sight than Gene jiggling open that time-worn Band-Aid box, but desperately dumping out diamonds rather than Jimmy's childhood change?
• Always good to see Saul's crack team of grad-student gophers.
• Maybe Molly and Frederico at Cinnabon can have Gene's back.
• Nacho just cannot catch a break.
• When Lalo finally demonstrates raw rage, it is not going to be pretty.
• Poor Mrs. Ziegler.
• As for the irony of Jeff ID-ing Gene as Saul, when Saul's really Jimmy, one might quote AC/DC when asking, "Who Made Who?"