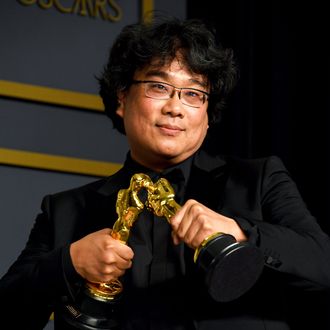 Bong Joon Ho
Photo: Jennifer Graylock/PA Images via Getty Images
The Bong Hive came into the 2020 Oscars with high hopes, and if these photos of the director treating his shiny new statues like horny dolls is any indication, expectations were met.
Parasite kicked the night off by winning the award for Best Original Screenplay, with trophies being awarded to both director Bong Joon Ho and his co-writer, Han Jin Won. As a great man once said, the Academy Awards are a "very local" ceremony, but the ever-gracious director Bong seemed utterly taken by the moment after earning South Korea its first ever Oscar anyway. He savored his first win of the evening, and now you can, too, by gazing at a GIF of him giggling warmly at his trophy …
… And then following it up with another GIF of him inspecting the gold man and regarding the room.
Because your soul can always handle more nourishment, here's Bong Joon Ho the moment he won for Best Director too:
And here he is taking a moment to collect himself while his beloved translator Sharon Choi conveyed his remarks.
And here is the face Martin Scorsese made when director Bong thanked him from the stage.
Best Director wasn't the end of Parasite's Oscars, though, as the film went on to make history in various ways by taking home the award for Best Picture at the end of the night. It was a moment presenter Jane Fonda definitely understood the gravity of when she added just enough drama to announcing the winner.
By the end of the night, he had a lot of Oscars, and what else was he going to do but play with them?
We ask you!
After the ceremony, director Bong and the Parasite team entered the Soho House in Los Angeles for Neon's after-party like the true conquering heroes of Hollywood they are.
Sharon Choi was able to sit back, watch the proceedings unfold, and even celebrate a little with director Bong and a few of his oscars.
And of course, everyone at the party took a necessary moment to honor his longtime leading man, the cinema superstar Song Kang-ho, before encouraging everyone to tip those glasses back.